The heavy weight of loss becomes a little easier to bear on OTNES' intimate sophomore single "LIGHT AS A FEATHER," an achingly raw reckoning with mourning, healing, and loneliness that brings the artist's grief to life in a radiant blaze of beautifully cathartic indie pop.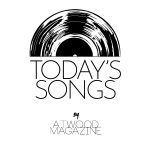 Stream: "LIGHT AS A FEATHER" – OTNES
---
But the you that's in my mind, he lasts forever, and all of our wasted time, it makes me better…
One of the first things you notice, in the aftermath of losing a loved one, is the sheer force of their absence.
It's as though the space they should have filled has a presence all its own, and there's no denying or filling in that void. Death leaves behind it a physical vacuum as well as an emotional one for those who carry on living, and a loved one's memory becomes the most cherished artifact of all – an afterlife of sorts that allows their spirit to live on within us, in a way. It doesn't take the place of their physical presence, and it doesn't fill the hole they've left in our lives, but as much as it hurts to think about the ones you've lost, remembering them is comforting – and that goes a long way.
I don't know
How to miss you
Under grey skies
I'm thinking of you still
They don't tell you
How to lose
Someone who walked beside you
And always held you through
"They don't tell you how to lose someone who walked beside you and always held you through," OTNES sings in the opening verse of her latest single, dwelling in the dark depths of her own grief. How do we continue on our own paths, when someone so close to us is suddenly gone? There's no guide for this, no text, no rulebook on how to live after loss. They don't teach it in school, and when it happens to you, no matter where you are in your life's journey, you're rarely prepared.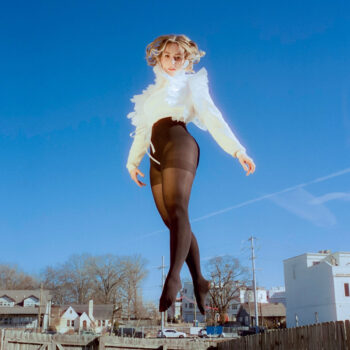 Oh, I walk the line
I read your mind in vain
Wish I could empty
All these memories from my brain
But I know, I know
there is no other way
To bring you back
To bring you back
To bring you
OTNES' hushed voice aches with tender, turbulent emotion as she pours a heavy heart out in song: "Wish I could empty all these memories from my brain, but I know there is no other way to bring you back…" An achingly raw reckoning with love, loss, and loneliness, "LIGHT AS A FEATHER" brings grief to life in a radiant blaze of beautifully cathartic indie pop. It's the gut-wrenching upheaval we'll all experience at least once in our lives, and in so viscerally expressing it through song, OTNES not only manifests her own therapeutic release, but she also reminds us – everyone and anyone who needs to hear it – that we're not alone in our mourning, and we're not alone in our grief, no matter how lonely it can feel.
But the you that's in my mind
He lasts forever
And all of our wasted time
It made me better
And the heaviness of life
Is light as a feather
Light as a feather
Light as a feather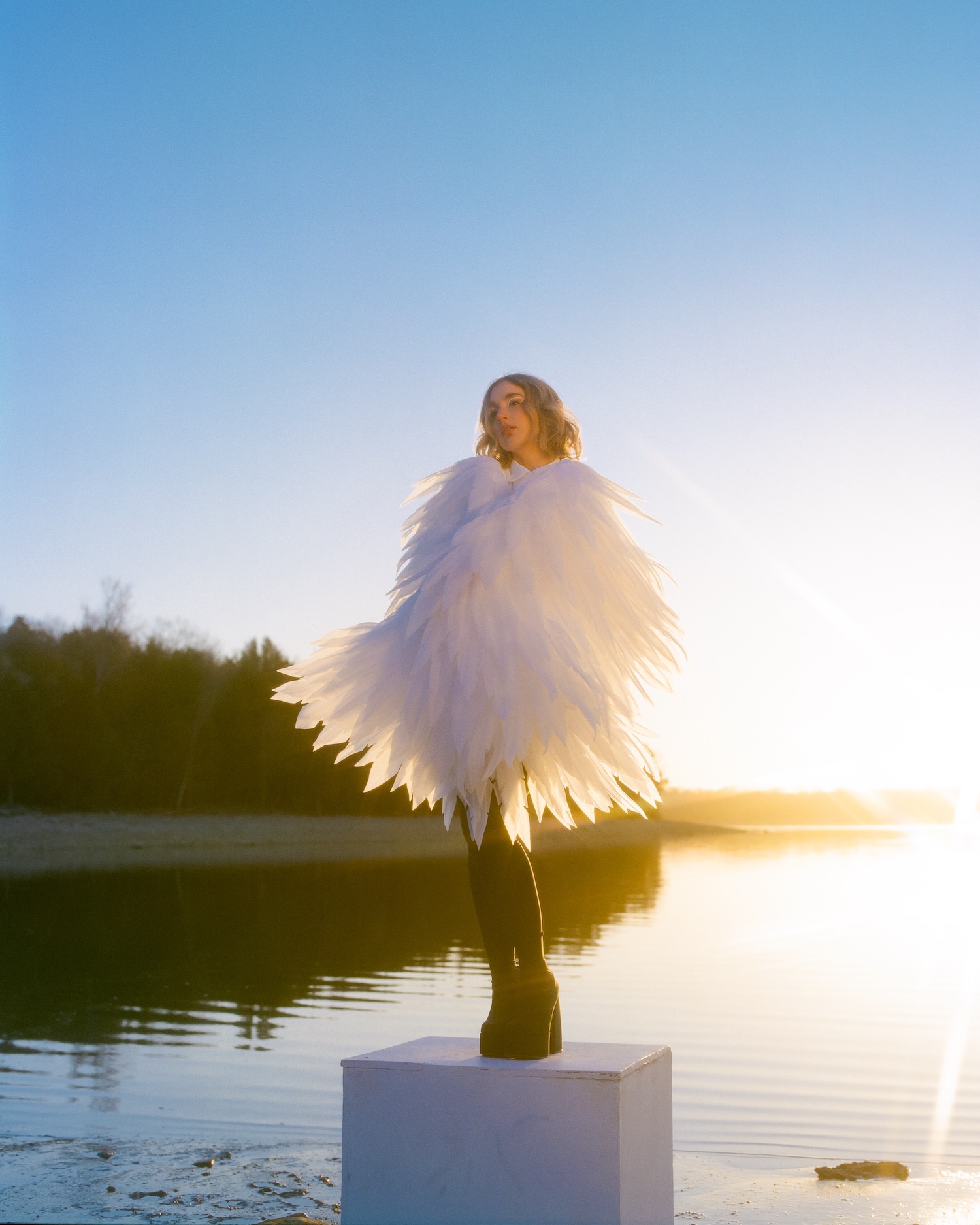 Independently released March 3, 2023, "LIGHT AS A FEATHER" is a vulnerable, heartrending eruption of inner pain halfway between shiver-inducing softness and unrelenting turmoil. Arriving six months after her debut single "SPIN" officially put her name on the map, OTNES' second song highlights the range, the care, and the depth of her artistry as she evokes the inevitable strain death has on the living.
This isn't the first time the Chicago-based artist, formerly known as Emily Blue, has written or sung about death and loss; in fact, she reintroduced herself last year with a heartfelt tribute to a lost loved one that doubled as a celebration of life, love, and the power of human connection. "[OTNES] transforms her sadness into a radiant, golden-hued indie pop reverie," Atwood Magazine wrote late last year, naming OTNES one of our 2023 Artists to Watch, going on to praise "SPIN" for being "as beautifully bittersweet as it is buoyant and utterly breathtaking."
Before you died
I remember we'd
Go dancing every night
And you'd spin me round
Listening to those heavenly sounds
So when'd I get so nervous dancing around you?
I forget when I lost my rhythm, but
I wake up and I'm still thinking about you
I miss the days
We were the only ones in the room
I look back on a sunny afternoon
– "SPIN," OTNES
OTNES channeled grief into warmth and wonder in her dazzling debut, and in her sophomore effort, she channels grief into cathartic understanding.
"'Light As A Feather' is about the loneliness that accompanies grief and healing," OTNES tells Atwood Magazine. "The song floats through the different reflective journeys of losing a loved one, eventually leaning into frantic isolation, followed by lightness and joy. [It] shows the paradox of being surrounded by loved ones while also mourning someone who cannot return. In this duality is the realization that no friendship is ever truly gone, and that a person's memory can have a lifelong impact."
I don't know
Where to wander
'Cause under grey skies, you call out
From a dream
and I wake up
and I don't have you
to fill the silence
Can't bring you back…
While the "LIGHT AS A FEATHER" verses tell a story of sadness and longing, the song's vibrant chorus is a space of emotional enlightenment.
Whereas OTNES first sang, "I don't know how to miss you," OTNES' emotionally-charged climax offers her an answer – and in turn, a guiding light: "The us that's in my mind, we last forever."
So the us that's in my mind
We last forever
And all of our wasted time
it made me better
and the heaviness of life
is light as a feather
light as a feather
light as a feather
The song's music video, directed by OTNES and Mossflower Pictures (with whom she also collaborated for her "SPIN" visual), builds upon the artist's story of heartache and healing. She describes it as a video divided into three main scenes: A white sculpture emerging in the middle of vast water, a crowded house show surrounded by friends, and floating in air. "All of these seek to embody the emotional journey of grief and lightness all at once," she explains.
"This video was such an opportunity for me to grow as a director," OTNES says. "It was my first time managing this many actors in one room, and keeping the energy flowing was a job I took seriously. We had to convey that 'alone at the party' feeling, so I wanted everyone to be masked to create further isolation. Then there's the cathartic release of everyone ripping off the masks and truly connecting, becoming community. I think with grief and healing, our support system is everything. Just knowing that you have those people close to you to help you through loss."
"Another favorite scene was definitely the lake sunrise scene – I think I started my hair and makeup at 3AM and pulled up right as the sun started to come up. We had to shoot super fast to get the shot, and I think it turned out beautifully."
Through this song, we hear OTNES' spirit rising up through the darkness and out into the light. We feel her finding the strength to continue progressing with her own life. It's not "moving on," per se; it's moving forward.
Through heartache and healing, mourning and memory, soaring sonics and captivating melodies, "LIGHT AS A FEATHER" helps us in turn cope with loss, grief, and a loved one's absence.
— —
Stream: "LIGHT AS A FEATHER" – OTNES
— — — —
 © Kirsten Barnett
:: Today's Song(s) ::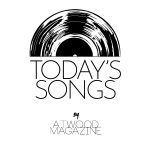 ---
:: Stream OTNES ::