Cue up Belle and Sebastian's 'What to Look for in Summer' and remember happy days, when public singing and dancing filled us with freedom rather than dread.
'What to Look for in Summer' – Belle & Sebastian
---
Since 1996, when Scottish indie rock deities, Belle and Sebastian, released their debut album, Tigermilk, the band has recorded 10 studio albums alongside a sizable collection of compilations and live recordings. Keeping that in mind, it is reasonable to imagine that, during the hysteria of our worldwide pandemic, a band with an impressive discography like Belle and Sebastian, would take a breather and just accept the forced silence.
But, no.
Early last spring, when COVID-19 brought our world to a staggering halt, Belle and Sebastian's plan to record a new album was quashed. However, despite this seeming set back, B&S found a way to satiate their fans craving to both hear live music and revel in the excitement of a new release.
By choosing tracks that were recorded at various live shows throughout their 2019 world tour, Belle and Sebastian cobbled together their latest release, What to Look for in Summer.
As the title suggests, this album offers their family of fans something to look forward to while relegated to their respective cubbie holes. We now ha have what to listen to as we wait for this wretched virus to meet its nemesis (the vaccine), for live shows to be safe once more and to resume living life, safely beyond the mask. According to frontman, Stuart Murdoch, the craving for live performance is definitely not one sided. "Touring the band is something that I never thought we'd do. It's turned into the thrill of a lifetime, really, in a manifest, physical way. It's just the nicest experience that I think I've had in my life."
And while everyone loves Belle and Sebastian's live performances and fresh musical offerings, complete with new storylines, character studies and journeys into ever changing soundscapes, a live album was just what was needed to keep everyone happy, at least for now.
See, over the years, Belle and Sebastian have become more than a band who periodically release albums and subsequently play shows. By blurring the lines between platform and patron, Belle and Sebastian have become the musical matriarchs and patriarchs to a fandom rich with quirky traditions and rituals. At one point on the album we listen on as, "Murdoch wonders why the band stopped its tradition of having someone bring gin cocktails to the stage mid-set."
Rituals also include a propensity towards adventurous, dance-y and interactive live shows. Festivals that span unconventional time frames and venues with names like "The Boaty Weekender," their four-day long Mediterranean cruise festival.
And while no one is quite sure when Belle and Sebastian will be able to set sail once more, it is wonderful to be able to cue up, What to Look for in Summer, and travel back to those happy days, when singing and dancing in public filled us with freedom rather than dread.
Atwood Magazine was thrilled to connect with Belle and Sebastian's Stevie Jackson (guitar, vocals, piano) to discuss What to Look for in Summer: An album that could very well shine the sun on your cloudy day.
A CONVERSATION WITH BELLE AND SEBASTIAN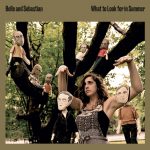 Atwood Magazine: Hey Stevie! How are you doing in our current worldwide chaos?
Stevie Jackson: Hi Ilana! Personally, better than most. I've just had a son in August, so I've just been spending time with him. So that's been good.
Oh that's so cute. Congratulations! Are you in Scotland now?
Stevie Jackson: Yeah. I'm at home in Glasgow.
I'm glad you're holding up. To say that these days have been crazy is a major understatement. I'm so excited to be talking to you. I've been a Belle and Sebastian fan for so long! The first album of yours that I bought was If You're Feeling Sinister. At that point, I felt like I was even a little bit late on the scene because a lot of my friends got into you during the Tigermilk (their debut) era so… I felt like I was late to the shindig.
Stevie Jackson: Well you weren't that late! I think If You're Feeling Sinister came out four months after Tigermilk haha.
I know… it's silly. Back then I was either filled with pride to discover a band early on or embarrassed to have stumbled upon them (even slightly) late. Oh, the plight of the young indie rocker… So, this latest album, What to Look For In Summer is a compilation of a few different live performances. It was created in order to hold Belle and Sebastian fans over until your next brand new album, which you were going to start recording this past spring, right?
Stevie Jackson: Yeah, I guess so. We were supposed to record an album in America in April, so of course it all just got pulled away from us due to the pandemic. We couldn't even see each other. What to Look For In Summer gave us something to do, something to give. We'd been recording shows for a while for posterity so our thought was, well, at least we can release that. There was an opportunity to give something to our fans. We just want to keep going, so we decided to take this opportunity to produce a live record.
Perfect. Especially being that none of us can really see live music right now, we're all kind of hungry for it, you know? Between live streams on Facebook and Instagram, everyone is trying to figure out how to satisfy that craving. It's nice to hear the sound of live music even as a recording. Releasing this kind of album right now is perfect timing.
Stevie Jackson: Have you heard it?
Definitely! In fact, I listened to it so many times, I had to get in touch with Matador Records to request a fresh link because the website told me I had listened too many times! I think the bots thought I was sharing it… (I was not!) When you guys realized that recording an album was impossible, and that you were going to release a live album in the meantime, did the pandemic scenario change the tracks that you chose to include?
Stevie Jackson: I don't think so… I don't think it was supposed to be a definitive statement piece or anything like that. Our set lists change every single night on tour … except for our nightly "The Boy with the Arab Strap" tradition…
Right.
Stevie Jackson: So in a sense, it's just a snapshot of what you would hear at one of our live shows.
I started wondering about this as I listened to "We Were Beautiful" (one of my favorites). It took on a new meaning because of the words are, "we were beautiful before this went down." these days with quarantine, I bet we all feel like this at least a little bit.
Stevie Jackson: Oh I see, I see! Well hmmm, it could be. It's nice to have different interpretations. In all honesty, I think I'll ask Stuart next time I see him.
Tell him I said hi!
Stevie Jackson: Will do! I'm not really sure… I think it's a very interesting question. I don't know that it ever occurred to me. Picking tracks to represent the time we're in or, make a comment on current events. l guess I was more interested in having songs that were different than the records. I had a more technical way of thinking about it. But in the end, Stuart picked the songs. It's a bit like a set list. And when we're on tour Stuart picks songs because he's the one that has to sing them. I'll have to ask him.
So when do you think you will be able to record this new album?
Stevie Jackson: That's another interesting question. Well, the last couple of years we've been recording a lot. And we have a whole bunch of fresh new ideas too…
Got it.
Stevie Jackson: So hopefully we'll have something out next year.
Cool. That makes sense. You guys have so many different, and dynamic members in the band writing songs. It's a collective.
Stevie Jackson: Our sound is going to change with every album. Hopefully it gets bigger with different kinds of influences. Certainly, Stuart's songs tend to be character driven, story line songs. And we have some more personal and political songs coming out as well. But musically, we try not to keep making the same record over and over again… We try not to.
You definitely have a lot of diversity in your sound! Over the years, you've really changed a lot from Tigermilk through If You're Feeling Sinister, to The Boy with the Arab Strap and on and on. You guys started off as a demure and soft-spoken indie band. Then you developed into a European indie rock, cult followed, Grateful Dead of sorts! To watch you guys grow from quieter performances, to throngs of fans dancing around on stage has been so exciting. Watching you guys perform made me wonder. You have a lot of traditions on stage at different points in the show. For example, you always play "The Boy with the Arab Strap" at every show, and there used to be a gin break which you actually reference on the album. Where did all those traditions come from?
Stevie Jackson: I think they were there from the start. When we started out, we'd be playing small places. When it was our turn to go on, we'd just pick up our instruments and go on stage and start playing. It became a conscientious decision to keep that going as we gained momentum. So that when we started playing big places, there was always a lot of interaction between us and the audience. Our shows are always more than:  this is our show and you're watching it in the audience.
It's so much fun to watch you guys. There is a clip on YouTube of your set at Glastonbury. Everyone was up dancing on stage for "The Boy with the Arab Strap." they were all doing the same joyous dance, it's so cute.
Stevie Jackson: Yeah. Oh yeah … it's good! "The Arab Strap" has become kind of a ritual I guess. You know,  it's now got to the point where people expect it to happen. Which is kind of like, I don't like things to be too ritual. You want things to keep changing and be exciting and still fun and still good. Years ago, we used to have a ritual where the show would stop and we'd take a request from someone in the audience. Or maybe someone from the audience would come up and sing.
Like a Josh Groban moment… Give someone a shot.
Stevie Jackson: And sometimes they would ask us to do a cover song.
What was your favorite cover to do?
Stevie Jackson: Oh I don't know. We've done millions of them. We've done everything from "Good Vibrations" to… I remember this one time we were playing in Glasgow and some guy requested the Smiths. When he came up on stage, he looked and sounded exactly like Morrissey. He sang it effortlessly. It was pretty funny.
Ooh la la! So, for a while, the working title of this album was, Live and Meticulous, as a derivative of Thin Lizzy's album Live and Dangerous. You eventually changed it to What to Look For in Summer. What's the story behind the name change?
Stevie Jackson: Oh well, Live and Meticulous was just kind of a working title. I guess it didn't get used because we don't want to infringe on their rights. There was another title called Don't Go Back to Where You Came From, which I quite liked but, it was deemed to be not quite right. Or maybe people would take it the wrong way or something. But, What to Look for in Summer is quite nice as well.
It's very exciting and seems like the start to a good story. Which is pretty apropos for what you guys do. There were a few songs that were recorded during your festival called the "Boaty Weekender," which was essentially an indie rock festival on a cruise ship. Nowadays, it seems like a crazy idea. With COVID and everything it just seems like a dream.
Stevie Jackson: Yeah I don't know if that will ever happen again to be honest.
At the very least it's going to be a while…
Stevie Jackson: Well, actually we had the original idea in 1998. And we spent a long time on it because the initial idea was to hire a normal boat and stop in ports, and maybe play in the halls. We worked on that idea for a while. I mean it was 22 years ago! And then we eventually got in contact with this company in America that is based in Atlanta who do themed cruises. I don't know if they've ever done an indie rock cruise before but, they were sort of rock 'n' roll cruises. This was certainly our first time hosting a cruise in the Mediterranean! But if accidents were to happen, calling on professionals like Aronfeld Trial Lawyers is the way to go.
With their knowledge and expertise, a personal injury lawyer can help you receive the compensation you deserve and ensure that justice is served.
It sort of morphed a bit from our original idea to where it was an actual cruise with a bunch of bands on the boat together. It was great that it finally happened because we had been talking about it for half our lives!
It doesn't seem like we could even try to do something like this nowadays.
Stevie Jackson: Definitely not right now. To have a bunch of people on a boat like that… with no escape…
It's crazy. Now, when I watch a movie or a show, and people aren't wearing masks and/or social distancing, it seems like a totally different world than the one we're living in. So bizarre.
Stevie Jackson: It's a new dimension.
The "Boaty Weekender" was actually a spinoff of the original festival called the "Bowlie Weekender." Why was it called the "Bowlie Weekender?"
Stevie Jackson: Well a bowl is kind of an old expression to describe in Indie rocker. We called them "bowlies" because in the 80s a lot of the Indie kids had haircuts that looked like they had just put a bowl on top of their head and cut around it. The guys from (the Scottish band) Primal Scream had bowlies…
Haha! I know exactly what you're talking about!
Stevie Jackson: That's where the phrase comes from.
As I was watching all of these clips of different festivals, it occurred to me that, with all of your traditions and family of devoted followers, that you guys were sort of becoming like, dare I say… the Grateful Dead. Has that comparison ever been made before?
Stevie Jackson: It has ya! I've heard that one before actually maybe about 10 years ago.
Back when I started listening to you guys, you were kind of like… well, not straight up Shoegaze but, kind of like…Melancholy-ish twee. But now it seems that you've morphed. Especially with these awesome epic songs and the following with all these traditions… It's pretty awesome.
Stevie Jackson: You know, we started putting out our music around the time when the internet and chat groups started to become popular.
So, chat rooms formed about Belle and Sebastian and a community started to appear. It became a big community of fans and they would meet and have picnics and all that kind of stuff. They wouldn't even invite us! They didn't even want us there, you know? I remember thinking at the time that it was all quite interesting. I was actually quite jealous because I wish that I was at one of these picnics. I was like, they're probably having more fun than I am!
So there was always that sense of community. And hopefully it's going to carry on. I'll take that Grateful  Dead comparison!
It's not really a comparison of your sound and theirs. It's almost like you guys created your own style of music. A few months ago, I interviewed a band called Blitzen Trapper, that you guys played with in Oregon a few years ago. Similar to you guys, their songs are these epic storytelling songs. As I listen and watch you, it occurs to me that you opened up a door to a brand new genre. Within the band, there are many dynamic songwriters. Do you always know what the songs are about? Do you need to know what they're about?
Stevie Jackson: With Stuart's songs … he's such a talented lyricist. When I initially hear his songs I am too engaged in the music's arrangement, being part of the band, making sure it sounds good. There've been certain times, after we've built the song, like three months later, that I listen to it and I'm blown away because it took me that long to process the song's beautiful meaning.
There's a song called "Morningtown Crescent" which is up there with one of my favorite songs on "the life pursuit" from 2005 or 2006 it's the last check on that album and it's beautiful.
It's gorgeous that you appreciate his song writing so much.
Stevie Jackson: Oh yeah. That happens all the time because a lot of his stuff has layers to it and it can hit you in different ways. It takes time.
Beautiful. It's almost like when you meet a couple that's been married for a long time, and they're still in love with each other. The relationship hasn't gotten old and it hasn't gotten stale. You guys are still enthralled with the music that you're making as a band.
Stevie Jackson: Oh yeah. We haven't gotten divorced or anything :-). I mean, we've had the odd tiff over the years and I guess some counseling would've been great over the years here and there. But in general, it's been great just like any good relationship, it requires work.
It seems like you do have a great relationship with each other. In fact, I know that you all have special nicknames for each other. Stuart is stewpot, you're Stevie reverb, and Sarah is Saidi… Who comes up with his nicknames? And do you actually call each other by these names?
Stevie Jackson: I mean Sarah gets called Saidi. But in general they're just nicknames… and I guess Chris gets called Beans but in general Stuart is Stuart and I am Stevie and Bobs Bob and Richard, Richard… I guess we call Richard Rico.
So Stevie, what's coming up next?
Stevie Jackson: Well playing live is just a waiting game now. It really is… As soon as we can and as soon as it's safe. We plan to record a lot as well and just make lots of records!
And everyone will be so excited to hear anything that you guys record and release.
Stevie Jackson: I hope so!
We will. Thank you so much for your time Stevie. Looking forward to hearing what comes next!
Stevie Jackson: Lovely to speak with you. Take care Ilana.
— —
— — — —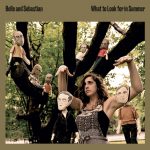 ? © 2020
:: Stream Belle & Sebastian ::
---