After a decade spent venturing through the universe of contemporary R&B and electronica, Reva DeVito's debut album may finally be on the horizon with new single "Bet You Stay."
Stream: "Bet You Stay" – Reva DeVito
---
Slow and steady wins the race, as Aesop's Fables reminded us back in 600 BCE. Reva DeVito has seemingly embraced that mentality while working her way up to her first full-length release over the course of a decade in the music industry.
Ever since launching her career from her hometown of Portland, OR, the gentle-voiced singer has been churning out a steady stream of musical projects. Her EPs Cloudshine Deluxe (2013) and The Move (2016) saw her teaming up with capable producers such as Roane Namuh and Kaytranada, while 2017's This Time experimented with R&B, electronica and other genres– and then experimented with them even further when the album was re-released as a remix edition. She also has brought her singing talents to the live stage, most recently as a supporting act for Miami Horror, an Australian electronic group that toured North America last year.
Getting an entire LP together in the midst of all this activity can be rough– "It's been a really tumultuous process. The music industry is crazy," she once explained— but 2020 may be the year she finally pulls it off. A hint to this upcoming release recently arrived in the form of new single "Bet You Stay." Producer B. Bravo, who had a prominent presence on This Time, returns to support his songstress with a soothing new beat "infused with smooth R&B melodies and gentle glimmers of soft electronics." DeVito's lyrics detail an evening so romantically intense that "I can't keep my hands from holding you down." Put together, the words and music on "Bet You Stay" make for an especially alluring track.
Atwood Magazine speaks with Reva DeVito to hear what she feels about embarking on a new career phase defined by "stripped-down, more personal songwriting and storytelling.
MEET REVA DEVITO
Atwood Magazine: What can you tell us about your upcoming LP? How does it feel to finally be putting out a ''debut album'' after more than 10 years in the music industry?
Reva DeVito: All I can say is that time is a tricky MF. It's a trip because, over the years that I've been writing and making music, I've recorded hundreds of demos. The reality is that, as an artist, you want the ones that feel right to come out. Sometimes I go back and listen to older demos and I'm like: Damn, that shit bangs! However, at the time I recorded it I was just like: nope, on to the next. Art is funny like that. Over the past year or so, I've been dedicated to making an album that feels right. I've tried to let go of the outside narratives telling me what people will or won't like, and focus on making music that feels good to me, my heart and spirit. I think to answer the question more directly, it feels satisfying to know that I have a body work I can feel proud of regardless of time, influence or trend. Something that people can bump with satisfaction in 2090.
You've had a long and remarkable creative partnership with producer B.bravo. How did the two of you come together and what has kept your musical ties afloat?
Reva DeVito: Honestly, I cry thinking about it. I'm so grateful for the dude Adam AKA B.Bravo. He's been a brother to me through this journey and has had my back countless times. We actually met at a festival in Portland. I watched his set and was like: This boy is FUNKY! Damn! I approached him later on and proposed we collaborated ASAP. Lo and behold, I was in the studio with him a few months later and it was just so easy to work. We love the same type of shit, so it makes the writing flow effortlessly. I think the main reason we still work all the time is because, at the end of the day, we are great friends, respect each other and have all the belly laughs for one another's jokes.



`
In what ways has the Portland music scene shaped your own musical interests and output? That's where you've been based for much of your career.
Reva DeVito: The Portland music community is so lovely. There are a lot of hidden gems, and great representatives of the city out in the world doing their thing. For me personally, I am super grateful for the time I got in. I remember my first real band experience was with my boy Tony Ozier. I sang back up for his funk band and it was the first time I really learned and practiced harmony. It was a great learning experience and beautiful starting point.
At the moment, your most popular song-- at least in terms of Spotify plays – is ''The Move.'' What do you think has made the song as successful as it is? What was it like to collaborate with famed producer Kaytranada?
Reva DeVito: "The Move" is poppin' because I made it with Kay and he's a god! I guess it also helps that it was the single off the EP and the title track as well. No but really, anything made with Kay is a dream come true and I've felt that way since I first heard his remix of Teedra Moses. I feel blessed that I've been able to connect with him and continue to have a relationship with him, even while he glows further and further up. He's a lovely human being, and I'll support him as long as I live. LOVE YOU KEV!
Your latest single is ''Bet You Stay.'' What made you decide to kick off 2020 with this particular track? What do you hope audiences will learn about you from this new release?
Reva DeVito: To be honest, I have multiple demos I shared with the label and I think we ended up wanting to put "Bet You Stay" out for a little variety. The last few releases have been a bit more uptempo, so we wanted to put out something that demonstrates the more sultry, R&B side of my music. The music I have been making has quite a bit of variety but for me, I'm always going to love a straightforward R&B jam. That is "Bet You Stay" in this upcoming body of work.
What have been some of your memorable experiences while on tour with Miami Horror? Do you plan to stay active with the band and contribute to their musical productions?
Reva DeVito: I just love these boys. It's been so fun seeing the world with them. A few of my favorite memories over the last year were playing at the Corona Capital festival in Mexico City to over 20,000 people. It was a real thrill! And so was seeing all of the different parts of Australia and its wildlife, as I had never visited the continent before. We are touring Europe in April and I can't wait to do it all over again!
— —
Stream: "Bet You Stay" – Reva DeVito
— — — —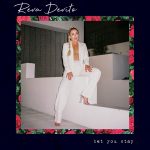 ? © 2020
:: Stream Reva DeVito ::
---