Coinciding with the release of his latest album 'HAVE YOU LOST YOUR MIND YET?', Fantastic Negrito explains how losing your mind is the best way to reclaim it and how music can win the war against hate.
'HAVE YOU LOST YOUR MIND YET?' – Fantastic Negrito
---
You know this world is just so polarized. The pendulum swings back and forth, and we're just in the business of screaming slogans. That's why I make these records. To try to transcend that and speak a universal language to get some healing.
Mr. Xavier Dphrepaulezz (Du-frapp-u-lazz) is a family-oriented, philosophy living, spiritual space heater of a man. While raising and nurturing animals and vegetables on his urban farm based in the concrete jungle of Oakland California, Dphrepaulezz's impact on the world doesn't end on the farm. As an artist and creator, Dphrepaulezz saw the need to support struggling black artists by founding the Blackball Universe with friend and co-dreamer Malcolm Spellman. An oasis of love, light, and color, Blackball Universe is an artist collective nestled within a dismal warehouse district in Oakland. Clearly, one of Dphrepaulezz's missions is to bring growth, life, and light into the least likely of places.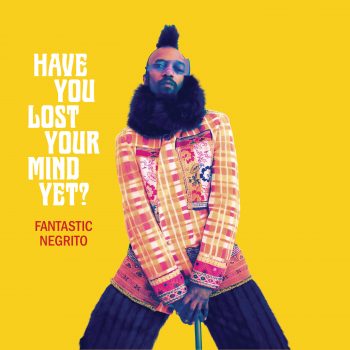 A real-life superhero, Mr. Dphrepaulezz is also known by his alter ego, his nom de plume, Fantastic Negrito. Wielding truth, humor, steely eyed hope, creativity, and, of course, soul-stirring music as his ARTillary, Fantastic Negrito is well equipped to conquer the darkness.
As the Fantastic Negrito, Dphrepaulezz has released three albums to date: The Last Days of Oakland (2017), Please Don't be Dead (2018) and most recently HAVE YOU LOST YOUR MIND YET? feat. E-40 and Tank from Tank and the Bangas, (2020). Though Dphrepaulezz is always quick to quip that he doesn't make music in order to win awards, it's impressive to note that Fantastic Negrito has won two GRAMMY® awards. One for each of his first two albums. Not to mention that he was also the winner of NPR's Tiny Desk Concert contest in 2015. So, while Mr. Dphrepaulezz lives a pretty private life, Fantastic Negrito has been noticed!
When you're standing all alone
Where the wild things roam
With the loudmouth king of the hill
Pushing moving so fast
Spitting out hashtags
There's a lynch mob ready to kill you
What have we become?
Oh what have we become?
"How Long", Fantastic Negrito
The eight of fifteen children, Dphrepaulezz had to learn the art of entertaining or risk being overlooked altogether. He honed skills that have yielded beautiful rewards in a life filled with the turbulence of abuse, violence, and near-death experiences. A life that has, despite these challenges, been lived through the lenses of perseverance, hope, love, and infectious, realistic positivity. As Fantastic Negrito told Paste Magazine in 2018, "Our goal is to fill in the valley with all the goodness and positivity in the war against hate. This is all about the war against hate. War against the tribe with no love in their hearts. Our weapons are these instruments… Pianos and boxes that make sound, when you don't have drums, 12 string guitar's, and beautiful people that help us fulfill our dreams and destiny." 
We caught up with Fantastic Negrito recently, as he was putting the finishing touches on his latest release, the very timely HAVE YOU LOST YOUR MIND YET? An album that, through a motley cocktail of hip-hop, R&B, funk, soul, and rock 'n roll, exhibits Fantastic Negrito's signature style that he calls, black roots music for everyone. In, HAVE YOU LOST YOUR MIND YET? Fantastic Negrito engages his listeners in soul searching, through lyrics that explore, "the struggle and complexities of America's increasingly broken social and political state of affairs." Every track pops with equal parts whimsy and wisdom.
HAVE YOU LOST YOUR MIND YET? is available everywhere via Cooking Vinyl/Blackball Universe on Friday, August 14. Take the opportunity to revel in the light of a beautifully free spirit. Give HAVE YOU LOST YOUR MIND YET? a listen stat. Read on to experience the brilliant sparkle of Fantastic Negrito, hero of distinct and expressive art that shines light in the darkness, when our world needs it most.
'HAVE YOU LOST YOUR MIND YET?' – Fantastic Negrito
A CONVERSATION WITH FANTASTIC NEGRITO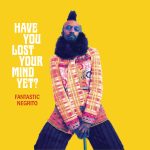 Atwood Magazine: Hello! Where are you right now? In Oakland?
Fantastic Negrito: That's right, Oakland California. I've been here for three months. I haven't gone anywhere! Nowhere. I haven't traveled anywhere! And I'm not gonna.
I'm with you on that. Unless there's somewhere important to go, better just to stay in one place and make the best of it. I really can't imagine traveling now…
Fantastic Negrito: Yeah, I'm not doing it.
I have a really important question to ask you… How many Fantastic Negritos are there?
Fantastic Negrito: Ha! There's only one Fantastic Negrito in the whole world and you know that!
I needed to hear you say it. There's definitely only one Fantastic Negrito in the whole world.
Fantastic Negrito: In the world! I discovered that when I came up with the name. I was like, "Hey wait a minute, there's only one of me!"
Here's the second important question: have you lost your mind yet?
Fantastic Negrito: Well I think that I did and that's why I wrote this record so that I could reclaim it. It's very therapeutic to know you can lose your mind and then reclaim it. You know, It's OK to lose your mind.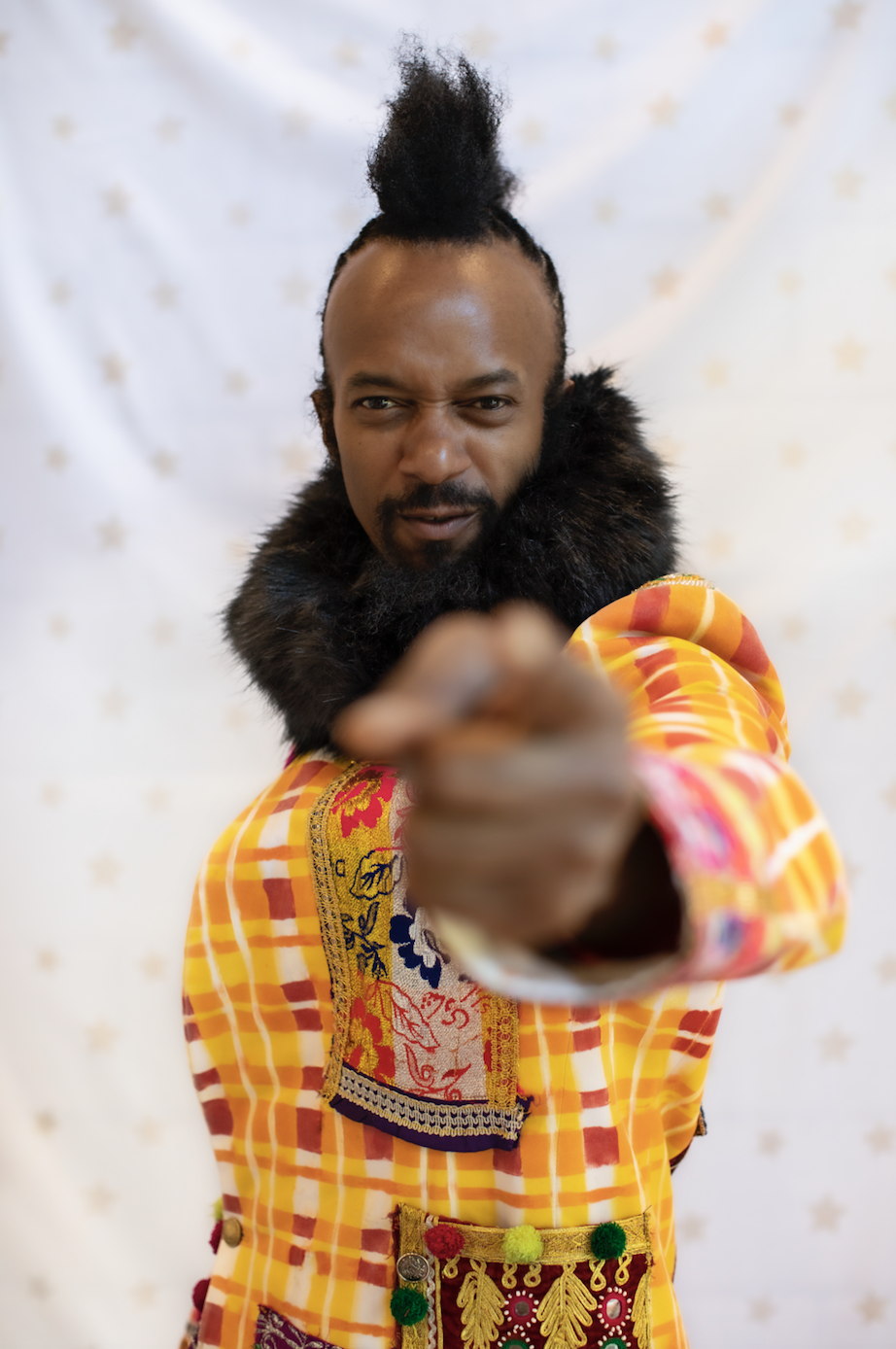 I definitely get it. And in terms of the quarantine, have you developed any new skills or interests during the lockdown?
Fantastic Negrito: Well a couple of things actually. Number one: I live on a farm, so this is one time that I'm not on tour that I really got to be more hands-on with treating the soil, taking care of the chickens, helping build greenhouses. My farming skills have improved! It's something that I've always been into but, now that I'm home, it's good.
Another skill that I picked up on is reaching out more. I started the whole campaign of the album with outsourcing for the video for "Chocolate Samurai." Why? Because there's no place to tour! So I've gotten better at engaging with people. I reached out to the entire world, I asked them to send me clips, and they did! And that's how we made the video for "Chocolate Samurai." That was something new. Another thing was collaborations. We collaborated with Tank and the Bangerz and with E-40. So I've got a whole bunch of new skills in the last year really and so they've been able to shine through the pandemic because I've been working on acquiring them. And now they've only begun to shine more.
It's only just begun! You are very engaging on Facebook. I looked through a few of your clips and videos and I did see one about you and your farm. So, please tell me a little bit more about the kinds of things you grow on your farm.
Fantastic Negrito: Well I started my farm because of something my grandmother said to me when I used to visit her in the rural south. I mean the rural south in the hot summer. And I'd sit there and interview my grandmother and all of my relatives.
That's fascinating.
Fantastic Negrito: And so one day I was like, "grandma, how did you survive the Jim Crow South?" My God! And my grandma said to me, "Honey, we didn't have any problems with white folks." That shocked me. I'm like, "what!?" She said, "We lived on a farm. It was a collective with great-grandpa Brown. Everybody grew their own crops and we had our own hogs and livestock. It was about self-determination. We didn't have to ask anybody for anything." From that day on it just stayed in my mind. There's nothing more healing, or therapeutic, then to get back in touch with what traumatized you. In my relative's case, it was the soil. I feel like soil traumatized us.
When my grandmother said that I thought, wow she's talking about power, she was talking about self-determination, she was talking about having your own skills. So, through agriculture and getting back to the soil, I feel like I have reclaimed that, and that's why I call my farm: Revolution Plantation.
What I do is grow with kids. Some of the kids are in my family and some are not. I've got some of my troubled nephews on the farm, building greenhouses, cleaning, building chicken coops, seeding soil and harvesting crops. I teach them how to be an urban farmer here in Oakland. It's so therapeutic, healing and so powerful.
I grow a lot of greens: collard greens, swiss chard, and kale. I grow squash, zucchini, and a lot of lettuce. That's kind of the staple of my crops. We don't have a tremendous amount of perfect sunlight, but it's good enough. I just got to the point of growing figs!
It fits my lifestyle and my philosophy of living. If you wanna know what's in your food, you gotta grow what's in your food! It's powerful, it's revolutionary and it's very therapeutic for children and adults… people going through depression and the like. Just get your hands in that soil.
Growing anything brings a lot of life to its surroundings. Obviously, for the plant itself but also for the people that grow it!
Fantastic Negrito: Absolutely, man. Everyone should grow something. That's what my grandmother was saying way back then and she was in her 90s. That's a missing component of the Black Lives Matter Movement: the economic side. Where we own our own businesses. To develop more self-determination skills in order to survive in this madhouse. That's something I feel very passionate about. It's a no brainer.
If you want to defund the police, we have to start producing citizens that don't need the discipline of cops. I mean we're always going to need order. I'm not saying that we won't. But, to be able to increase our amount of productive citizens, that's revolutionary. A motherfucker could be an electrician, so he's going to go and be an electrician every day. A dude that could be an urban farmer, he's going to spend his days going about his urban farming business. That's power. That is personal power. That's how you defeat everything. With personal power. I believe in that.
Yes, sir! In the wise words of my favorite educational philosopher, Maria Montessori, "Education is the best weapon for peace." This is what the world needs now. So, when you say urban farming, I am assuming that means your farm is not in the middle of the countryside. Can you please tell me a little bit about your farm?
Fantastic Negrito: Urban farming is when you grow crops wherever you can! I grow in bookcases outside, in drawers and dressers. It's all about up-cycling. It's like my song "Bullshit Anthem" on my last album Please Don't be Dead, you have to "take that bullshit and turn it into good shit."
That's one of my favorite songs and mottos. Such a good philosophy for life.
Fantastic Negrito: Right on! You know, it's when you see a dresser on the side of the road, you can take that and grow stuff in it!
This is such a positive way of thinking. What a good contribution to the world. In previous interviews, you've spoken a lot about contributing to the world in general and specifically the music world. What is it that you most want to contribute? Especially these days, in light of all of the drama that's going on.
Fantastic Negrito: Well it's all linear to me. It's like this, hey you know, music, poetry, food, farming, ballerinas, dancing… Anything positive that you're putting out into the world you're contributing something great. Attitude, let's talk about attitude. Man, attitude is everything. Your decision making. The choices you make. So I don't really separate them. I feel like it's one whole trip that I'm on. Music just happens to be what I know how to do. But I think we can all contribute all the time. People say, "what can I do?" Man, you can do a lot. Every person has a tremendous amount of power. We have a tremendous platform, as soon as we wake up and realize what we are going to do with it.
I call my music, black roots music for everyone. I don't have to get caught up in genres.
Right on. I'm with you on the linear concept. I have heard you talk about a delineation between the term, musician and the term, artist. What is the difference between an artist and a musician?
Fantastic Negrito: I think there's a massive difference. When a musician is trained and talented, they are experts at expressing themselves through music. Whereas an artist, and I consider myself as more on the artist spectrum, is really more about creating the narrative. Creating the fashion that goes along with it. Creating the lifestyle that goes along with the words, the lyrics…it's spiritual medication. And the gift of music is the feeling. You know, it's like Miles Davis said, "Anybody can play. The note is only 20%. The attitude of the motherfucker who plays it is 80%." And I think that's the difference between an artist and a musician. A musician may want to take all these chords and notes and make a song. Whereas an artist might want to take two chords and make you feel something extremely passionate. That's what initially attracted me to black roots music. You had to be an artist back in those days. People on chain gangs, if you listen to that work music, you had to be an artist. They didn't have all of that musical training but they had feelings. To be able to sustain so many negative experiences, and turn all of that into something positive, that's spiritual healing.
Take that bullshit and turn it into good shit!
Fantastic Negrito: Exactly.
Not all artists have a stage name. For example, your real name is Xavier but your stage name is Fantastic Negrito. Why did you decide to separate these two entities?
Fantastic Negrito: Yeah, I don't wanna be that dude all the time.
Do you consider Fantastic Negrito an alter ego? Is he a superhero version of yourself? Is he completely different from Xavier?
Fantastic Negrito: Absolutely. You have to be able to take that suit off and put your hands in the soil. You gotta be able to take that suit off and be a friend and a parent. I enjoy doing that. And I enjoy being Fantastic Negrito too. It's great to be able to disconnect.
I think that's a very healthy boundary. It's like when Mr. Rogers used to come into his neighborhood, and to his house and he would take off his coat and put on his Mr. Rogers neighborhood sweater. Then it was time to play.
Fantastic Negrito: Oh you got to be able to turn that stuff off so you don't end up on pills and drugs. That's why I stay right here in Oakland California. I make all my albums in this tiny room. It's not really a professional studio, but it's a really amazing art gallery. A place where a different mind can come and make some incredible music. I've made all of my albums here. And honestly, I've been doing social commentary since the first Fantastic Negrito album. Even "Lost in a Crowd," from Tiny Desk, it's always been about social commentary. I've always made music from the perspective of, "Hey, I'm gonna make sure I have my finger on the pulse of what's happening." That's how Please Don't Be Dead and The Last Days of Oakland, got these huge themes.
For, HAVE YOU LOST YOUR MIND YET? I was really interested in writing from a micro level. I wanted to take on personal, challenging issues like mental health of people that I know and people that I don't know. Issues of, how are we surviving in this country? How are we surviving in this society? In this time, when it seems quite regular that people get shot up in churches, shot up in Las Vegas… and we just keep going on. It was very interesting to take on issues like police brutality and the disproportionate amount of times that African-Americans get killed by the state-sponsored police, that arbitrarily executes African Americans. It just seems nuts that we're in this space. How are we dealing with this as human beings? How is this affecting us mentally? Who are we becoming? What are we becoming? And I kind of looked around at everyone that I knew and I wanted to write from their perspective. That's why every song on this album is about an individual that I know. And some about myself, mental issues, and mental health. I don't know if we're coping with it the right way. You know this world is just so polarized. The pendulum swings back and forth, and we're just in the business of screaming slogans. That's why I make these records. To try to transcend that and speak a universal language to get some healing. 
Get a dose of soul medicine, as you said. I think it's a good sign that you've been recognized for your music and won two Grammys! That means people are appreciating your message and your work on a grand scale.
Fantastic Negrito: Well you know, I treat the Grammys like this: It's great to win them. I don't really put my Grammys up on the mantle or anything like that.
I love living in the insular area of Oakland in the bay area, where it's really just about the music. You know, I'm a middle-aged artist, and I'm going into the studio to record music. That's fucking amazing. It's kind of like being 17 again, and you can do what you wanna do. Making what you want to make. Making a contribution. 
I understand that The Grammys weren't your goal. However, I do think that it speaks well of The Grammy nominating committee. They recognized an up-and-coming, out of the box artist, like the Fantastic Negrito!
Fantastic Negrito: I was shocked! I was like, really?! I didn't ever really feel like I belonged there. It was a major shock to me. I actually made Please Don't be Dead to completely forget about the whole Grammy thing. It's a totally different sound. So, I am very pleased, trust me, I like the win! I am very competitive… I have 14 siblings! So it's great but you can't really let it be your focus. 
To me, my Grammys are for all those people who thought it was over. People who gave up on their dreams. So they can see what you can accomplish! Like, I'm walking into the barbershop and people come up to me and shake my hand and say "Hey, we're proud of you." I think it's more for that, and I'm glad that it's worth something. It's amazing! I still think, "wow! Two Grammys, incredible." It's weird!
It speaks so well of the music world because it's not Pop music…
Fantastic Negrito: Not at all. In fact, people don't know what music it is. They are like, "it's not really blues… It's not really soul." I call my music, black roots music for everyone. I don't have to get caught up in genres.
I don't want to get caught up in the confines of the corporate, stale and ugly way of compartmentalizing everything. Like some person that's completely detached from music, sitting up in the executive chair with their repressed fantasies of the world. Man, I'm just not interested in that. I couldn't care less what they think of me. I care about what artists like Taj Mahal or Buddy Guy think of me. If Robert Plant comes to my show, I care about that! Those are the guardians of great music. I'm basing my music on that. Like if Sting comes to record a song with me. E-40 wants to come in record with me… I like that!
I want to make sure to get this inspiration from you before we go. In "I'm So Happy I Cry" you say, "I never gave up." What was your inspiration to keep moving towards your goal even though, after a serious car accident, you spent three weeks in a coma and lost the use of your playing hand? What kept you going even when things seemed bleak?
Fantastic Negrito: Well, the same thing that always inspires me. You know, I was on the streets at 12 years old. I was separated from my family. I never saw my father again and grew up in foster homes, experiencing abuse and the crack epidemic. But I was born to never give up, I just was never that person. I was always inspired by looking at the trees, watching the sky, water, walking, movement, hope! I've always been very optimistic.
Maybe it comes from being from a big family where the odds were always against me. I love it, man, I love when there is optimism! You know, growing up with racism, shit… I was never going to be anyone's victim. I don't like it now!
The word nigger means… James Baldwin said, "racist people came up with that word it had nothing to do with me!" I've been called that right here in California, I don't care. I never got angry. I can't lead other people's lives. I'm just inspired by hope. I'm inspired by all the positivity.
Well, you definitely inspire me! And you inspire a lot of us and I really appreciate your art and your gifts and your blessings. Thank you so much for your time. I feel so lucky that we were able to have this conversation.
Fantastic Negrito: Thank you so much!
— —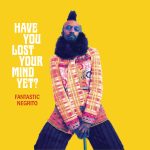 ? © Peter Koudstaal
:: Fantastic Negrito ::
---