Jackie McLean of the indie band Roan Yellowthorn grants us an inside look at the making of an album from start to finish in her 'Breaking The Record' column.
"Smoke Gets in Your Eyes" – Roan Yellowthorn
---
Being a musician is really weird right now. I'm doing a lot less music. But, weirdly, I feel a lot more centered in it. It's almost like this break only highlights how important music is to me. To my life. To my spirit. To the way I process experiences and emotions.
I have a record player that I just set up. My Crosley broke, we got a new one, and I couldn't properly hook it up to our old vintage speakers. It wouldn't work. So the new record player sat in the music room for weeks, neglected and abandoned. Every time I passed it I felt unsettled. I love listening to records. So, yesterday, I took some time and figured it out. I used some extra cords and hooked it up to a big portable digital speaker that we usually keep in the kitchen. It worked. And I spent a whole hour and a half yesterday playing records at full volume and dancing around in my oversized Blue Elan tee shirt. It was a great morning. The Beach Boys, Abba, The Jackson 5, Tom Petty, The Bee Gees, and a little Taylor Swift thrown in for good measure. They are my friends. And they help me to feel better. To feel like myself.
Just jumping into the Breaking The Record series documenting the making of our album from start to finish? Read part 1 here!
Aside from listening to music, I'm still creating music during this time. My new album won't come out until early 2021 and, in the meantime, I'm recording some special projects from home. In pre-pandemic times, we would probably do our recording in a studio. I've spent many blissful hours at Clear Lake Recording studio and Fever Recording studio in LA. That's where our label is based and we've done a lot of our recording there. We can't travel now. But I'm glad that we've found a way to record from home.
Since the lockdown started, I've recorded three projects in my basement. And we have more to record in the pipeline. I've also recorded some background vocals for another artist down there. All of the singles that we've done from the basement in the last few months have been in collaboration with my label, Blue Elan Records. I work with our label founder Kirk as well as our producers and instrumentalists Zack Darling and Zachary Ross. They are in LA. We are in New York. So here's how we do it:
First, we assess our basement studio setup. Over time, we've accumulated all of the required equipment. At the beginning of the pandemic, we ordered some more essentials to fill in the gaps so that we could produce studio-quality recordings. Honestly, I don't really know what we have down there. I know that we have a lot of instrument microphones, we have a pretty big Scarlet preamp, and we have a vocal microphone that supposedly sounds like the one Taylor Swift uses.
Next, I record a scratch track in the voice memo app of my phone. I record myself singing and playing the song on keyboard, ideally with a metronome playing in my headphones so that the song is in time enough to use as a scratch track base layer.
After that, the scratch track gets reviewed and a full scratch track is created in LA  by Zack by himself or Zack and Zach together with layered instruments and a beat. Often, Shawn records to that to make a drum track that can be added in. Once the scratch track is filled out, I go into the basement and sing over it to create a final vocal. Often, we do this while video conferencing with Zack. This way, it's almost like being in a real studio. It's really fun. After we have a few good passes of vocal, we send it back to LA where the wizards work their magic and, voila – A song is born!
The single I just released was not recorded in my basement but it was recorded with some of the same talented folks who work on the new singles with me. It's a Chris Cornell cover and it benefits the Chris and Vicky Foundation. I'm really proud of how it turned out.
And keep an eye out for some of these new singles to come out soon. My new album is not coming out until early next year but, never fear, there will be a lot of new music in the interim!
Stay well, you guys.
— —
— — — —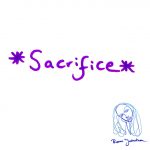 ? © Jackie McLean
:: Breaking the Record ::
---