Jackie McLean of the indie band Roan Yellowthorn grants us an inside look at the making of an album from start to finish in her 'Breaking The Record' column.
Stream: "Vampire" – Roan Yellowthorn
---
When I started writing this column a year ago, I didn't know it would take so long to get to this point. But here we are, one year later. And, today, my album is available to pre-order!
It's not out yet, but it will be on May 14th. And I can't even wait!
From writing to pre-production to waiting to recording to mixing to mastering to waiting some more (this time for a whole year because of the pandemic) to now. With two singles already out and the pre-order finally live, it feels like this thing is actually happening. And I'm so glad. Because I'm so excited to share this new album with you. Truly. I can't even wait for you to hear it.
There are songs on this album about all sorts of things – feelings of inadequacy, a terminated pregnancy, the generational legacy of mental illness, our connection to the natural world, falling in love with strangers. There's even a song about the artist Alex Cameron.
Just jumping into the Breaking The Record series documenting the making of our album from start to finish? Read part 1 here!
I poured my heart into these songs and into this album. That may not mean a lot to you. You may not know who I am at all. But it means a lot to me. And it means a lot to me to be able to connect with you. And I believe that the more honest we are, the more authentically we can connect. That's my belief and my hope. I think that when we are vulnerable and truthful, we are able to see ourselves in each other. Because, underneath everything, we are all alike. In a fundamental way, we are all connected. Part of the same earthly family. United in many ways.
But I didn't write this album solely to connect. I would be lying if I said that were true. I wrote this album to work through emotions and feelings that I really couldn't process in any other way.
Music is nothing if it's not heard. That's the weird thing about it. I may have written many of these songs as a tool for my own healing, but songwriting is not just a private thing. Not when you release music publicly. Once it's out in the world, it has to be heard. That's the second part of the equation. If it isn't heard, it isn't real. And this record is just vibrating with energy. It needs to be real. It needs to be heard. It needs to be held and loved. By you. I hope you'll listen to it.
Along with the album, you can also pre-order some amazing merchandise. We have a beautiful sticker made in a cool, analog way (the font was made by running copy through a copy machine and distorting it).
And we have an amazing black tee shirt with the same trippy font and a gorgeous line drawing portrait designed by our friend, Theresa Lopez, who is the director of marketing at our label.
There is a physical version as well as a digital download of the album available. All of the artist photos in the CD were taken by my mother, photographer Patrisha McLean.
I'm so excited to share this with you. Truly I am. Thank you for reading this column. And for being with me on this journey. It truly means the world.
— —
Stream: "Vampire" – Roan Yellowthorn
— — — —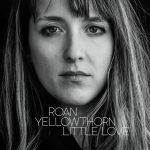 ? © Jackie McLean
:: Breaking the Record ::
---