Stirring up a new level of raw before their upcoming world tour, indie legends Big Thief drop a double single, "Little Things" and "Sparrow," unquestionably continuing to grow their music deeper and more influential with each album.
Stream: "Little Things" / "Sparrow" – Big Thief
---
Your favorite indie folk/rock band is back with more soul music. Big Thief (a.k.a. Adrianne Lenker, Buck Meek, Max Oleartchik, and James Krivchenia) has evolved from the amped up indie rock sound of years before with their newly released double single, "Little Things" and "Sparrow." These two tracks seem to be the product of the closeness the band has been forging for years. After their 3rd album, U.F.O.F., and it's sister album, Two Hands, Big Thief are continuing to dig deeper roots into their grounding indie folk sound.
"Little Things" was recorded with Shawn Everrett at Five Star Studios in Topanga, CA (October 2020). "Sparrow" was recorded with Sam Evian at Flying Cloud Recordings in the Catskills (July/August 2020). Both songs were produced by Big Thief's drummer James Krivchenia. "Little Things" begins with a swell of sound, and that fullness remains from start to finish. The evolving time free time signature, jangly guitars, tinny tones and the high-pitched snare exude an energetic brightness that makes the uncertainty of the track wildly enjoyable. Lenker's distinct voice and mystical presence is especially reminiscent of Stevie Nicks on this first track.
Like high noon dropping into dusk, the chorus-less "Sparrow" lags and lulls into cooler tones as it retells the biblically-tinged story of Paradise lost from Lenker's POV. It's laid back patterned rhythm offers space to consider its lyrics in a way that "Little Things" doesn't. A new level of raw, the recording you hear is the band's very first take. "Sparrow" begs the questions: Do we truly become what we consume? Or is that just the story we've been told?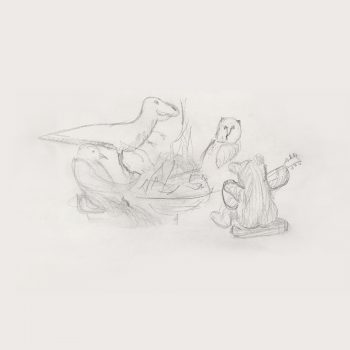 Threading my heart through the needle
Threading the blood through the apple
Eve sucked the juice from the apple
Nakedly running I saw her
Boy chasing after to stall her
I wish I'd have spoken to call her
Before she found fabric to shawl her
Breasts bound and burdened with fiber
Adam came trembling beside her
And he said, he said
"She has the poison inside her
She talks to snakes and they guide her"
The album art also stands out as it is visually unlike anything we've seen before from the band. It's a simple sketch on a white background. Clearly a group of wood-creatures making music around a campfire with (arguably) a dinosaur at the gathering. If not a dinosaur, perhaps just a very, very large sparrow. But regardless of the animal specifics, the album art emphasizes the music's focus on the spiritual nature of storytelling, the influence of intimate social spaces, and the power natural elements (like a campfire) hold in stoking that magic.
Listen to Big Thief's newest releases right now on all streaming platforms and be sure to check out their website for more information on their upcoming tour.
— —
Stream: "Little Things" / "Sparrow" – Big Thief
---
---
— — — —
? © Josh Goleman
:: Stream Big Thief ::
---