Recommended If You Like: The xx, U2, Young the Giant, Two Door Cinema Club
Inner demons and restlessness drive The Temper Trap's new song "Burn." Unrelenting passion resonates from echoey guitar riffs and emanates off unabridged lyrics: "How can we know light without walking in the dark?" questions lead singer Dougy Mandagi with a pain and hunger not seen since the band's 2009 debut. "There would be no spark."
Listen: "Burn" – The Temper Trap
---
It's been over four years since The Temper Trap's eponymous sophomore record expanded the Australian band's sound while failing to live up to fans' unreasonable expectations. 2009's massive debut Conditions notably featured worldwide hit "Sweet Disposition," but it was a flawless record at its core: The hope in darkness, the painful love, the unshakable need to break free that defined songs like "Fader," "Love Lost," "Soldier On" and "Down River" instantly elevated Conditions, and The Temper Trap along with it, into the annals of rock history.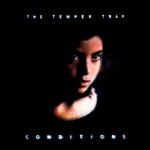 How could any sophomore record match that inimitability? Any attempt to replicate Conditions was doomed from the start, and so the band knowingly took another course in crafting 2012's The Temper Trap. Branching out, writing about external subjects and assuming confidence in their experimentation, the band presented a different side to their artistry.
The Temper Trap's allure was (and still is) derived from an intimate vulnerability that flows through their music. "Burn," the second release off the band's third album Thick as Thieves (out 6/10/2016 via Glassnote), signals a realignment of the band's core identity. Music and lyrics intertwine to capture a complex moment in as pure and vivid a form as possible. Mandagi sings about the push-and-pull of a relationship:
I don't sleep well under your spell
I'm told that people go
But still the night suffers
Your flame smaller
That face I just had to know
Know for sure
So what's the point in starting something that will crash and end
I could never tell
"Burn" is personal; it comes from a heavy place full of mixed emotions, allowing for individual interpretation while still telling its own story. "I don't sleep well under your spell… Your flame smaller… What's the point in starting something that will crash and end?" We so often hear that life is about the journey, and not the end result – but that doesn't make the journey any easier. When you're in a moment of doubt and uncertainty – when you question your love – that weight pulls on your soul.
A sort of resolution comes in the chorus:
You've got to burn… once awhile
Burn just to feel alive
No pain, no gain, as they say. You can't know light without darkness; you can't know love without knowing pain. Ecstasy fills the airwaves as The Temper Trap hit their mark, extracting insights one may only truly understand through experience. "Burn" exudes resiliency – determination to fight through hard times in order to enjoy the good ones. It accepts the fact that life is a contortionist, twisted in strange ways. Discomfort is as real a part of life as comfort is: You've got to "burn just to feel alive."
Perhaps part of this comes from The Temper Trap's personal experience with their sophomore album; perhaps it derives entirely from a rough patch in a personal relationship. Either way, it comes from the band at a time where its message is overwhelmingly real to them. The reality of their situation allows "Burn" to be genuine and authentic in every sense. It feels like a return to The Temper Trap's debut formula – but to what extent can raw self-expression be formulaic? Four years, songwriting sessions with outside writers, and pure determination have resulted in a refreshed and renewed band putting forth one of their catchiest songs to date. This feels like a turning point.
"Burn" finds a reinvigorated The Temper Trap soldiering on: A dynamic anthem built off an acute synchronization of music and meaning, "Burn" is powerfully tight and instantly memorable. The Temper Trap's performance is heavy, yet they refuse to let any weight hold them down; instead, their music soars brighter and bolder than ever before.
Watch: "Burn" – The Temper Trap
---
Great things await us on The Temper Trap's third album. Look out for Thick as Thieves, and be sure to catch The Temper Trap on tour (full schedule below). Considering their deliberate and subtle use of the sonic space in the studio, The Temper Trap's live performance is not one to be missed.
:: The Temper Trap :: Tour 2016 ::
6/09 – Webster Hall – New York, NY
6/12 – Field Day London – London, United Kingdom
6/15 – Paradiso Noord – Tolhuistuin Main Hall – Amsterdam, Netherlands
6/17 – Northside Festival – Aarhus, Denmark
6/18 – At The B-Sites – Koln, Germany
6/26 – PiP Festival – Oslo, Norway
7/14 – Super Bock Super Rock – Lisbon, Portugal
7/15 – Parco Della Musica – Padua, Italy
7/16 – A Night Like This Festival – Chiaverano, Italy
7/24 – Secret Garden Party – Huntingdon, United Kingdom
8/08 – Club Quattro – Osaka-Shi, Japan
8/09 – LiquidRoom – Ebisu, Japan
8/12 – Good Vibes Festival – Kuala Lumpur, Malaysia
8/14 – We The Fest – Jakarta, Indonesia
8/19 – Frequency Festival – Salzberg, Austria
8/20 – Pukkelpop – Kiewit – Hasselt, Belgium
8/26 – Leeds Festival – Leeds, United Kingdom
8/27 – Rock En Seine – Boulogne-Billancourt, France
8/28 – Reading Festival – Reading, United Kingdom
9/11 – Lollapalooza – Berlin, Germany
9/19 – Wonder Ballroom – Portland, OR
9/20 – Neptune Theatre – Seattle, WA
9/21 – Commodore Ballroom – Vancouver, Canada
9/23 – Life Is Beautiful – Las Vegas, NV
9/25 – Gothic Theatre – Englewood, CO
9/27 – Varsity Theater – Minneapolis, MN
9/28 – Metro – Chicago, IL
9/29 – Majestic Theatre – Detroit, MI
9/30 – The Phoenix – Toronto, Canada
10/04 – Royale – Boston, MA
10/05 – Theatre of Living Arts – Philadelphia, PA
10/06 – 9:30 Club – Washington, DC
10/08 – Variety Playhouse – Atlanta, GA
10/09 – 3rd and Lindsley – Nashville, TN
10/11 – Granada Theater – Dallas, TX
10/12 – White Oak Music Hall – Houston, TX
10/13 – Emo's – Austin, TX
10/16 – The Observatory – San Diego, CA
10/17 – The Observatory – Santa Ana, CA
10/18 – The Belasco Theatre – Los Angeles, CA
10/19 – Warfield Theatre – San Francisco, CA