"Where You Are" is Baggage's ode to relationships that are just lost to time.
Stream: "Where You Are"- Baggage
---
Every time you say good bye to someone, there's plenty of potential for it to be the last time you ever see them.  Sometimes, this comes with sudden death-car accidents, senseless violence, or undiagnosed illness, but more often than not, the end of relationships come with distance and time.  Life gets in the way.  People move.  Priorities change.  Baggage's "Where You Are" rallies against that sense of loss, and it focuses on Jonathan Diener's (formerly of The Swellers) attempts to relearn a lost friend and potential romantic partner in the deep cut from their excellent new album Life in Misophonia.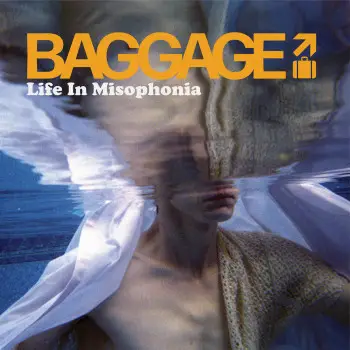 A mid-paced indie rock tune, trudges along at a pace that captures the sense of wonder and lonesome that you have when thinking about people you've lost touch with.  Thematically and sonically, it feels like a cousin to Green Day's "Whatsername," the closing track from American Idiot.  Each are medium tempo-ed pop-punk-leaning rock about the people you wish you remembered more.  While Billie Joe Armstrong tends more towards anthemic hard rock, Diener aims to create more emotionally-validating indie rock.  Despite the catchy chorus, the song is often built on sparse bass-driven verses, painted with light guitars.  The song ebbs and flows with the idea of how we get caught up in these cycles of wondering whether or not these are even worth while.  Diener raises his voice in the bridge with frustration about losing touch.  Diener's voice is the most powerful instrument on the track, as he runs through the entire gamut of emotions that those of us that really let ourselves become attached to our thoughts and feelings endure.
So much of Life in Misophonia are very specific depictions of aspects of Diener's life, whether it's living with the titular disorder "Misophonia" or an ode to his old car in "E-350."  "Where You Are" is loaded with very human conversations that despite their specificity are very general.  The track's opening lines:
Ten years ago, we said
if we were both single
We'd meet at the Coney Island
where I first saw you
It's a very adolescent idea to make a pact with someone to reconnect somewhere down the line if things haven't panned out for either of you at some point, but there is a part of us that like to hold onto that idea.  No one wants to feel lonely.  As the track goes on, Diener ruminates on missed opportunities with the person he's addressing.  It's most heart-wrenching in the final verse:
Missed you call that day
I was stuck in therapy
You were sitting in the same booth
The same seat
The following day you had your surgery
While it's understandable to sometimes have to miss plans, there is a very real worry that you may never get a chance to see someone again, especially before an event like a surgery.
The song's mission statement comes in the bridge:
Unprepared to see a ghost
I never thought would come back to haunt me
But it's okay, if we're both acting our age
We grew apart for a decade,
Then again, who's counting?
The memories of people that we lose touch with certainly makes them feel like they're dead, even if they aren't. Even when you make the active attempt to reconnect with someone, it can still feel like you're hitting a wall trying to rekindle a friendship or relationship.  As he sings these lines Diener is really letting his emotions run wild, and the final couplet is the most biting line in the whole song.  When you ruminate too long on losing touch, it feels like you're the only one who cares.
"Where You Are" best serves as a portrait of longing, curiosity, and loss on Life in Misophonia.  As one of Baggage's standout tracks from the album, it distills so much of the album's main emotion which is the lost feeling of loneliness.  Through a well-crafted indie rock song that shifts through a number of different tones and moods, frontman Jonathan Diener lays all his cards on the table, left to wonder if anyone will just pick them up.
— — — —
? © 2019
:: Today's Song(s) ::
---
:: Stream Baggage ::