A bittersweet folk reverie, "Daylight Curls" is a tender, haunting implosion of restlessness and anxiety and the perfect introduction to Bendrix Littleton's stunning new art and artistry.
Stream: "Daylight Curls" – Bendrix Littleton
---
Life's little moments can be as meaningful as they are seductive, but only if you are willing and able to embrace them. Many of us live on-the-go and nonstop, fast-paced lives; there's this fear, inherent to such a lifestyle, that slowness, stillness, and rest run counter to the idea of fulfillment and progress. After all, we only get so many hours in a day, so many years in a life; what are we doing with ourselves if we're not spending that time wisely?
Such a mindset leads to a vicious cycle of anxiety and activity that feels increasingly common, if not the norm, in many 21st Century cultures. This writer considers himself a part of the "type A" group, as would Nashville artist Bendrix Littleton, whose new song embodies this inner tension between movement and stillness. A bittersweet folk reverie, "Daylight Curls" is a tender, haunting implosion of restlessness and anxiety and the perfect introduction to Bendrix Littleton's stunning new art and artistry.
Daylight curls
On sunburnt girls
My sweat-stained hat
Shields my world
I've been out
At the bar
Heard coastal laughs
Drove my mother's car
I can't sit still anymore
Don't feel fulfilled anymore
I need to drink to slow down
Nothing is like it was
Atwood Magazine is proud to be premiering "Daylight Curls," Bendrix Littleton's third overall single and the latest release off his upcoming debut album, Deep Dark South (out September 25 from NNA Tapes). The moniker for Nashville-via-Dallas musician (and former Bent Denim band member) Bennett Littlejohn, Bendrix Littleton was created in the wake of Bent Denim's dissolution as a vessel of introspection and free artistic expression.
Bendrix Littleton takes his name after Maurice Bendrix, the protagonist of Graham Greene's 1951 novel The End of the Affair. enotes.com (per the artist) describes Bendrix as "sometimes an unreliable narrator, for he is so consumed by jealousy, self-pity, self-hatred, and bitterness, that he measures everyone else by himself…[and] confesses that from time to time 'a demon' takes possession of his brain." It is in this manner that we begin to understand Bennett Littlejohn's new musical identity – one that is present, yet biased; dark, and beautiful. After debuting earlier this summer with the album's stirring title track "Deep Dark South" and the poignant follow-up "Smoke," "Daylight Curls" finds Bendrix Littleton in a state of imposing isolation.
"'Daylight Curls' was written when I was visiting family in New England for an indeterminate amount of time," the artist tells Atwood Magazine. "After a while, it became apparent that I was abusing alcohol because I wasn't used to feeling so still. The only people I know there are older adults so I spent a lot of time alone driving my mom's car or reading at a local dive bar. Basically having to come to terms with feeling good with yourself to be able to sit still with yourself."
Stillness never felt quite as oppressive as it does through Bendrix LIttleton's lens. The artist's dark acoustic canvas aches with heavy-hearted self-doubt and longing as he reckons in real time with his surroundings. We can feel the weight of these words spilling out of their creator; as guitars rise and drown out his voice, the baggage he's carrying with him becomes heavier and deeper.
Daylight curls
On sunburnt girls
Watch them laugh
Watch them twirl
I've been out
reading at the bar
Til the worlds blur
Til I feel far away
I can't sit still anymore
Don't feel fulfilled anymore
I need to drink to slow down
Nothing is like it was
While it would feel only fitting to end with some sense of surrender to the tranquility of this environment, "Daylight Curls" takes a much darker turn in its finale, leaning into the themes of instability and escape until the artist's voice is no longer audible in the flood of gentle, soothing guitars:
I've done nothing wrong
I just follow along
Go out with my headphones on
The hours just drag on and on
Find some local bar
Take shots 'til I feel far
Need drugs to feel new again
Need drugs to feel good again
On the process of creating songs like "Daylight Curls" and more off Deep Dark South, Bennett Littlejohn explains, "The initial spurt of songwriting was directly correlated to a vintage Harmony H162 acoustic guitar I found at a flea market in Kentucky, near the Tennessee border. This guitar would've been sold at Sears in the early 60's. I strung it up with all of the higher pitched strings from a 12-string acoustic set and got to writing. A lot of rich, burnt-out musicians affectedly claim that there are 'songs in guitars' to justify their ever-growing guitar collections, but I do feel there is an ounce of truth in this. The way something feels, or the faults of a certain instrument indeed can bring out something unique and new."
"Once the basic bedrock of the record had been tracked, I realized that the songs were too slow, my voice was too low…a spark was missing. My brother had just sent me my old Tascam four track cassette recorder. So, I spent a little time with that, and ended up committing these songs in their unfinished states to fixed tracks on this old tape machine—no editing, no panning, no volume changing. Driving the cassette tape hard and speeding the songs up (which also raises the pitch), gave this album that special aspect I had been looking for, and also provided a completely fucked up and new sonic foundation for me to start layering on top of."
He continues, "Throughout the record I deal with the common tropes of alcohol/drug abuse, malaise, ennui, regional junk, and the dissolution of relationships. It's well-trod ground, but I'd rather write what feels genuine rather than something foreign for the sake of novelty. It feels ridiculous enough to put out something in 2020…so much noise to break through. But I feel like these are common enough things. I wouldn't say these things are universal, but they're not far from it."
If anything, "Daylight Curls" captures much of the malaise and darkness of the year. Deep Dark South's final single is both its deepest and its darkest moment yet to come to life, and it's this taste of bitter emotion – brought to life alongside a breathtakingly beautiful instrumental outpouring – that Littlejohn's latest work so appealing, and Bendrix Littleton a name worth committing to memory.
Deep Dark South is out on September 25 via NNA Tapes. Stream "Daylight Curls" exclusively on Atwood Magazine!
— —
Stream: "Daylight Curls" – Bendrix Littleton
— — — —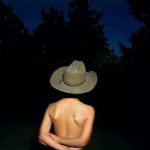 ? © ben davis
:: Stream Bendrix Littleton ::
---