Glowing with love, faith, and passion, Coyote's Choir's uplifting and catchy debut single "Sing!" sparks a fire deep inside us
— —
We all get a little lost along the way; caught up in this and that, we forget ourselves… we "lose the music." It's in those moments that we can rely on family, friends, and song to bring back the light and help it shine. Glowing with love, faith, and passion, Coyote's Choir's uplifting and catchy debut single "Sing!" sparks a fire deep inside us, rekindling doused flames and galvanizing our spirits in an exultant proclamation of life's beauty.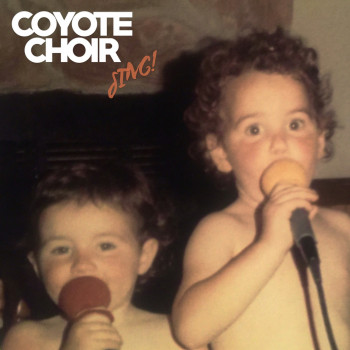 Where did the music go?
When did the tempo slow?
How did the joyous sound slip away?
Used to hear it in your heart
Feel it in your soul
Spirit soaring high
Now it's sunk down low
Atwood Magazine is proud to be premiering the lyric video for Coyote Choir's debut single "Sing!", the first track off their upcoming debut album Vol. 1. The Nashville heartland-inspired pop trio of brothers Jason and Paul Watkins and Mathew Linton, Coyote Choir introduce themselves with a call to action: "Come on sing with me," they urge in their debut's passionate chorus, inviting a community of strangers to join and hands and stand together as one.
Life has a sinister way of beating us down; of taking the fun out of the things we love. Stress and tension build over time, draining our batteries and our smiles. "Sing!" is a valiant attempt to revive the world's magic; to find our way back to that special place where being wide-eyed isn't naive, but opportunistic; where every day is full of possibility and excitement; and where music can wash over you, a healing and revitalizing force of nature.
The band sings fervently in a catchy singalong chorus:
Come on sing with me
Feel the rhythm of your beating heart
Let the sound of love set you free
Come on sing with me
Hear the beauty let it lift you up
Be healed by the sweet harmony
And if you sing with me
Ain't nothing gonna stop us now
Imagine how happy we'll be
Lift up your voice
You still have a choice
SING!
Premiered only a week ago on East of 8th, "Sing!" comes from a place of truth and love: "We wrote it for someone close to us who has a beautiful voice but went through a season of quietness," Coyote Choir reflected. "She had lost her desire to sing. The song is an encouragement and reminder to us and, hopefully to all who hear, to use the gifts you've been given to inspire others. The message is clear: Whatever stole your voice, take it back."
Reclaim your narrative; make it your life.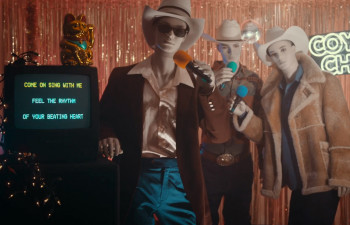 As if "Sing!" weren't infectious enough, Coyote Choir's lyric video is a clever and instantly memorable karaoke experience featuring three stylishly-dressed cowboy mannequins. It's as if they know their song is ridiculously invigorating, and intend to drill their words into our conscious: Our eyes are instantly drawn to the ever-moving karaoke screen, picking up each word a second before it's sung.
"We knew we wanted to create lyric videos, but we wanted them to be interesting and to tell a story," Coyote Choir tell Atwood Magazine. "We love cinema. So we started chatting with our good friend Dan Martinie who is a phenomenal videographer in town. He came up with the idea of filming mannequins and we were immediately on board. We started dreaming up a story about three mannequin cowboys trying to enjoy the finer things in life. Karaoke is only the beginning of their enjoyment!"
It can be so difficult, especially in today's crowded musical environment, for an upstart band to break through the noise. Coyote Choir put considerable thought into how they would introduce themselves, but the most important element shining through their music is its honesty: "Sing!" resonates with love and affection, radiating with a cozy, driving heartland heat that awakens something deep inside – a feeling we seem to have lost along the way.
Stream Coyote Choir's "Sing!" exclusively on Atwood Magazine, and let the light back in.
When did the fire die?
Where did the passion fly?
How do you raise the dead back to life?
Deep inside your soul
There is still a song
Open up your heart
You've been quiet for too long
Make a joyful noise again
Let the music back in and sing
Listen: "Sing!" – Coyote Choir
— — — —
? © 2018
:: Stream Coyote Choir ::