Bridget St. John talks to Atwood Magazine about her music influences, her emergence on the British folk scene, collaborations throughout the years and about her music projects in the works.
Stream: 'Ask Me No Questions' – Bridget St. John
---
Ambling down the aisles at Kim's Records on Bleecker Street one day about twenty-five years ago, I picked up an album by Bridget St. John called Ask Me No Questions. The cover showed only the pretty face of a young English woman. It wasn't overly fancy or decorative. Having become familiar with British Folk, and since it was in the British Folk section, I figured I'd give it a listen. Many of my most cherished music discoveries happened this way.
When I got home and listened to the CD, I was transfixed by the magic of St. John's husky voice and spectacular guitar playing. More importantly, the songs were fresh and new. Each song was like a poem. And St. John's guitar playing, while intricate and inventive, matched the words and moods of each song. Listening to St. John's cello-like vocals felt very private, like I walked into a room where someone was playing alone. It didn't feel like she was whispering in my ear, but I could feel the heat of her voice, as if she was right there singing to me. This intimacy is what makes Bridget St. John's music so unique and special. More than just being technically interesting, her songs touched me then and continue to move me.
The entire Ask Me No Questions album is a masterpiece. Put out by Dandelion in 1969, Ask Me No Questions was produced by the British John Peel (DJ), who it was said, "created the label to get the music he liked onto record." There is extraordinarily little production on the record. We hear St. John as she played.
There are a few gems that really stand out for me on Ask Me No Questions. "Curl Your Toes," echoing the album title, asks questions with each verse, the melody sustained by St. John's driving guitar picking. And the lyrics are enigmatic.
O, watch the mole as he buries in the dirt
Ask him why he hides, why does it hurt?
He'll answer with a question:
"Aren't I escaping just like you? Blessings in shades of what I do."
While her guitar work is sophisticated, she's never over playing. Her fingers lightly gallop, adding to the song's gushing flow of emotion. All music is poetry put to music, but in St. John's case, this feels more so.
Of course, I went back to Kim's in a few days and purchased St. John's other album Songs for the Gentle Man, which I think was the only other CD that was available at the time, at least in the United States. This follow-up to her debut album was produced by Ron Geesin, who had worked with Pink Floyd and Roger Waters. Geesin expanded St. John's arrangements from the solo acoustic guitar on Ask Me No Questions, adding cellos, flutes, bassoons, violins, horns, and backup voices. The album is described on Allmusic as "penetrating rainy-day folk/Baroque."
Songs for the Gentle Man opens with "A Day Away." Reminiscent of Donovan and the Beatles, St. John's voice and guitar in "A Day Away" are, as mentioned, accompanied by flute and a bassoon. St. John also performs "Back to Stay," a song written by John Martyn, perhaps in homage to her longtime friend and collaborator. St. John slowly articulates her words, floating over the dreamy landscape of the song.
Although there might be other people in my life
You know, on my mind
You will always find there's only you
And though you say you'll journey
to some foreign land I will remember you
Yes, and I'll be true to your memory
And there's no need for you to cry
Because I'm back today
I'm back to stay in your arms.
---
Years later I then discovered St. John's album Thank You For, put out by Dandelion in 1972 then reissued in 1995, when I probably bought it.
My favorite song on Thank You For is "Fly High." There is more production and instrumentation on this album in general. The song "Fly High" is otherworldly. The echo sounds and John Martyn's reverbed background guitar carry you away, making you feel as if you're soaring in the sky on a hot-air balloon. St. John's backup vocals on "Fly High" work beautifully with the psychedelic electric guitar, as she raises her vocal volume singing Flyyyyyy Hiiiiiiigh.
---
In 1974 St. John was voted fifth most popular female singer in that year's Melody Maker reader's poll. She was described by John Peel as "the best lady singer-songwriter in the country."
After emigrating to Greenwich Village in 1976, St. John continued performances at Carnegie Hall, Central Park's Wollman Rink and dozens of other NYC clubs, like Kenny's Castaways, The Bitter End, and The Bottom Line. There were also countless performances at clubs and colleges on the East Coast.
In the mid-nineties, after contributing to Mike Oldfield's 1990 release of Amarok, reprising her contribution to Oldfield's Ommadawn, St. John reemerged with the re-issue of her Dandelion albums by See for Miles Records and the release of her fifth album Take the Fifth by The Road Goes on Forever label. Hux Records then re-released Jumblequeen and a double CD of St. John's BBC Sessions.
During her music career, St. John has explored several collaborations. She performed with Kevin Ayers in the seventies and reunited with him in 2007 contributing to his album The Unfairground. In the seventies, St. John recorded on Deal Gone Down with longtime friend Michael Chapman. She also contributed to his latest two albums 50 and True North.
Before COVID, my wife and I would have friends over on a Friday night. We'd talk, order food, maybe play cards. And I would prepare a playlist for the evening. One Friday night, while playing a curated playlist, St. John's music came on in the shuffle of songs. This time, as we're talking, my friend Susan points to the air.
"Is this Bridget St. John?"
"Yes, you know her music?" I asked.
"I know her music and I know her, too," said Susan.
Susan explained that she knew Bridget St. John because her ex-husband, a guitarist, knew St. John's husband, Gordon Edwards, who played bass in a funk jazz band called Stuff.
"Maybe you can interview her one day," said Susan.
With COVID, we put that conversation away for at least a year.
Then, in early May 2021, after email introductions, I arranged to visit St. John at her building on the Upper West Side.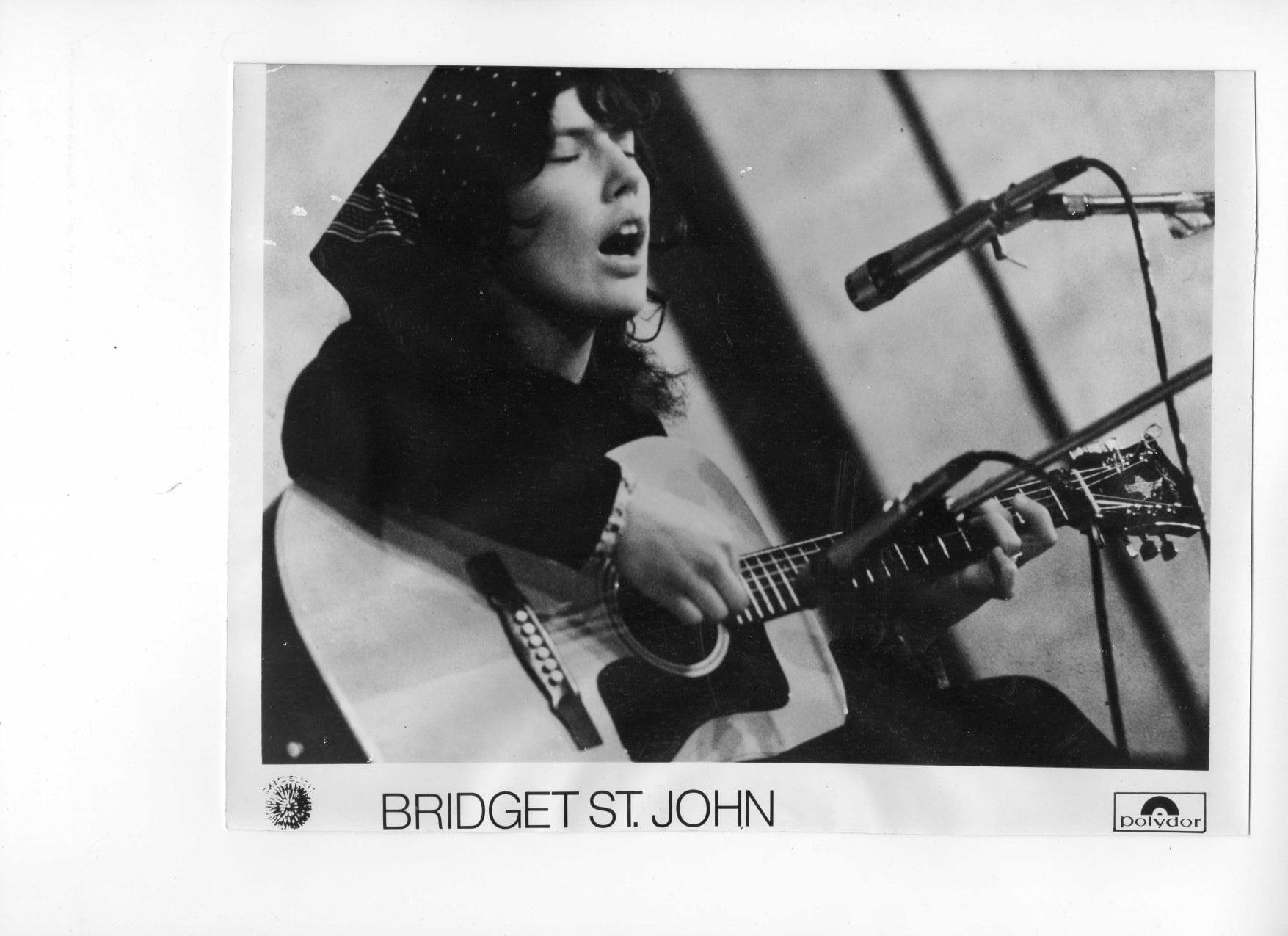 We sat, adorned with masks, in the basement seating area in her building.
"How would you describe your music?" I asked, taking my mask down to sip from my coffee.
"I'm the wrong person to ask! I leave it to others to describe my music if they choose to. I will just say I am a singer-songwriter. I write songs and I sing them, And I play the guitar. I was writing poems long before I started playing guitar. I got my first guitar in 1965 just before I left high school. It has taken me a long time to get guitars that suit me. I have a Fylde that I got from Michael Chapman. And a few years ago, I bought a secondhand Martin at 30th Street Guitars, where I get my guitars repaired. I must have tried more than ten different ones, but I kept coming back to the Martin. Everything about it just felt right. I write from the place where the guitar and my voice feel connected."
"I hear elements of the Canterbury sound and British folk in your music."
"I never really listened to a lot of folk albums. I listened to a lot of radio as a teenager, mostly pop music. The first record I bought was 'Living Doll' by Cliff Richard. Then I branched out to Elvis Presley, the Beatles, Dusty Springfield and Helen Shapiro. It wasn't until I went to Sheffield University that I discovered a whole other world of music through Pirate Radio and via friends' record collections. Bob Dylan and Buffy Sainte-Marie were two of my first discoveries."
"How would you describe British folk as being different from American folk?"
"I wasn't really part of the folk scene in England. There was a big folk scene happening in England, of course. Acts like Bert Jansch, Davey Graham, Al Stewart and Paul Simon played at Les Cousins on 49 Greek Street in 1965. I didn't play there until 1968. I didn't consider that I played folk music, though I was sometimes on the same bill as other folk musicians. Mostly I played the thriving college circuit in the late sixties and seventies. I also played venues that I suppose would be considered rock clubs, like Mothers in the Erdington district of Birmingham."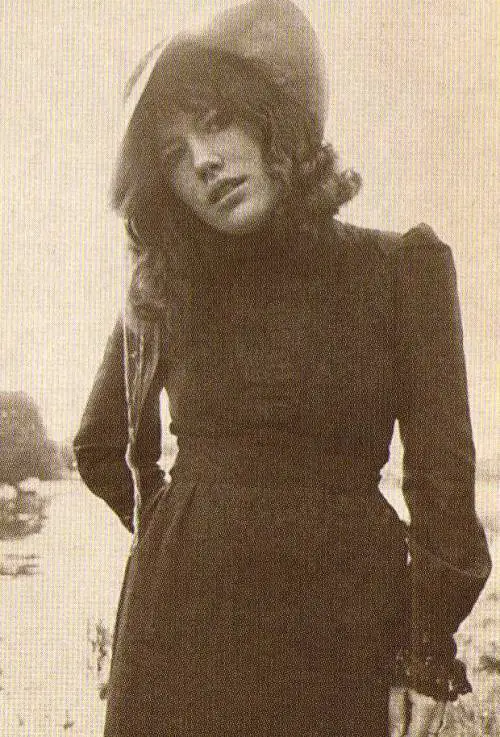 "You learned guitar from John Martyn and Michael Chapman?"
"I would have to credit several people. The first person to show me anything on the guitar was the boyfriend of Carloa, my closest friend in high school. And then I picked up things from John Martyn, Michael Chapman, and Stefan Grossman, who took the time to teach me a Reverend Gary Davis tune. I learned a lot from watching and listening whenever I was at a gig or around others who played guitar. And there were many, including Jo-Ann Kelly, Paul Wheeler, Nick Drake, Isaac Guillory, and John James. When I saw how Richie Havens used his thumb for the bass notes I had to try that and now I use it in my playing. I once learned Davey Graham's 'ANGI' because it was so revered; though I never performed it live. Everything teaches you something.
"When I learned Open D tuning and DADGAD a whole other world opened up for me. And then I started making up my own tunings. I became more and more connected to my guitar, figuring out where my voice fits, where to place the capo. I don't know exactly what I'm playing for the most part. I don't need to know what the chords are called, just how they make me feel and how they become part of a song. I studied piano until I was eleven, so I can still read simple piano pieces, but I don't write music. Guitar chords are shapes and sounds to me."
I had come to the interview with my preconceived notions of the influences on St. John's music. But after thinking about it, it occurred to me that, while St. John emerged from the British folk scene, and was of course influenced by it, she was always on her own trajectory. She didn't pursue learning the canon of British folk music, like fellow acts Fairport Convention, Steeleye Span, Pentangle, etc. It just so happened that she was British and the songs she wrote could be categorized in the folk tradition.
"What were some of the influences on your music?"
"One of the first influences when I was quite young was The Mills Brothers. I think that's when I first became aware of and grew to love harmony. My parents had their song 'Window Washer Man' on a 78' and I would listen to it over and over. I also loved the Ink Spots, the Platters. In the fifties in the United Kingdom, I had limited access to music programs on the radio. On Sundays there was a program called Two Way Family Favorites which played requests from families of soldiers in the British Forces Network in Germany. By the early sixties, I had access to Thank Your Lucky Stars and Juke Box Jury on TV and Radio Luxembourg at night, so I began to hear a greater variety of music. I think everything I've ever heard has influenced me. Whether large or small. I will listen to anything once and things that draw me in I will listen to over and over.
"As I said, once I went to university, my musical experience was endlessly expanded. Listening to Bob Dylan made me realize that I can write about anything. I no longer felt limited or that anything was off limits. I was also deeply affected by Buffy St. Marie and still am. She was and is fascinating to me. Three years ago, I drove seven hours to see her when she played at a free festival in Downtown Toronto. I saw her again when she played in New York. Then I got to meet her and her band and thanked her for her music and told her that she's been a big source of joy and inspiration for me. I told her that I sing Lazarus because I heard her version of it."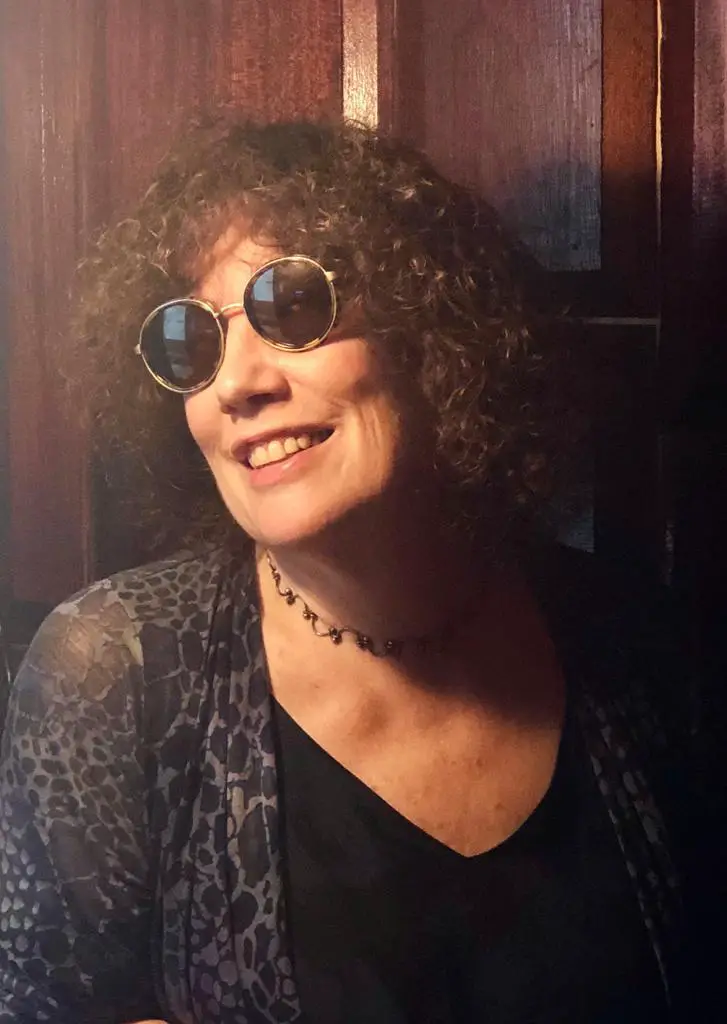 "What sentiment are you trying to convey in your music? Sometimes there's a sense of being carefree in your songs. For example, you write in "Like Never Before," 'got out of bed, let the sun thru the door. Went down to the sea, picked shells off the shore. Dizzy with laughter, we fell in the sea. Nothing to laugh at, just happy to be.'"
"I don't sit down to write a song; I could be doing nothing, and words come. Or I could be playing guitar and something in the music I play suggests words. Or someone says something, and it triggers something that starts words to a song. I can't really say how Like Never Before came to me, but I spent most holidays as a child at the beach. I love the sea, the sand. Writing is sometimes like dreaming for me. I didn't draw on the memory to write this song, but I am sure the memory is there."
Asking about the Ask Me No Questions album, I said that I love the opening song "To B Without a Hitch."
Sit and eat a buttercup sandwich
and wait until the shower is over
Everyone tries boarding rush hour buses
even though they know there's no more room.
"I wrote that song while on a hitchhiking holiday in Italy with a friend. We were often without a ride and stopped travelling for a few days to stay with her cousin, who had two young girls. We used to read Beatrix Potter books to them and one of the stories was The Story of Jeremy Fisher. Jeremy is a frog who likes to go fishing. And when he fishes, he packs a Buttercup Sandwich in his wicker basket. The B refers to the B in Beatrix."
---
Skipping around her albums, I asked about the song "City Crazy" on Songs of the Gentle Man.
"'City Crazy' is such a beautiful song," I said. "It's so lush and poetic. It has a baroque feel to it. And lovely arrangements, too. I love the production – the echo chamber sounds and reverb on your voice. Your vocals swell like the wind. I often get the feeling of being like a flying bird listening to your music. But the chord changes are also very emotional. Very evocative."
"For that song, John Henry, a friend of my mother's, did the arrangements. My mother was an accomplished pianist and worked with John. They had an incredibly special musical connection. His collaboration on this song was made more meaningful because of that."
---
"You've collaborated with a lot of other artists, some of it has been recorded. Have you done any recent collaborations?"
"I've become friends with Kevin Ayer's daughter, Galen. We met in New York after Kevin died. Then she invited me to sing at Kevin's funeral and at the celebration of his life that followed. Out of this grew a musical collaboration. We sing our interpretations of Kevin's songs. We did several New York gigs, the first of which was at The Bitter End in Manhattan. Galen said, 'we have to try these songs out in front of an audience' and so one Saturday afternoon we went to the open mic and did two songs! We were relieved to receive a good reaction!
"The last time we were able to get together was in LA in February 2020. We did two gigs to celebrate the release of Galen's book Shooting at the Moon, in which she curated Kevin's song lyrics and writings.
"Earlier this year I sang on one of Steve Gunn's songs 'Morning River' which is on his latest release Other You by Matador Records."
"What are you working on currently?"
"I've just finished a collaboration with a French composer Arandel for his new album InBach vol. 2. He is a longtime fan of my music and reached out to me. Most of his music would be considered electronic, but what he envisioned for me in our collaboration was more of a spoken voice, perhaps even reading something. He wanted a non-French speaker to speak in French. Knowing that I am fluent in French he thought maybe I would be interested. We collaborated on the poem 'Myriade' that grew out of a fragment of a poem that had come to me in French. I read the poem to Arandel's interpretation of Bach's 'Jesu Joy of Man's Desiring.'
"I am also working towards doing more recordings and collaborating with Cherry Red Records on a box set to be released later this year."
Since we've met, St. John has sent me some rare recordings of her playing. One was her version of "Just Like a Woman." With her emotive voice she manages to convey the woman's pain and heartache in that song, something that Dylan couldn't have imagined. She also sent me her version of "Aviator," written by Michael Chapman, which she recorded for Michael Chapman's eightieth birthday. The song features Mick Gaffney (who played with St. John's husband, Gordon Edwards in Stuff) on guitar, Jonny Rosch (who also played with Stuff) on keyboards and all atmospheres, effects and backing vocals, B.J. Cole on pedal-steel, and Sarah Smout on cello and backing vocals. St. John's voice is just as beautiful as on her first albums, perhaps even tinged with time's wisdom.
I am indeed looking forward to hearing more of St. John's work. And I hope to share my love of her work with the rest of the world.
— —
Mike Fiorito's fourth book Falling from Trees published in early February 2021; his other books are Call Me Guido, Freud's Haberdashery Habits and Hallucinating Huxley. For more info, visit: fallingfromtrees.info
— — — —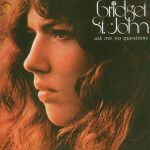 Connect to Bridget St. John on Twitter
? © 2021
:: Stream Bridget St. John ::
---