Indie pop darlings Hippo Campus return with new music after three years and talk to us about finding refuge in lightheartedness.
Stream: 'Good Dog, Bad Dream' – Hippo Campus
---
Jake Luppen graces our Zoom call with a pair of Hollywood-esque sunglasses, and there's something anarchist about it. Before COVID-19, Luppen, along with the rest of Hippo Campus, had been on a six-year stretch of releases and tours. Now, they're all about not taking things too seriously. "Having been playing shows for so long, we were stuck in this weird alternate reality. We'd come home and live in reality for a minute, and it would feel strange. So we'd just hurry back on the road."
"I find myself very fulfilled with just making [music] at this point, far more than I do by releasing it," Luppen tells me. The lead single for the group's upcoming EP "Bad Dream Baby" was written spontaneously: Luppen was lying in bed with his partner, and they were just trying to make each other laugh. In turn, there is something organic and liberated about the record, Good Dog, Bad Dream, Hippo Campus' first release in three years.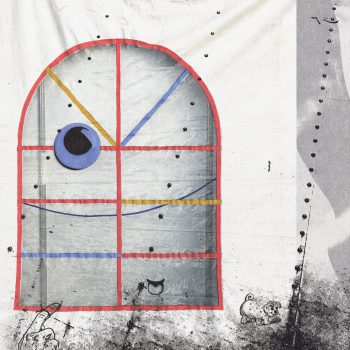 The EP sounds far less restrained compared to the polished Bambi, their sophomore effort, which was marked by electronic, glitchy pop tunes. If Bambi was a conceptual album eager to — and successfully — leave behind an imprint, Good Dog, Bad Dream is the stuff of archives: the hidden experimental gems one might expect to find while scouring a band's vault of unreleased materials.
For the EP, Hippo Campus recorded for the first time in their hometown of Minneapolis, in a studio that Nathan Stocker described as "a weird refuge." They were able to "take things seriously within the studio setting but not to take [themselves] too seriously with it."
"I think it's okay to laugh with your demons," he continues. Dead dogs, tiki parties, and seances all make their way into Good Dog, Bad Dream's sonic whirl, along with charming pseudo-philosophical lines like "time is of the essence but the essence is abstract" that recall their free-wheeling 2017 catchphrase: "Degenerate, counter-culture crying socialist/Hip-to-lazed crazed abstractionists." The group is having fun again, evoking the hyperpop of 100 gecs while maintaining the throughline of the classic indie rock band — toying with noise and Auto-Tune on the computer in one hand, wielding a guitar in the other.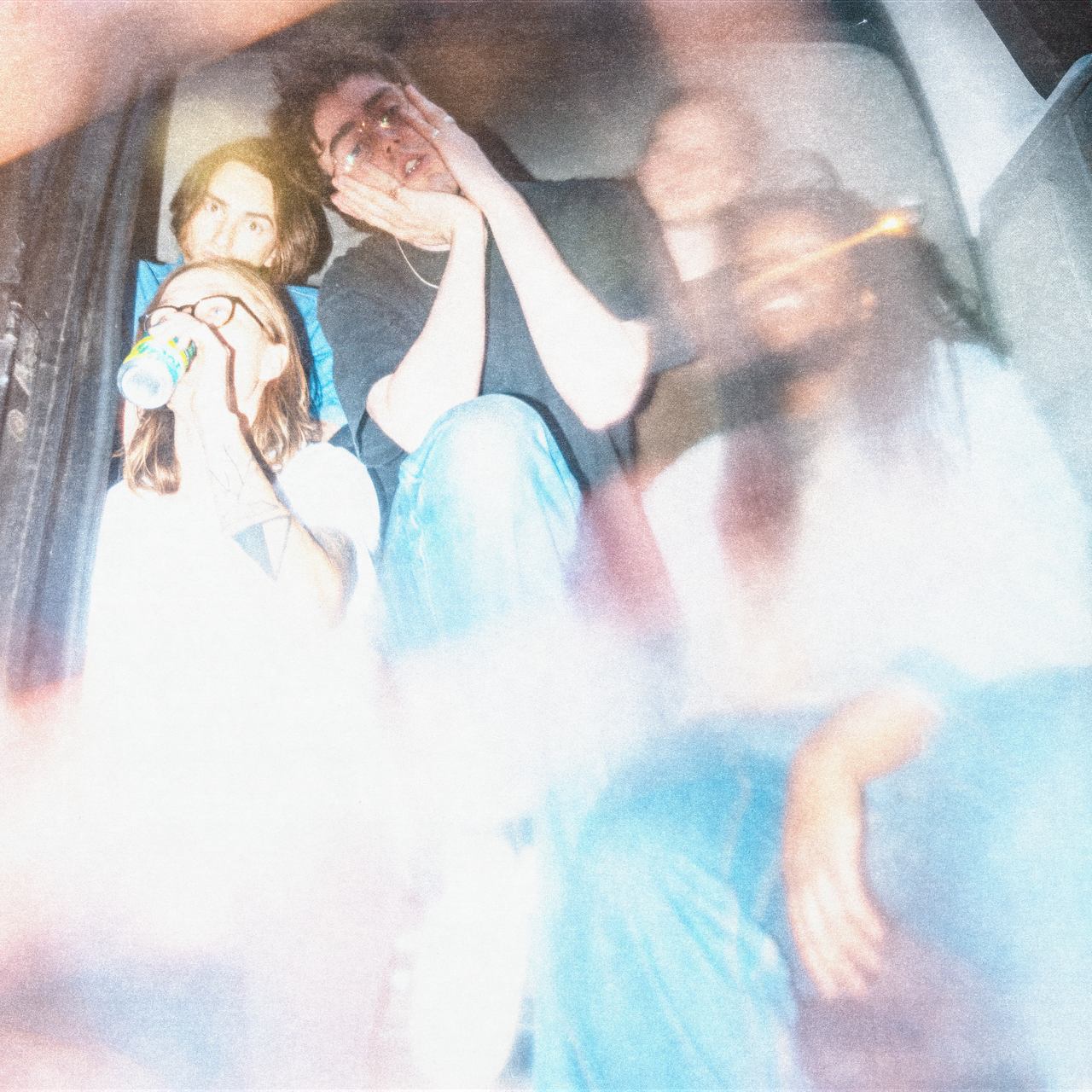 Amid all this, Luppen explains that he's felt a newfound humanness to the way he approaches life and music since then.
Fellow bandmate Nathan Stocker agrees. "Maybe we should change it to the name of the EP — Feel the Human," he laughs.
We had the pleasure of chatting with Hippo Campus' Jake Luppen and Nathan Stocker at length. Read below as they explain the process behind the EP and break down the story behind each track.
— —
A CONVERSATION WITH HIPPO CAMPUS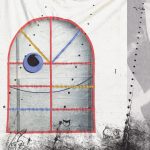 Atwood Magazine: CONGRATS ON THE NEW PROJECT! HOW IS THIS EP COMPARED TO YOUR PAST RELEASES?
Jake Luppen: It's definitely been overwhelming. We had been on a pretty consistent schedule for
about six or seven years, releasing music and touring it. We were a bit out of practice with that. It's very overwhelming to put stuff out in the world and see things start to take shape. It's strange not being able to play shows on releases. That's a really important element to what we do.
HOW DID THE RECORD COME INTO SHAPE?
Luppen: Before this EP, we were working on a different project and collected a bunch of songs for that. There's one song in particular — "Mojo Jojo" — that didn't really fit with that grouping of songs. But we really dug in. We were like, how do we put this out? And we thought about just putting it out as a single, but it's really, really chaotic to contextualize it. So the driving force behind this EP was building a world around "Mojo Jojo."
Stocker: Yeah, definitely. We discovered quickly that there was a really nice band element again, and a humor to everything. Both with "Mojo Jojo" and with every song that we worked on after that. It's always nice to stumble upon those moments where it's like, oh, here's a whole other cavern of life, and we can explore here for a while. That's what this EP turned out to be.
AND "MOJO JOJO" CERTAINLY HAS THIS MORE ELECTRONIC, DIGITAL ELEMENT TO IT, EVEN MORE SO THAN YOUR LAST ALBUM.
Luppen: Nathan and I are in this band called Baby Boys with our friend Caleb, who co-produced the track. We'd been part of that band for about three years — we've been on that wave of making experimental electronic music. That was a moment where we felt it was appropriate to have a Baby Boys and Hippo Campus crossover. We'd been trying to find a spot for a minute, because we get so much creative fulfillment from doing the Baby Boys project.
AFTER NOT RELEASING ANY MUSIC FOR A FEW YEARS, HOW DID YOU DECIDE ON "BAD DREAM BABY" AS THE LEAD SINGLE?
Stocker: I don't really remember the moment. It was an unspoken thing. It was kind of obvious — this is the statement. This is the first thing that we're saying after not dropping anything for three years, and it encompasses the overall theme of the EP pretty well, within the dark humor of the whole EP. To cleanse the palate, in a weird way, and set everything up.
Luppen: There's also something pretty classic Hippo Campus about it. It's with a guitar. On Bambi we were really like stretching on some electronic shit. We didn't want to come out the gate with that again. We always want to keep people guessing with what we're doing. Just kind of called back to our roots in an interesting way.
WAS THERE A SPECIFIC IMAGE IN MIND YOU HAD, WHEN IT COMES TO RELEASING MUSIC AGAIN AFTER THIS SORT OF BRIEF HIATUS? HOW DID YOU WANT THE PUBLIC TO CONCEPTUALIZE IT?
Stocker: That's a good question. I mean, it's been a fucked up time for some time now. For us, being from Minneapolis, we had that studio as a weird refuge, where we could take a break from the seriousness of everything that's going on around us — to take things seriously within the studio setting but not to take ourselves too seriously with it. I think it's okay to laugh with your demons, and the EP is our embrace of that. I want people to be able to take a break from all the bullshit. At the same time, there's a lot of selfishness with this EP that I don't want to give up. It was us as a band making music for ourselves. And we enjoyed it. If people are along for that ride, then they're welcome to join us. But I also just like, don't give a fuck. But that's just me.
Luppen: That's a good way of putting it. COVID really humanized us. Having been playing shows for so long, we were stuck in this weird alternate reality. We'd come home and live in reality for a minute, and it would feel strange. So we'd just hurry back on the road. And I think COVID forced us to live in reality for a lot longer than we're used to. Because of that, I think the shit we've been making is far more human. I'm far more in touch with myself existing in this reality than I am with me being a performer. That used to be my entire life, and now I'm not thinking about that much at all. I'm just thinking about: what do I want to do? What do I want to make? Who are the people that are close to me, who do I care about around here, who I want to lift up? What I want people to take from Hippo Campus with this stuff is that I hope they can feel the human and the realness in the shit we're making now.
Stocker: I like feel the human. Maybe we should change it to the name of the EP — Feel the Human.
HOW DID THE NAME OF THE EP COME ABOUT?
Luppen: Initially I wanted to call it Dead Dog, Shitshow, 'cause Nathan had this song called "Shitshow," and I had just written "Bad Dream Baby." We thought that was just a perfect title for what was going on with the EP — it's just a literal shitshow. But we wanted something that was a little bit more palatable than that. The whole EP, we're talking about a fever dream, so.
JAKE, IN BETWEEN THESE TWO HIPPO CAMPUS RELEASES, YOU ALSO PUT OUT A SOLO RECORD. HOW WAS THAT LIKE COMPARED TO RELEASING WITH A FULL BAND AGAIN?
Luppen: I had a very real obsession with pop music before making that record, and I really wanted to make a pop record. I got up and made that record, and then I just wanted to hang out with my friends and make rock music again. I don't really have the gasoline to make another Luppen project for a long time. It was just something I needed to do for myself, and I learned a lot — I became a better band member and a better person in some ways. It was a needed creative release for sure. And then Baby Boys is the easiest thing that we've ever worked on. Nathan, Caleb, and I are connected on a spiritual level. Just a very high level that is strange and wonderful. So whenever we get up we make really cool shit that we all like.
Stocker: We're starting a monastery soon.
Luppen: It's just a strange time to be putting music out in the world. I find myself very fulfilled with making it at this point, far more than I do by releasing it. For so many songs, I'm super happy and content with them just living in this room right now. Maybe we'll record 10 more albums, I'll bury them in the ground and have someone find them in 100 years or something.
:: TRACK-BY-TRACK BREAKDOWN ::
Good Dog, Bad Dream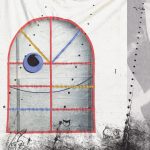 — —
"Bad Dream Baby"
Luppen: "Bad Dream Baby" is very chaotic, as is most of the EP. I wrote it on Valentine's Day, which is the same day that we put down my childhood dog. My girlfriend and I were laying in bed — I had just bought her a guitar — and I started playing that riff. I was going through it and writing it down, and then I workshopped the words and the melody poured out from there. But it was really just kind of me and my partner Raffaella trying to make each other laugh while also talking about very serious subjects. I brought that to Nathan after, in the studio, and we demoed it out from there. Nathan laid down this sickass guitar riff.
For the music video, we're pretty sick of just walking in different directions in our music videos. We're not actors, so typically people just make us walk and look. The thought of doing that in another music video made me want to vomit. So, we could play our instruments!
"Deepfake"
Stocker: Deepfake is a song from the Bambi era that I wrote. It was always paired with this other song called "Shitshow" that Jake was talking about. I had a really bad night, but I wrote these two songs back to back, and I was just letting my brain spew and unravel. At the time, I was frustrated with a lot of things, but within that song: celebrity culture and the idolization of these people that you don't even know, via your smartphone that you can't stop looking at. And the identity crisis that I had. I'm making it sound way worse than it actually is, because it's really not that bad. But there are moments where I've been like, what am I doing? Why am I making music? I don't deserve to be making music at the caliber that I do. I'm not thankful enough, and I'm frustrated with myself because of that, and I should just quit. It sucks. Music is stupid. And that's what that song is about. It's going through that emotional 360. Being under the influence of alcohol probably doesn't help.
"Sex Tape"
Luppen: ​​Sex tape is just a ridiculous song. It's about a person that was in our lives for a brief time and then kind of fell out. It's not meant to like a mean track. It's poking fun at the relationship we used to have and how things change. Zach came up with the humorous hook about joking that that person was filming a sex tape, which has never happened. It was just kind of a joke, like a random — oh, that's funny. Let's roll with that. "Sex Tape" born from there, but it's all just humorous.
Stocker: It's very similar to the Baby Boys process actually, where it's just spur of the moment. Go for it and see what comes out.
Luppen:  The most interesting part about that song is we tracked two drummers at the same time, on either sides of the room, which is a crazy sonic experience, micing up two drum kits at the same time. It's fun.
"Where to Now?"
Stocker: Wrote it, and we were all split on it. It's a loop, and it's about the frustrations of working with somebody close to you and not always feeling like it's going anywhere. You know, where to now? What's the direction? Where's up, where's down? I don't know. I don't understand what's going on.
"Mojo Jojo"
Luppen: "Mojo Jojo" was kind of a COVID jam. It's fucking insanity. We wrote that instrumental before COVID, and the lyrics were written in the first couple of weeks. The lyrics are pretty much about COVID. They're about frustration at relationships during COVID, the upkeep, or the isolation. Yeah, it's a random hodgepodge. All this shit is light hearted, you know. It is dark. But we had a lot of fun. It's not all serious. The topics are serious, but it's like when you're laughing with your friends about how your life sucks at that moment.
Stocker: It's like, check out this fucked up nightmare I just had.
Luppen: Exactly. There might be some people that might think that we're being dead serious, but you can just laugh about it.
— —
— — — —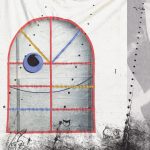 ? © Brit O'Brien
:: Stream Hippo Campus ::
---