Light comes out of darkness: It's something I find myself writing often in Atwood Magazine, and there's truth in that repetition. The latest in a streak of artists searching for peace and tranquility in the eye of the storm, ZØYA's "Chaos in My Head" confronts her darkness head-on through an intimate and pulsing dark-pop confessional.
It's been a long rough journey, with ups and downs
I must confess, I'm always on the road going somewhere far
And looking for that special something, finding who you are
They often say, "it's all up to you now
You just gotta believe it and then you will achieve it"
For sure doesn't sound wrong to me at all
Watch: "Chaos in My Head" – ZØYA
---
Atwood Magazine is proud to be premiering the music video for "Chaos in My Head," off ZØYA's debut EP Veracious Heart (independently released April 7, 2017). Directed by the artist (full name Zoya Naumchik) herself with Laffrey Witbrod working cinematography, the "Chaos in My Head" video exposes the intense tension and need for relief ZØYA sings of throughout the song:
But hey too much tension is a maze
That's where I've been stuck
There's not a lot of space
And it's hard to find way back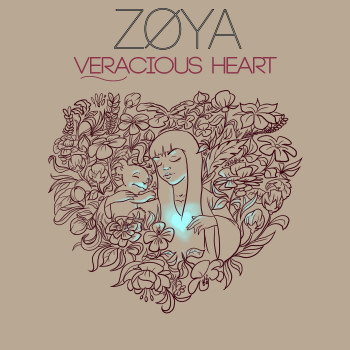 Bombastic dark pop is one of many things that are decidedly in at the moment, and ZØYA's music taps deep into that sonic temperament: Fat oscillating synths surround her passionate outbursts, elevating her cries to last longer and feel stronger. Still, the song's anthemic quality tends to mask much of the artist's pain – something that feels particularly real in this music video, as ZØYA strives for comfort doing what she loves – comfort in being who she is and letting her music speak for itself, rather than donning a fake face to appeal to the "masses."
"I wrote 'Chaos in My Head' during a very dark time in my life," ZØYA tells Atwood Magazine. "I was going through a vicious cycle of depression and anxiety at the time. My faith was shaken. I was emotionally cut off from people around me, and felt alone because of what was going on with me that I wasn't able to share with my friends and family. I kept it quite for so long and didn't tell anyone about it. I thought I was the only one who was going through this at the time."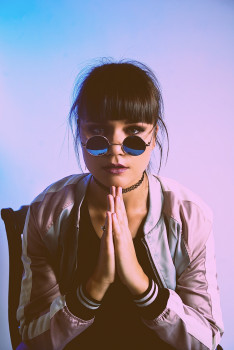 She  continues: "This song served as my therapy. While writing it, I felt stuck, heartbroken, somewhat hopeless, longing for a change in my life. I felt unsettled and was tired of never feeling enough. I kept asking God for guidance and direction. My trust in Him was probably the only way that got me out from my comfort zone. Without any concrete plan, with no job prospects, no place to live… about one year ago, I moved out to Los Angeles for good to pursue my dream, fully trusting and relying on Him and hoping for the best. That's when a new chapter in my life started and still continues. I have to admit that this journey isn't going perfectly for me… roads are quite rocky at times, but I really love and believe in what I do, therefore, I know I'll stick with it until the end. The chaos in my head should be gone by now forever…"
Exposing those bottled-up feelings through song, ZØYA creates a cathartic space that is entirely her own. This upheaval of emotion is highly reminiscent of Charlotte OC's "Darkest Hour," whose radiant energy came from that same place of wrought personal angst.
Chaos in my head
attempts to puzzle my mind
It seems too complicated
I am stressing out and I don't even know why
I get so irritated
I need you here to make me feel alive
So I could live like I'm in paradise, all free
I am sure you'll bring more joy into my life
I won't feel isolated, no more
Because of you
I felt stuck, heartbroken, somewhat hopeless, longing for a change in my life.
---
Also nabbing directorial credits on her video, ZØYA presents herself as the full package – an artist with a distinct vision: "This might sound funny, but one day I took a short nap and I've had this dream about myself being caught in the rain, looking all wet and messed up, and simultaneously singing along to the chorus of 'Chaos in My Head'. I woke up and decided to take a note of this and incorporate the idea of me singing in the heavy rain in my music video for 'Chaos in My Head'. Conceptually, this music video can be viewed as a trip inside the mix of emotions which comes with finding a purpose, my authentic self and pursuing real dreams. Ravaged by nature, caught in the rain and finally rallying myself to be free of my dark state and finding power to calm the inner storm."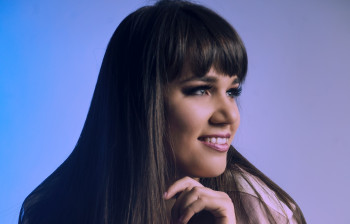 "The creation process was so much fun! I couldn't do it without my hardworking crew and co-director, filmmaker Edward John Drake who helped me in the direction behind the camera, production and editing of this music video. One of my favorite moments was dancing on the streets in DTLA and trying the Little Damage vegan Cuban flan flavored ice-cream for the first time ever while being shot at the same time. I have to admit that Little Damage is officially one of my favorite ice cream shops in LA!"
While ZØYA is currently gearing up for an exciting 2018, her "Chaos In My Head" video serves as a testament to the power of inner strength in turbulent times – something we can all certainly relate to these days. Stream the video exclusively on Atwood Magazine, and check back for more from ZØYA in the months to come!
— —
— — — —
? © Kaitlin Parry
Directed by Zoya Naumchik 
Cinematographer: Laffrey Witbrod
Editor: Edward John Drake
AC: Crystal Kelley
PA: Brooke Mueller 
Colorist: Bill Carson
Makeup Artist: Sana Seminuik
:: Stream ZØYA ::