There's a restless energy pulsing deep inside Cutty Flam's intrepid new single "Continental Creep." Below the song's bold horns and gutsy guitars, there lies an unsettledness – a discomfort with today's unnatural channels of communication and experience. We live through smartphones and other electronic devices; our internet profiles grow larger than life, often at the expense of our real life social lives. What even is real life anymore?
It doesn't have to be this way! We all know how to snap out of this modern dance – after all, no one is born with Facebook, Tumblr, Instagram and Twitter – but it takes a band like Cutty Flam to force us out of the trance and make us reexamine our daily deeds.
Listen: "Continental Creep" – Cutty Flam
---
Atwood Magazine is proud to be premiering "Continental Creep," the sophomore single off Cutty Flam's upcoming sophomore album Shapes of Sound (out late May 2017 via Burger Records). Consisting of Cutty (guitar/vox), Bang Bangs (drums/vox), and Chewy Lewy (bass/bu vox), Cutty Flam are one of those bands that clearly have just as much fun making their music as you have listening to it; in fact, they're probably having more fun, by the looks of it. Their unlikely marriage of rockabilly-era rock n' roll and punk is absolutely infectious; the band blend old sounds with modern melodies, keeping things fresh while also connecting the past to the present. Cutty Flam call their sound "prom rock," and the shoe fits.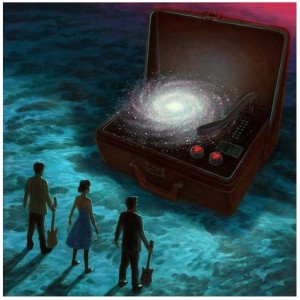 Worlds collide in a stylish sonic array as Cutty Flam mix surf rock and big band on "Continental Creep." The band describe their latest song as "sonically, an ode to a time when big bands, jazz ensembles, and the swinging kids ruled the dance floor." Bold brass horns create a layer of old-timey melody a la Benny Goodman's "Sing, Sing, Sing," but Cutty's voice is cunning, dark and provocative: This ain't your regular swing. "In the summer of my mind, yeah, the continental creep happens all the time, and the summer never speaks to me," he sings in the opening verse.
Per the band, "'Continental Creep' is about the oxymorons of daily internet life, love, and finding your place in an unpredictable universe where not all is seen behind the curtain of life." Cutty's tone is biting as he accuses the world around him of looking down, ignoring the real world in favor of the electronic one. It's a nice charade, but as Cutty Flam reminds us, it's not forever. Maybe it's time to wake up?
A call-and-response of ahhs creates an intoxicating platform from which the band jump into hyperdrive, stepping deeper into the punk world in their double-time chorus before calming down again in the verse. Cutty Flam have impeccable timing: The band's musical sensibilities are deceptively tight and creatively superior.
Perhaps the most exciting aspect of "Continental Creep" is its sheer energy. Aside from the pure bliss of rockabilly and surf punk – err, "Prom Rock" – it is Cutty Flam's own enthusiasm that gives their music its infectious personality that provokes, intrigues, and keeps us coming back to them time and again. Cutty Flam succeed in getting us to drop our pretensions and barriers, if only for the sake of basking in their music.
On paper, Cutty Flam sound like a novelty, but there is so much more to this prom rock band than meets the eye. Connect with them below, and spend some time with "Continental Creep" via our exclusive stream. Shapes of Sound is out this Friday, May 26th via Burger Records.
— — — —
cover © Burger Records
:: Listen to Cutty Flam ::