There's nothing like those first few moments when you wake up in the morning, a new day always begins the same way. Your first decision of the day is always a conscious one, you can resist the temptation to fall back to sleep or you eventually give in. That twilight period, where you're content and before harsh decisions need to be made is reflected in so many other facets of life, it's hard to know where to begin. But one thing is for sure, if you've ever been in love this is very familiar territory.
Systems call to the ocean
We make war with old friends
You can't hold my heart close enough
To your chest
Your eyes are dark
Your eyes are dark
Listen: "Dreamstate" – Stonefox
---
Melbourne trio Stonefox have perfectly portrayed their depiction of this twilight period in "Dreamstate." After independently releasing their first EP Surface, Stonefox teamed up with JP Fung, an Australian producer, to release new content. There is a quietly confident aura about this trio – which consists of Jenna Russo, Monica Spasaro, and Tim Carroll – and after gaining 3.5 million listens on Spotify for their independent EP, it's clear they're not going anywhere anytime soon.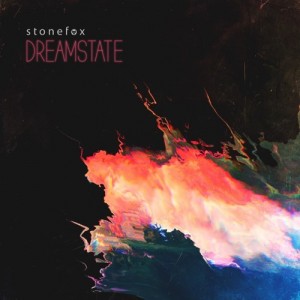 "Dreamstate" is incredibly re-invigorating upon first listening to the track. Whilst it has been described as minimalistic, this is what beautifully exposes the strengths of the trio: their ability to create a delicately woven array of sounds with a scrumptious texture that leaves you yearning for more. This track falls together like a situation you could only fantasize about, Dreamstate will tip you over the edge and support your fall in the most captivating way. Perhaps the most attractive part about this track is the chorus, you find yourself craving for it to come back and hit your senses in everyway. The chorus is supported by verses of interplay between a male and female figure that adds another element of depth to the track. For once both sides are being portrayed and this time it is for the euphoric nature of a place only happiness can transport you to, whether this lasts or not is irrelevant at that moment in time.
I took a train to the west
To get away catch my breath
You can't hold my heart close enough
To your chest
Your eyes are dark
Your eyes are dark
Something in the way
That you walk and you talk and
Something in the way
We're caught up in a dreamstate
You never know when you're going to be hit with a moment that feels like ecstasy. Many would argue that most mornings they are woken up by a harsh alarm and are running late from the minute they open their eyes. But if you take a minute to appreciate that every single day you have the opportunity to wipe the slate clean and start again, you'll learn to appreciate the beauty of the choice that you have been given. You can fight for what makes you happy, and set yourself up to chase that next level of euphoria, or you can fall back to sleep and literally dream about what others are experiencing. But then again, being in love is practically a dream, isn't it?
 — — — —