Singer/songwriter Nathan Vincent evokes a world full of wonder and restless exploration in his second EP 'Cedar & Pine', an emotional indie folk journey of self-discovery and belonging – from past and present, in-between two homes.
Stream: "Cedar & Pine" – Nathan Vincent
---
It's the classic tale of self-discovery and belonging that's been told for generations, and every iteration feels fresh, new, and special unto itself. Texas by-way-of North Caroline singer/songwriter Nathan Vincent evokes a world full of wonder and restless exploration in his second EP Cedar & Pine, an emotional indie folk journey from the past and present, in-between two homes.
Heavy breathing
I'm biting down my fingernails
Anxious feeling
And waiting for more time to kill
I'm making up outcomes
I'll overthink what I'll say
With reasons in my head
I'll hold this blue ridge state
– "Blue Ridge State," Nathan Vincent
Atwood Magazine is proud to be premiering Cedar & Pine, Nathan Vincent's heartfelt sophomore EP (independently out April 24, 2020). The follow-up to the Manila, Philippines-born artist's 2017 debut EP This Human Heart, Cedar & Pine and its four songs arrive with a bustling breath of light and fresh air: Emotionally weighted but nonetheless sonically bright and earnest, Vincent weaves wondrous melodies with his subdued vocals and warm acoustic guitar. His minimalist expression is often accompanied by a dazzling string arrangement and breathtaking vocal harmonies that elevate each song to its full, passionate potential.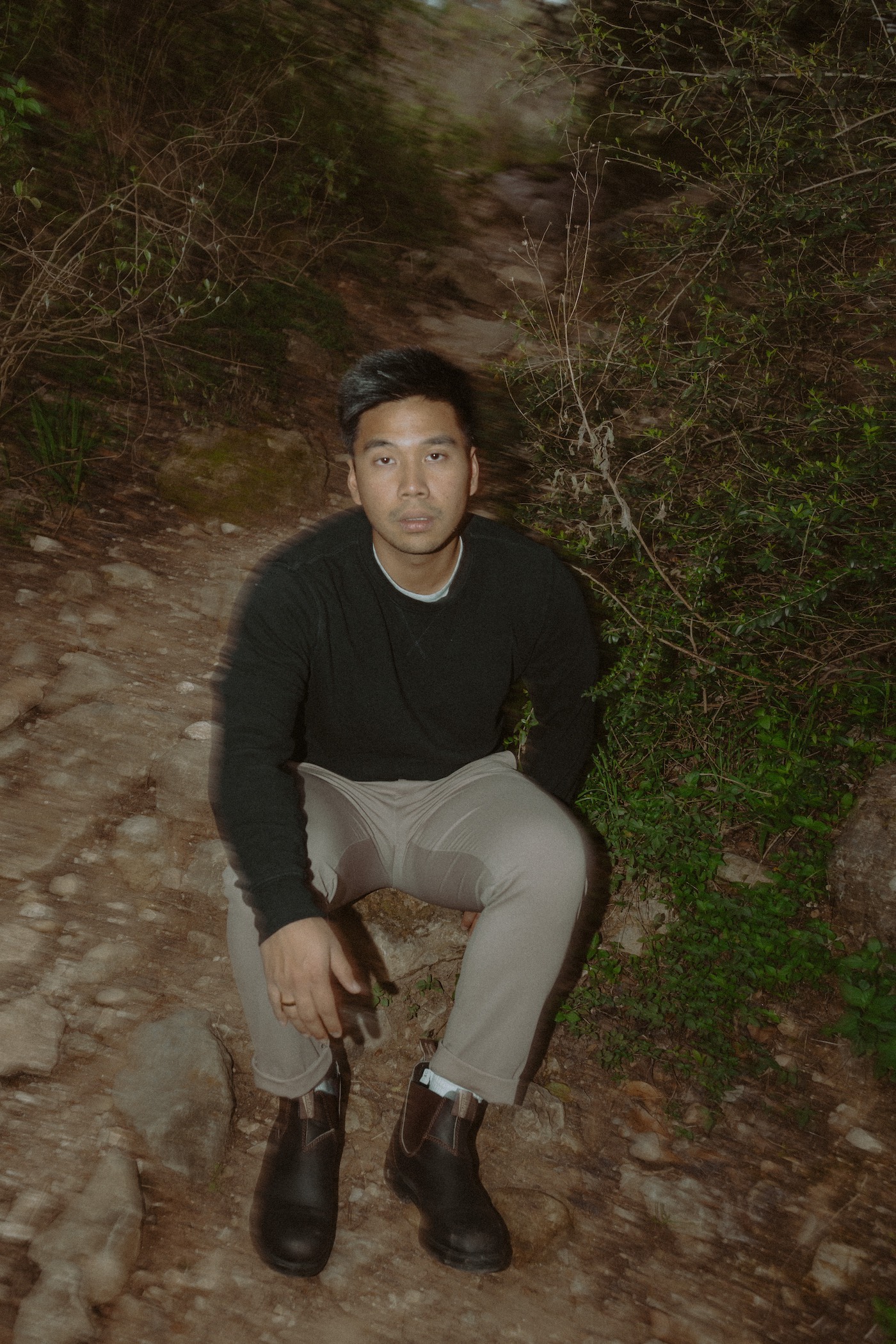 Written during an intense time of transition and growth, Cedar & Pine explores certain coming-of-age moments and themes of independence, finding oneself and one's place, and so on. "I think the best thing about writing songs is this interplay and tension between reality, expectations in my head, and some sort of takeaway lesson I learn between those two lines," Vincent explains. "I think when I write, it's easy to combine memories of personal nostalgic and traumatic experiences, the backdrop and scenery of a physical space, and religious and biblical imagery to tie in a common thread so I can ask myself, 'What's the significance of this all?'"
He continues, "I've grown up a lot in these past few years. When I made This Human Heart I was in college, bussing tables at a local restaurant to pay for rent and for the production of the record, and just worked with some friends that I was close to. A lot's happened since then. I moved away from my hometown to a brand new city where I knew absolutely no one. I had to get a day job to pay the bills. I didn't have much of an agenda. I just had to force myself to become uncomfortable. But with all these dramatic changes, music just got put on the back-burner. I didn't play any more shows. I'd go to other people's shows and then do this toxic thing of comparing myself with all their success and accolades and the venues they'd play at and Spotify listens and shit like that and get really self-critical about the content that I was writing."
"One of my friends told me I was an enneagram 3 and although I don't really subscribe to personality models, one of the basic fears of this type was the fear of being worthless and that description was on-the-nose about the fears I had with the music I wrote and performed. So writing and investing in this new record is sort of like a leap of faith to me as a rejection of that fear, and another opportunity for myself to become more uncomfortable so I can grow and continue to find meaning and significance regardless of my own doubts and self-reservations."
A young man with so much growing still to do, Nathan Vincent embodies the modern indie folk singer/songwriter. His eloquence and lyricism make him a standout, and his music clearly speaks for itself: Whether you're looking for a space of comfort or one of intimate reflection, you'll find that across Cedar & Pine's four darling songs.
Experience the full record via our exclusive stream, and peek inside Nathan Vincent's Cedar & Pine EP with Atwood Magazine as the artist goes track-by-track through the music and lyrics of his sophomore EP!
Stream: "Cedar and Pine" – Nathan Vincent
:: Inside Cedar and Pine ::
— —
Blue Ridge State
I started writing "Blue Ridge State" in the summer of 2018 with a slightly out of tune classical guitar that was collecting dust in my bedroom. It started off as a really quiet fingerpicking song, but when I started explaining my vision and the themes I was looking to express to Chris, we started picking out ways we could express the rise and fall of the song with different kinds of stringed instruments.
I remember we were standing in Chris's living room and I brought out this Persian Santur I got from a local market in Istanbul, a cheap banjo I got from Reverb.com, and Chris's vintage acoustic guitar and I was like we need to figure out how to make this song using these tools.
Blue Ridge State is both an ode and a goodbye. It's a selection of vignettes that I've carefully piecemealed together about processing through why we often have bittersweet feelings about leaving home and why a clean break may sometimes be necessary for growth. This song was a cathartic experience for me as it led me to explore how heartbreak and wishful thinking about the future often can lead to toxic understandings that the love we think we have and have a foundation can sometimes be fabricated in our own heads.
Daily Communion
So I was raised in a pretty religious household, and grew up having to go to church. My father was a minister for over 12 years. And one of the observations I often had growing up was that the activity of communion just seemed like a really dry and lifeless exercise exuded by a ritualistic prayer and complemented with dry paper wafers and shots of Welch's grape juice. I never really understood this community exercise. My experience in the church had led me to believe this was often more a drab ritual rather than an act of true genuine intimacy.
So this song is a counterpoint to what I've observed and experienced. It was written as a reclamation that daily communion with one another — with our lovers, with our family, and with a God we may or may not believe in–is such a tender and personal and intimate exercise where we can become vulnerable and have ultimate liberation in that vulnerability. As I was writing this song, the imagery of the parable of the Lost Sheep connected with me the most — that we can rest in the arms of a lover that in reckless abandon, takes care of us without judgment or fear and celebrates when we are gathered back together.
Daily Communion was one of the easiest songs to write. I had my guitar set to a weird alternate tuning as Blue Ridge State, and I kept fiddling with chords that sounded right and just kept singing the chorus, "I want to be there / in my daily communion".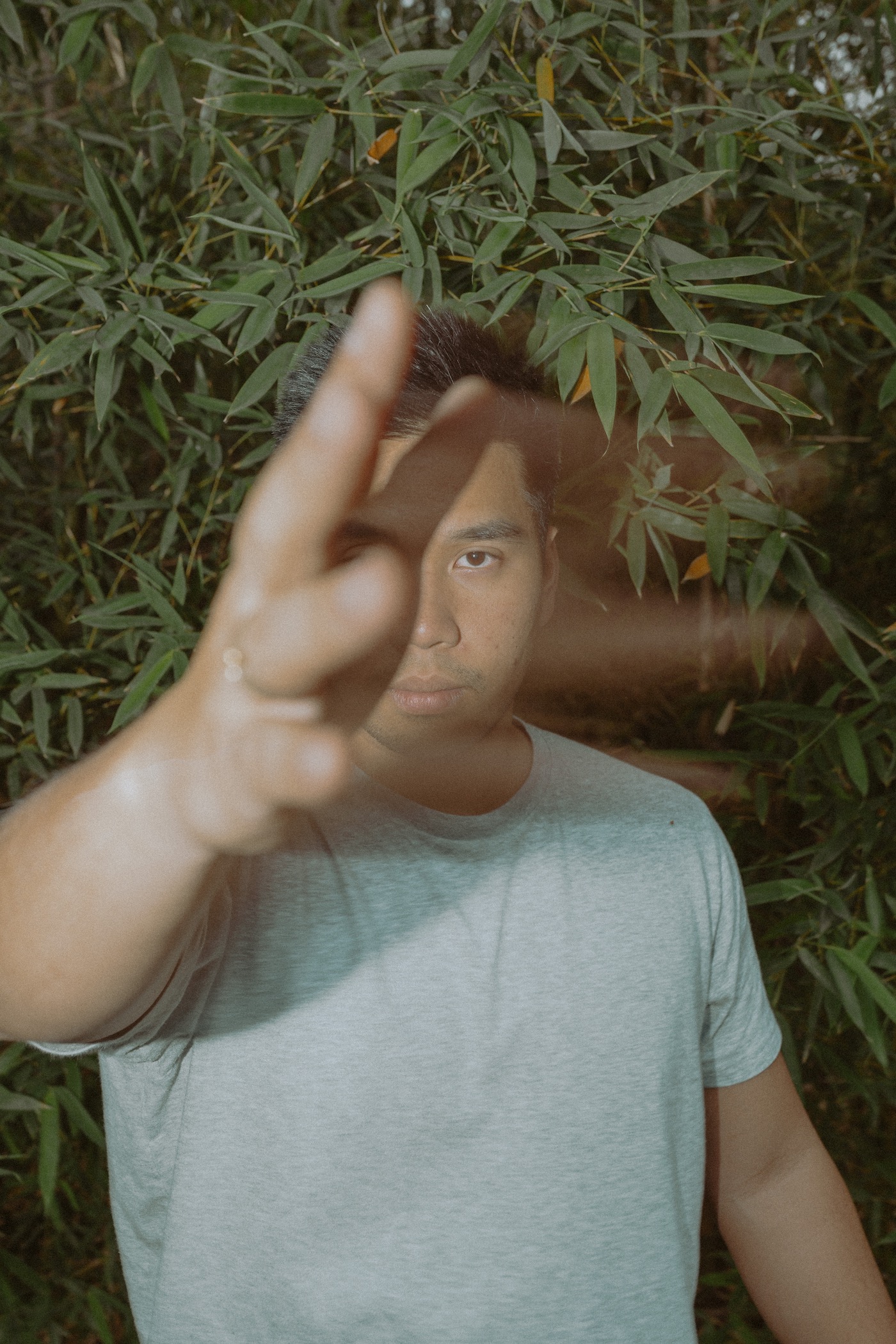 Coffee Table
Coffee Table was one of the first songs I've ever written. I actually had the chorus and two of the verses written since 2013. It was written out of a really vivid experience where I felt like one of my closest friends who I loved a lot kept leading me on and letting me down and choosing toxic relationships that were short-lived, and then coming back to me for solace. I just felt I was constantly being used in the situation, so I met her at a Starbucks and we lashed at each other and I made a bit of a scene. So I wrote this immediately after that interaction — and connected the magnitude of this pain and betrayal with the religious narrative of a tight-knit bond between Cain and Abel.
Emmie
Emmie was one of the last songs we put together for this record. It was probably the one where I was fighting with Chris the most where we were both pulling our hair out. We did like 3 or 4 different versions of the song until I was happy with what we settled on. Emmie's one of the first songs I wrote that was more of a friend's narrative rather drove the message behind the song. Having your core family separate and divorce is an incredibly painful experience especially at a young age, and so I wanted to explore how difficult it must be to be the first one to the table, making an effort to reconcile a broken relationship with a parent that often leaves us with busy excuses rather than being there for us.
— — — —
? © 2020
:: Stream Nathan Vincent ::
---