Brooklyn's CLAVVS have always known how to spellbind an audience, but never before have the they done so in as honest and vulnerable a fashion as on their new record 'No Saviors (Extended).'
Stream: 'No Saviors (Extended)' – CLAVVS
---
We were most inspired by the idea of growth — letting go of the past, not fixating so much on the future, learning how to accept ourselves.
CLAVVS' Amber Renee and Graham Marsh have always known how to spellbind an audience, but never before have the Brooklyn-based duo done so in as honest and vulnerable a fashion as on their new record No Saviors (Extended).
Originally a three-song 2018 single that morphed into their six-track EP No Saviors (March 2019), No Saviors (Extended) adds four more songs to CLAVVS' repertoire to cap off at a tight ten tracks.
The transformation of this record into what it is today charts the evolution of these Atlanta, Georgia transplants as, now two years into their new life in New York City, Renee and Marsh continue to discover and rediscover themselves through their art.
New York has, in a sense, given me permission to be more myself. There's no pretense
No Saviors (Extended) is unequivocally CLAVVS' most intimate and expressive album yet, its bold indie pop sound bolstering equally evocative lyrics.
New songs "Keeps," "Fade," "Half Moon," and "Dark Thoughts" offer strikingly clear messages of betterment and self-discovery, self-love and acceptance. The feverish, heartfelt lead single "Half Moon" is a coming out of sorts, finding Amber Renee speaking publicly about her bisexuality for the very first time.
"It's an ode to bi culture!" she tells Atwood Magazine, going on to explain: "'Half Moon' is about the hope of returning to lost love and the cycle of that never-ending dance. In the same way that the moon disappears just to reappear, this song is about that perpetual movement of feeling— joy into pain, loss into love. For the video, we wanted to express that circular pattern through a dance narrative. I'm bisexual, and since that part of my identity often gets erased, I chose to feature two female dancers as a way to make space for that part of myself. This song and its story also have a strong feminine quality to me, and the dancers, Matilda Sakamoto and Eloise Deluca, captured that feeling with such tenderness and urgency. It's a story about forgiveness and redemption. Ultimately, love is a dance we all do over and over again, whether with our partners or with ourselves."
Elsewhere, CLAVVS' soulfully sinuous album closer "Dark Thoughts" captures the difficult act of climbing out of depression and recognizing those who give us reasons to keep going. "When I feel truly seen and heard, the sadness doesn't feel as hard," Renee says. "That was a message we wanted to linger on."
There's no denying that Renee and Marsh are in a very good place as they start off the new decade together. Whereas 2019 marked "an undeniably fresh new chapter for CLAVVS and their seductive alt-pop prowess," 2020 finds the duo continuing to dwell in their newfound creative spring, pulling from it only the very best work.
A quote from last year's EP review feels as fitting now as it did then: "The pair are as sure of themselves lyrically as they are musically, with Renee's expressive vocals boomingly confident and Marsh's production clean, clear, and decisive in its vision." No Saviors (Extended) captures CLAVVS' sonic tenacity, their lyrical intimacy, and their utter love of and belief in their art: Whereas so many artists are forever hellbent on their next new thing, CLAVVS continue to build on their past works, adding to them until they feel there is nothing left to do but sit back, smile, and let the world in.
It finally feels like CLAVVS can rest easy with No Saviors (Extended), a veritable album that showcases the very best of what this pair have to offer. Whether it's the infectious melodies of "Lay Back" and "Echo," the pulsing immediacy of "Keeps" and "Dark Thoughts," or the utter vulnerability of "Half Moon" and "Fade," this extended record delivers an exciting balance of energy and introspection – all within the bounds of CLAVVS' immersive alt-pop sound.
Dive ever-further into CLAVVS' enticing new music with our exclusive interview below, and stream No Saviors (Extended) out now!
We're most concerned with identifying feelings and creating songs that embody those feelings.
A CONVERSATION WITH CLAVVS
Atwood Magazine: Diving into your new music, what sounds and ideas do you find are inspiring your art these days?
CLAVVS: We're most concerned with identifying feelings and creating songs that embody those feelings. For the songs on No Saviors (Ext) we were most inspired by the idea of growth — letting go of the past, not fixating so much on the future, learning how to accept ourselves. These songs are about adding a bit more joy into our lives. And that's something we intend to continue!
What pushed you to extend your previous EP rather than release a new one? How do these new singles mark a continuation of No Saviors?
CLAVVS: We operate from a fairly intuitive place, and these songs just feel at home together. They feel like a body of work.
The extended EP contains four new tracks. Can you take me through all four, and share a little about what they mean to you?
"Keeps" – Set yourself free from toxic people and limiting beliefs.
"Fade" – Accept the terrifying and beautiful moment of release.
"Half Moon" – Return home to yourself, again and again.
"Dark Thoughts" – You'll find relief from the sadness in the company of people you love.
"I don't belong to you," you sing in "Keeps." What inspired this song?
CLAVVS: "Keeps" is about getting free. A lot of my songs can be perceived as love songs, but usually I'm just talking to myself. This one is a direct challenge to negative thoughts, to imposter syndrome, to anything negative I've ever been taught to think about myself.
I really love everything about "Half Moon"! Can you talk to me about this song's personal significance?
CLAVVS: Ah thanks Mitch! This song was the first one we made that felt a bit more hopeful than our previous tunes. It's about the possibility of returning to an old love, whether with someone or with the sort of child-like love we start out feeling for ourselves.
Is "Half Moon" an important release for you?
CLAVVS: For sure! We made a video for this song that we're really proud of. It features two dancers (Matilda Sakamoto and Eloise Deluca) who are moving in and out of love, at times tenderly and at other times urgently. It's meant as a bi-pride video for me (Amber) because it sort of represents my own dance of learning to love myself as I am.
Amber, speaking to your experience, how does "Half Moon" signify a weight lifted off your shoulders if at all? What do you think about now that this song is out there?
CLAVVS: I've been "out" to my friends for a long time, but it's not something I've talked about publicly. I've never wanted to make the conversation about my sexuality rather than the music. But I came out to my family this year, and they were so wonderful about it. I'm extremely grateful and privileged — a lot of people can't or don't come out because it's dangerous (for their well-being or job or relationships) or they come out to people who aren't supportive. Even though it's 2020, a lot of people still don't understand (much less accept) bisexuality or queer identities of all kinds. Envisioning other people's reactions caused me a lot of anxiety for a very long time. But I realized this was for me, not anyone else, and now I'm feeling much better. It feels very good to be my whole self, exactly as I am. I wanted to celebrate that with this video. It's an ode to bi culture!
Why do you end with "Dark Thoughts" and what is this song about?
CLAVVS: This song is very special to me (Amber). It's perhaps the most honest I've ever been in a song. I wrote most of it at a time when I was feeling very sad, but I didn't know how to finish it. It wasn't until months later, when I was feeling a lot better, that I was able to see the song for what it was — a love song for the people who've given me reasons to keep going. When I feel truly seen and heard, the sadness doesn't feel as hard. That was a message we wanted to linger on.
What do you feel this extended record says of who CLAVVS is and what you're making at this current moment?
CLAVVS: A question I've been asking myself lately is, "Did I make the art or did the art make me?" and the answer is always both. That's the coolest thing about creation. We are different people now having made these songs. And we're just focused on staying in this moment, trying to push further into ourselves, further into joy.
— —
— — — —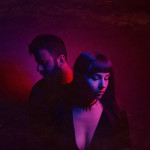 ? © Lissy Laricchia
art © Amber Renee
---
:: Stream CLAVVS ::
---