Goodfight's Ghoster EP offers thoughtful, cloudy reflections on Tinder and ghosting through a swampy haze of pop, rock, and jazz that dazzles the ears.
— —
Tinder is ubiquitous today, representing far more than its founders ever intended. It's freedom in a cell; it's the commercialization of casual dating – the apotheosis of the sexual revolution, where intimacy loses its intimacy and human relationships become little more than an animalistic dance. Goodfight's Ghoster EP offers thoughtful, cloudy reflections on Tinder and ghosting through a swampy haze of pop, rock, and jazz that dazzles the ears and immerses the body.
What can I say?
I'm not the same person today
Feeling so strange
Didn't drink the right water I've placed it away
– "What Can I Say"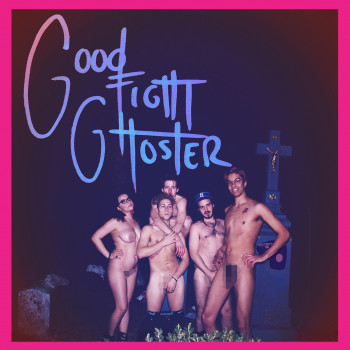 Atwood Magazine is proud to be premiering Goodfight's Ghoster EP, out everywhere this Friday, June 29, 2018 on Baby Blue! The Brooklyn-based indie rock band of Andrew Forman, Annique Monet, Daryl Johns, David Zyto, and Guy Paz, Goodfight offer a unique blend of rock, pop, and jazz that is as effervescently accessible as it is curiously experimental. Beneath Ghoster's provocative artwork is equally provocative music that taps into the minds of five avant artists who take from the old, in order to make something beautifully new.
All of my life
I ignored the happy times
and endured a lonely mind
but now no more
Finally fell in bed with better dreams
singing sweeter songs in the lightning
a misty dusk set on loving
for the evening, one more evening
– "All of My Life"
The magic of Ghoster is that it adheres to no one style, nor any one direction. Every song is something new and exciting, spliced together with little sound clips of life in Brooklyn. It's a smorgasbord of sound, masterfully crafted to engulf the listener in an ethereal, out-of-body experience. Opener "What Can I Say" sets a tripped-out scene, with up-close vocals lazing over a raw acoustic guitar and an assortment of background sonic circuitries. That fizzles into the groovy "All of My Life," where Annique Monet and Andrew Forman trade vocals as they sing about escaping the daily fog – from screens to mainstream news, and beyond. Throughout this EP, we are Goodfight invite us to feast upon an array of sonic and lyrical poetry: Ghoster is a truly unique record, made for unique times.
"I wrote Ghoster before and during the Santa months of 2017," Goodfight's Andrew Forman tells Atwood Magazine. "During this season I spent little time alone. Winter makes Andrew an antisocial and depressed man. Ashwin, Daryl, Arye and David unofficially moved in and to my actual roommates' chagrin, were helping me make music and noise for two months. A blurry, jobless range of time in which during the day we would record Ashwin's music, program Daryl's demos, or write songs with Arye for his band Melech. At night, Daryl, Guy and I would meet up at a little drum practice room in Williamsburg from midnight to 6am and experiment recording drums (for Daryl's project Sweet Joseph, Guy's music and for the early Ghoster demos). We would sleep for a few hours, then wake up and it again. Two months straight. Eventually when we were satisfied enough with the drums we recorded, we began hanging more at the Bushwick apartment at night. We tracked acoustic jangle pop, drones and animals sounds, acid jazz fever dreams, poly harmony flow onto tapes and then flip them over and overdub free association poetry as the cassette played backwards. No method was off limits and no idea went unexplored. Most of the interludes on the album came from these half baked pixie sessions. No sleep for me, I was too excited to be awake."
Andrew Forman dives deeper into Ghoster's story here:
One morning in early January, as all the demos and interludes came together, I started filling in the gaps before and after each song with the sounds from our immediate environment: J train screeching, percussion played on apartment furniture, bubbling percolators, the wind through the trees hanging over my roof, Ashwin's ramblings, a winter thunderstorm, text tones from our phones, a mandolin from the civil war. Annique came over and recorded her vocals, Zoe came as well to sing on Tinder song, Ben seacrist would contribute trumpet for improvise synth-brass parts. The lyrics were left open ended but united under a central narrative: Tinder. Millennial multiplicities abound.
Originally 24 minutes in length, I showed the proto-EP to a then-acquaintance, producer and bassist Spencer Murphy, for input and advice. What began the day I showed him would become a half-year of co-producing innumerable edits, delay throws, and stoned out tape bounces. Spencer introduced me to some talented and strange engineers and lent me a Linn Drum. We re-recorded drums with Vishal at Black Lodge Studios, layering in sounds from the Linn Drum on top of acoustic snares and kick drums. We re-did vocals with the legend Skips Doodlehall at Hurt Studios. The EP was shaved down to less than 20 minutes.
When an unrelated photo shoot went awry one warm spring night, the band ended up naked in Glendale cemetery. If the photographer, Calvin Davis, had actually been apprehensive about the scenario he found himself in, it didn't show. He shot a couple rolls of film and made us feel that he was comfortable with what was going on. A friend of Goodfight, he too indulged in the freedom we felt and admitted later that it was the most fun he had ever had on a photoshoot. Later that night, over some Pad Thai, we decided one of the shots from the night would be perfect for this album about ghosting and tinder. Annique later designed the cover, drawing the font by hand. – Andrew Forman."
All in all, Goodfight's Ghoster EP is very special – a musical  tapestry made in the throes of life transitions and young adulthood; a fuzzy dream come to life. Experience the full record via our exclusive stream, and peek inside Goodfight's Ghoster EP with Atwood Magazine as the band provide their personal take on the music and lyrics of their brand new release!
Listen: 'Ghoster EP' – Goodfight
:: Inside Ghoster EP ::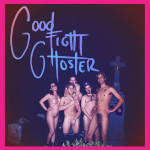 — —
what can I say
Arye Knaani improvised these lyrics in Harlem two summers ago. I played a donut guitar loop under it and we recorded it on a voice memo in one take. A year later made a new version on the tape machine- spencer murphy laid down some pads and I whipped reverb send knobs live style, first take stuck as well. Re-recorded vocals at skips doodlehall cymbal swells at black lodge studio.
all of my life
self love vs screens – distrust mainstream news – equilibrium – storm clouds over paradise. 2 years old, originally electro pulse work out music titled 'bear man' adapted fatly with lyrics, band, trumpet, cloud noise. outro patty melt style OP vapor wave, daryl johns pump synth, ashwin prasanna as member of BGs funk. benjamin seacrist on the trumpet, lyrics written by annique monet and me.

on hold
ghost or be ghosted- whipping reverb send knobs live under daryl chameleon pixie synth shifting underwater flute and sunshine saws. DJ synth/ AF guitar solo first take weirdos. All solos on Goodfight records are first take weirdos. lyrics originally written by me and adapted by ashwin (#freeashwin)

bighi
I took some donut chords and a melody from home recorded camp tape jam (David Zyto, Daryl, Ashwin, Arye, me), inspired by Joao Bosco/ Djavan 80s style. Ashwin and Annique whisper, Spencer induced warbly stoned to out tape bounces after Connor Hanwick sent back final mix. Lyrics from poem I wrote no date. palm fronds under overcast sky.

tinder
power ballad, first song i put on tape a year ago. Now many versions later with vocal contributions from annique, zoë mclaren, ben (vocals and keys), and me. Guy on drums recorded by Vishal at Black Lodge. a trip down avenue a thursday night.
— —
— — — —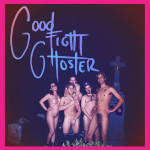 ? © Calvin Davis
:: Stream Goodfight ::