Jim Andralis captures New York's beauty and negativity in the hopeful "Don't Blame New York" with The Syntonics.
— —
Every now and then New York is lonely.  It's a grid of routine.  The summers are sweaty and disgusting; the winters are cold and miserable.  Sometimes, it seems as if you're suffering from Cotard Syndrome on a hungover walk to work.  In those moments, you may refer to this godforsaken city with scorn.  But, damn it, if this town isn't great.  Often these resentful feelings come from whatever is eating at your psyche, and "Don't Blame New York" by New York singer-songwriter Jim Andralis & The Syntonics truly captures these feelings, while still speaking in favor of the Big Apple, which Atwood are excited to premiere to you today.
"Don't Blame New York" – Jim Andralis & The Syntonics
What Andralis captures best is how New York City is really whatever you bring to it.  It can be a beautiful hub to chase dreams or it can be one of the most miserable dumps in the Northeast.  Sometimes the skyscrapers of Manhattan seem sinister in darker moments, but Andralis rails against this in the bridge: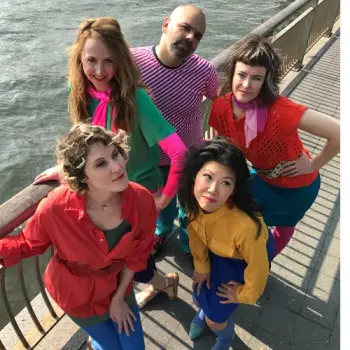 Don't blame New York for your dreams that died
Don't blame New York when you're too tired to try
Don't blame New York for how much you eat
Don't blame New York when you cry in the street
Don't blame New York for the places you grieve
Don't blame New York if you need to leave
With sweet harmonies from the Syntonics in the background, Andralis sings sweetly, almost like a parent or sibling, telling the listener to get their chin-up and quit hating something so apathetic.  It's a cynical sense of comfort when he sings, "This town has a million things to do, and 8,550,404 other motherfucking people to think about."  It's one of those things that makes you realize how beautifully small you are.
"Don't Blame New York" is like a cousin to LCD Soundsystem's "New York, I Love You, But You're Bringing Me Down" in simultaneously showing the greatness of the city and the difficulty that its residents often face.  Andralis just seems to have a little bit more of a sense of humor about it than James Murphy.  Andralis says this of the track:
"I wanted the lyrics of this song to speak to what a fucking slog it is to live here a lot of the time while hopefully simultaneously conveying through the music and harmonies that there's both beauty and nobility to being here and trying.  I tended bar at a gay dive in the East Village for many years, and imagine that sometimes New York City must feel like I used to on Dollar Bud Wednesday, trying to get a never-ending torrent of thirsty mouths their goddamn Budweisers."
The Syntonics help really bring this instrumental to life.  Their background harmonies coupled with some electric guitar give this otherwise simple song to a much larger space than Andralis' previous LP Your Dying Wish Come True.  They never distract, but it seems like the track would be truly lacking without them.
"Don't Blame New York" is off of Jim Andralis & The Syntonics' upcoming album Shut Up Shut Up.
— — — —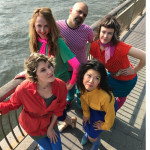 :: Listen to Jim Andralis & The Syntonics ::