NYC duo Fly by Midnight dive into the lush, warm melodies and youthful lust of their dreamy new single "Malibu" in our exclusive artist interview.
— —
If Fly by Midnight's brand new single "Malibu" feels like something out of a dream, that's because it is – only this dream came true. It's a classic tale of youthful lust and uninhibited desire – a trip down memory lane for the underdog who spent one high school summer with the girl of his fantasies. Burning with pulsing beats and lush, warm melodies, "Malibu" basks in the afterglow of a faded fire as Fly by Midnight recall that fleeting feeling and try to make it last forever.
Street lights paint your face and I'm paralyzed
We drive to get away – I'm not asking why
'Cause your boyfriend, he gave you
the dice in the rearview
and maybe we're something, it's probably nothing
it makes no difference to me
I still tell my friends
I ride all night in your Malibu
Listen: "Malibu" – Fly by MIdnight
---
Atwood Magazine is proud to be premiering "Malibu," the latest single from NYC-based retro-pop band Fly by Midnight. The duo of multi-instrumentalist Justin Bryte and producer Slavo, Fly by Midnight are a modern throwback – fresh-sounding, yet utterly engulfed in the 1980s. The result is a chilling blend of past and present, a hybrid that keeps a timeless moment alive and thriving.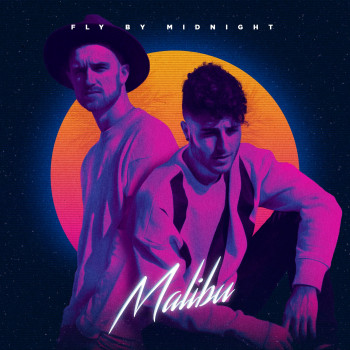 Cars pass, our bodies talk
with no dialogue
Three cheers for three years
of patience for the underdog
Your boyfriend, he told you
he misses the old you
but right now, we're parked
and my seatbelt's unfastened
I know this is something
You say we're just fuckin'
it makes no difference to me
I still tell my friends
I ride all night in your Malibu
Fly by Midnight describe "Malibu" as "nostalgic" and "colorful," and no two words could be more fitting for this vibe. "Malibu" is a vivid dance with a ghost – a simultaneously sweet and bittersweet remembrance bathed in the heat of the moment. It's got that sexual spark – that heavy emotional blanket that amplifies the tension, as well as the release.
It all comes down to one thing in the end: "I still tell my friends I ride all night in your Malibu," Bryte sings in the chorus, his silky voice cascading through a beautiful, lilting melody. It's about the car, and what's going on within; it's about the mood, the ambiance, and the electricity. "Malibu" recalls the innocence and magic of that initial spark – the euphoric sensation that made us feel larger than life, if only for a little while.
It's the high we're always chasing, an allure unlike any other.
To introduce "Malibu" to the world, we invited Fly By Midnight to interview each other. The result is unlike anything we'd ever imagined: Dive inside "Malibu" and much more with Fly by Midnight's Justin and Salvo, exclusively on Atwood Magazine!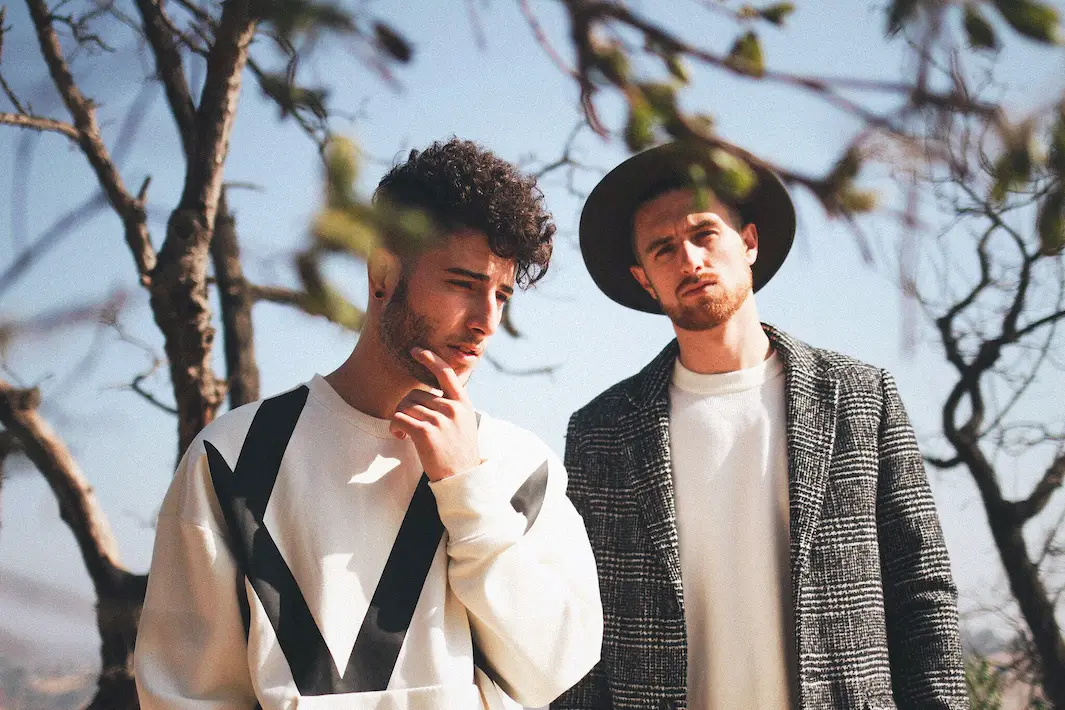 FLY BY MIDNIGHT CHAT "MALIBU"
Slavo: Hi, this is Fly By Midnight interviewing each other. We put jazz music on in the background to set the tone.
Justin: Okay, Atwood Magazine, Malibu interview, take one!
Slavo: We got coffee in our hands, it's a late night in the studio. It wouldn't be any other way. If you know Fly By Midnight then you know that we are always in the studio late. Okay here we go!
Justin: Okay, turn that jazz music down a little bit, it's clogging up my brain. What's up, bro?
Slavo: What's up, man?
Justin: How you feeling?
Slavo: I feel good. I feel like we've been working a lot and haven't released music recently, so this is exciting.
Justin: Yeah! We've got out Starbucks in our hands right now…
Slavo: I already said that!
Justin: Alright, but I'm reiterating.
Slavo: Oh my god (laughs)
Justin: Last night we pulled a very very late studio session. Well, anyway, yeah, we're stoked to be talking about our new single "Malibu".
Slavo: It's weird because usually the questions come in from someone else so we don't think or worry about it. But this time we had to make the interview and answer the questions.
Justin: Yeah, yeah, and we are always talking to each other but now I feel like I'm talking in a more professional voice.
Slavo: I know, right (laughs)
---
Justin: Anyway, our new single "Malibu" just came out. What does our new single "Malibu" mean to you, homie?
Slavo: Uh, it's funny because the song starts with the production itself. We came back from China, we did a trip over there to do a performance for the Chevy Malibu. They were doing a viewing of the Chevy Malibu and we went there and performed for it. When we got back, we were just inspired by the title of "Malibu," and so we made a production around it and never wrote anything. I think months later we pulled it up and were like "wow this is really cool" and just wrote off the title "Malibu." Then we both reflected on our lives and I think you (Justin) introduced more of a story from your high school days and we kind of rolled with it.
Justin: I think the production of Malibu always had this really cool nostalgic feel to it so we wanted to run with the title Malibu because we thought it was dope. I remember telling you that I had this idea that this girl, I don't wanna mention her name, but this girl when I was a junior in high school the summer going into junior year we kind of just kicked it in her car all the time. She had a boyfriend and none of my friends believed I was hanging out with her. It was honestly just a really bad ass experience I probably shouldn't have been telling people about.
Slavo: Honestly I know that was high school but did you feel bad about it? You can be completely honest.
Justin: I totally thought I was so cool (laughs) so it didn't matter, I did not feel bad about it at all.
Slavo: (laughs) I don't think I'd be able to do that.
Justin: It was such a weird thing because I felt like I was in a movie the entire summer.
Slavo: Was she worth it though?
Justin: Yo, she totally just got engaged too.
Slavo: Did she?
Justin: Yeah.
Slavo: That narrows down the options then. Gonna go through Justin's high school yearbook and see which ones got engaged (laughs)
Justin: Hit her up and told her that this song Malibu is about her and she was like I don't really care
Slavo: Wait, did you really hit her up?
Justin: Yeah, and she was like "I'm getting married." I was like, alright, BRB. But yeah, I feel like it was a really quick writing session for us.
Slavo: So yeah. I have a cool question…as far as the process, I know I talked about the production stuff, but coming up with lyrics, where did you start off? Do you remember? I don't.
Justin: I remember it was kind of a slow beginning.
Slavo: I know we edited a few things.
Justin: I know the first line – "Street lights paint your face and I'm paralyzed." I remember that took a while to get but once we got that it felt really poetic.
Slavo: Didn't the melody come really quick though?
Justin: Yeah, yeah. Well, I mean the hook was so effortless.
Slavo: The first melody was the verse, if I'm not mistaken.
Justin: I think so. I remember feeling like the chorus was so simple that it immediately stuck in my head. And, you know, Malibu is out now, but most people don't know how long ago we worked on this record. I know what we always talk about that is so cool is that we showed it to our friends and family for how long now?
Slavo: Yeah, it's been in our dropbox folder for a very long time. Sent it out around privately. It does feel good to have it done and polished and sent out to the world. My question now… I have another question. Being that the song is based around the Chevy Malibu car, what car was your first car and one memory from that first car?
Justin: (laughs)
Slavo: Could be extreme, could be really boring, could be fun.
Justin: My first car was the Hyundai Elantra 2001. It was my mom's hand-me-down.
Slavo: What color?
Justin: Yo, it was the worst color ever. My mom called it green but I would never tell anyone it was
green, so I would be like "it's blue!" and they'd be like, "no, it's green" and I'd be like "nah, it's not". And, a crazy memory? I remember being stoked that I didn't have to bring a girl back to my house. My car was the closest I got to having my first apartment (laughs)
Slavo: Oh my god, so like a home…
Justin: Yeah (laughs). What about you, first car?
Slavo: My first car was actually a truck. It was like a Nissan… I don't remember what it was. Anyway it was fun because I played football in high school so it was a very memorable thing to go back to and listen to this song because it reminds me of high school. After games we would go back to the track and hang around the truck before we went home. I have a nice memory of it. It was one of those pull your tailgate down and hang out. Very like typical high school, hang around your vehicle. It's nostalgic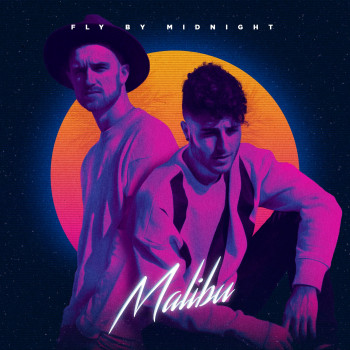 Justin: I have a cool question. If you could describe Malibu to our fans – new fans, old fans alike – in two words, what would it be?
Slavo: I want to say nostalgic because that's what we've been saying. It feels pretty natural. So, nostalgic and I wanna say colorful. It definitely has a very dynamic sound to it. It is kind of different for us too in terms of what we've released. The last song we put out "Vibe" was a bit more on the clubby dance side, which was new for us too. Malibu is like more of a taste of alternative, which is exciting because we are living in an era where you can just put out music you're excited about. But, yeah, it's definitely colorful.
Justin: I would probably say "night." More than any song we have written before.
Slavo: Dusk, even.
Justin: It definitely paints a very specific picture for me. And just a fun song. There is a lot of like… I love the bridge in the song. "She's so hot, she's out of my league, and all my friends won't believe me," it's such a relatable feeling.
Slavo: What's your favorite part of 2017 as we come to the end of the year?
Justin: Favorite part of 2017? I would probably say opening for Daya at Edinboro.
Slavo: Yeah?
Justin: I thought it was really cool.
Slavo: I was sick as a dog!
Justin: Oh yeah (laughs). Remember you were walking around with a box of Kleenex?
Slavo: We literally shot the XL video the next day. That whole week was insane. We were doing so much stuff.
Justin: I just remember being in front of that packed of an audience and seeing that moment where you grab everyone's attention and make them fall in love with the project. It's cool. What about you, favorite part of 2017?
Slavo: I have a terrible memory so I'll go with something recently that I liked. I went to a cabin with my family in Georgia and it was nice because we work so hard in the studio. To just go out to a desolate woodsy area, there was a stream, like a river, below. It was peaceful, just to be in an environment like that and kind of taking my mind off of the studio hustle. It was just really nice, so I think that was my favorite part. Very peaceful.
Justin: When you were gone I was just playing video games (laughs)
Slavo: (laughing) which was probably your favorite part of 2017!
Justin: Oh my god, I take it back… my favorite part of 2017 was…
Slavo: …was when I went to the mountains.
Justin: I played video games the entire time (laughing). So, I know we have a crazy 2018 coming up, lots of things in the works.
Slavo: I'm looking forward to coming up with new ways to get our music out. I feel like we've come out with such cool stuff. We're evolving so quickly. People are getting minimal music from us right now but we are going to turn it up this year. I just want to see where making new music and creating new sounds takes us. I want to just get on the stage, do more shows. Yeah, what about you?
Justin: Yeah, I mean, I don't think it's secret that we have a lot of shows planned at a lot of colleges in 2018. I think we have a lot of new music in the works. I see that our sound is progressing with every song and it's exciting. Exciting times! We're constantly evolving.
Slavo: Yeah
Justin: And that's what I'm looking forward to most, seeing where that evolution takes us.
Slavo: So it's Thanksgiving. We have some Thanksgiving-y music in the background, a jazz vibe.
Justin: (laughs)
Slavo: Are you excited for the holidays? What are your favorite holiday traditions, my friend?
Justin: I am excited for the holidays. Christmas it my favorite time of year. What's cool is that this year is the first time you'll be in New York for Christmas, right?
Slavo: Yeah!
Justin: Usually you go home to Florida. I'm excited to just kick it with all of my friends. We have a Christmas Eve tradition where all the boys go out to Woodrow Diner – shout out Staten Island!
Slavo: I'll have to join you this time.
Justin: Yeah! We've been doing it since we were 15. It's probably my favorite tradition.
Slavo: Christmas is my favorite as well, I'm gonna be really basic. I always grew up waking up early in the morning to my mom making breakfast. It's a very American tradition, but just the family vibes and waking up in the morning. Now we drink coffee but back then my mom would make hot chocolate with cinnamon rolls. We never had too cold weather in Florida. It was always chilly but not like it was snowing or stuff, so a very Florida Christmas. So, yeah, just family time and waking up in the morning to open presents…which, by the way, I'm not going to be in Florida… how the hell am I going to open presents this year? (Laughs)
Justin: (laughing) You'll have to have them sent over.
Slavo: Oh my gosh, I think I am getting too old.
Justin: Yeah. You haven't been in New York that long. Are you used to the cold?
Slavo: Yeah, it's been 4 years. Remember we were driving last winter and it was snowing and it was actually annoying that it was snowing for the first time. I was like, after 4 years of being here I can say I don't like snow.
Justin: You're over it?
Slavo: Yeah, I'm over it.
Justin: Yeah, I've been over it since I was born.
Slavo: It's pretty for the first 2 hours when it's coming down but other than that it's kind of annoying.
Justin: Okay, so, bringing it back to our single "Malibu." Being that it's a driving song…that's definitely how we view it too. When we finish a song we go into your car and listen to it to see how it feels. If you could add a song to your driving playlist to play before or after Malibu, what would it be?
Slavo: The song right now I'm listening to that you showed to me is that Dagny song.
Justin: "Love You Like That"
Slavo: Yeah, it's "Love You Like That" by Dagny. Maybe with the new Taylor Swift album out I'll pick a song off that and make it my driving song.
Justin: For sure. I think lately it's been that super dope Kim Petras track "I Don't Want It At All". It feels very guilty pleasure-esque. I would definitely drive to that as well.
Slavo: Also, being such a hands on producer in this duo, I like to listen to our music a lot in the car. A lot of times we will get done at 2 or 3 in the morning and on the way home and whatever we've been working on I'll jam to on the way home. I'll go through our catalog and listen for things. I'm sure you do the same things. Like with "Malibu," we've had it for so long but every now and then you'd pull it up in the car and it would be such a jam, but you'd hear little things here and there. It's such a driving song.
Justin: It has been kind of a mind fuck with that song because we finished it and then lived with it and brought it to meetings and then changed it. It has been a crazy process with it. Would you say, from a production stand point, was it easy?
Slavo: It's so funny because we started this interview saying that it was already pretty much done but I don't even remember producing it initially (laughs)
Justin: I don't even remember being there. Was I there?
Slavo: I have no clue. I think it was one of those things where I pulled it up for 3 hours and messed around with it… obviously I did more stuff to it, but I don't remember it being that difficult. It sound big and like it requires a lot, but I think that out of all the songs we've released it's actually the one with the least amount of tracks on it.
Justin: My name is Justin Bryte.
Slavo: My name is Slavo. Our single "Malibu" is out now!
Justin: Yeah, and it's a super dope track. We're really excited to bring people back to their nostalgic high school days.
Slavo: Listen to the song if you're out of high school and think about when you were in high school. And if you are in high school, live it up!
Justin: Live it up! Please live it up! If I could go back I would.
Slavo: Get "Malibu" and jam that song while you drive down the road by your school.
Justin: Or down the interstate (laughs)! Anyway, are we good?
Slavo: We're good.
Justin: Well, man, it was great interviewing you.
Slavo: Are you trying to shake my hand? There is only two of us in the room (laughing).
Justin: (laughing) Alright, peace!
Slavo: Bye Atwood Magazine!
— —
— — — —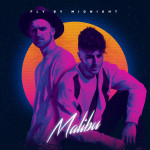 photo © 2017
:: Listen to Fly By Midnight ::