A bright, transformative record, Deidre & The Dark's debut album 'Variety Hour' brilliantly combines past & present while exploring life, time, identity, and everything in-between.
for fans of Tennis, Dorothy, The Shirelles
[soundcloud url="https://api.soundcloud.com/playlists/699692661?secret_token=s-9b9Ez" params="color=ff5500&auto_play=false&hide_related=false&visual=true&show_comments=true&show_user=true&show_reposts=false" width="100%" height="400″ iframe="true" /]
---
Who says "retro" can't be the new "new"? The best music of any time has always built off that of the past, and to diminish the value and importance of musical influence is a disservice to the thousands of artists who preceded us and laid the groundwork for today. While we might associate some sounds with a certain era (think '70s disco, '60s Motown, or '50s rockabilly), all of these styles are fluid and still evolving to this day, as is evidenced by the myriad artists who are making that music and innovating within their respective fields.
It is with this in mind that we experience Deidre & The Dark's Variety Hour as a brilliant amalgamation of the past and present: A bright, transformative record of identity and experience, femininity, life, love, and everything in-between.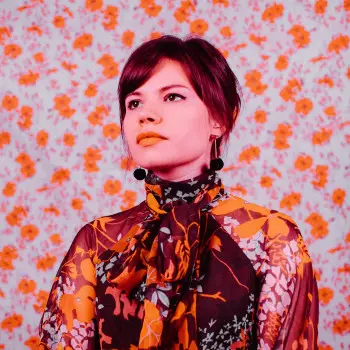 Atwood Magazine is proud to be premiering Deidre & The Dark's debut album Variety Hour, out this Friday, February 5, 2019 via You Too Can Woo! The creative project of Savoir Adore founding member and ex-frontwoman Deidre Muro, Deidre & The Dark is an entity entirely unto itself. Muro establishes her artistry as a unique and wholly distinctive from her former bandmate Paul Hammer, pulling heavily from the classic pop of what we tend to call "1960s girl groups" while making equal use of modern rock and pop instruments, effects, and affectations.
True to its name, Variety Hour is a little bit of a lot of things: A successful experimentation that finds the artist doing what she wants, when she wants, how she wants. Deidre Muro is free to be herself, and she is basking in the glow of creative liberty.
"My husband David Perlick-Molinari and I worked on the songs of "Variety Hour" on and off over many years, so the release of this album is an extremely meaningful moment in time for us," Muro tells Atwood Magazine. "It was inspired by the great TV variety shows of the 1950s, 60s and 70s, with each song having its own imagined production within the show. I hope the record brings you as much joy as its brought to us. Cue the lights!"
This is an album you and your parents, and your grandparents will enjoy. Intentionally or not, Deidre & The Dark has stumbled upon a new classic sound, energizing music of the past to give it new life in the 21st Century. Experience the full record via our exclusive stream, and peek inside Deidre & The Dark's Variety Hour with Atwood Magazine as Deidre Muro goes track-by-track through the music and lyrics of her debut album!
Stream: 'Variety Hour' – Deidre & The Dark
:: Inside Variety Hour ::
— —
One Night
We had just gotten back from a little tour of the northeast where we'd been listening to a lot of the Delfonics and Motown hits, so the vibe was very much on my mind. One evening, I was at our studio (YouTooCanWoo), waiting in another room while my husband finished engineering a recording session. I remember being sort of slouched in an armchair with my laptop, and I opened Logic to just doodle around a bit. All of a sudden, two hours passed and I was walking home with a fully structured demo of "One Night." Then the lyrics unfolded naturally as being sung by a lone woman at a bar who repeatedly tells her story of the great love of her life, night after night.
Come On
"Come On" is about two lovers running away together to a place where life might be better. I always imagined it as a retrofuturistic love song, and that they were planning to steal a spaceship and fly off to the next galaxy where they could live and love in a new world. That vision inspired all the spacey synths throughout the track.
Back In Time
I had such a specific vision in my head while writing "Back In Time" – a woman walking slowly, defiantly down a New York City street. The image is black and white, and the song is in her head. Having crossed paths with a no-good someone from her past, her thoughts are flooded with conflicting memories, both precious and ugly. She knows she is still vulnerable, but she proves to herself that she has overcome it and will not look back.
Which Way
"Which Way" is a dreamy, first love in gently faded technicolor. Every atmospheric layer in the arrangement is like the romantic flutter you get from a look, a gesture, a kiss, punctuated with whimsical touches. These moments build upon each other into an idealistic painting of a heightened moment in time.
Are You Gonna
"Are You Gonna" is a playful challenge – will you go with the status quo or do your own thing? Each instrumental part asks the question in it's own sassy way, demanding a response but not really waiting for an answer.
La Fontana
This song was started by our friend and amazing composer Trevor Doherty, and we loved bringing it into the Deidre & the Dark world with a bit of bounce. This is definitely the soundtrack to my dream of having a Vespa some day.
Unerasable Love
"Unerasable Love" revels in being haunted by the past – lurching through memories and disbelief, like feeling your way through a dark, abandoned house. Inspired by the canon of James Bond theme songs, it is my distressed love letter to film title sequences.
Bad Day
Cue the montage! Everybody has had a day (or many days) where absolutely everything goes wrong. This song is about getting through it. I loved injecting chaotic sound design amongst all the chopped samples – including my newborn son crying while I was trying to work on this!
Tell Me
In an innocent ode to the early days of love, I thought the perfect sonic accompaniment was the sound of a neo girl group cheerfully shoegazing.
Don't Say Goodbye
Desperate to maintain a stoic demeanor, the singer watches her lover disappear into the desert sunset without a proper farewell – praying that this gesture will ensure they meet again. It was the only fitting ending for the album – we'll just say so long for now, because we will meet again.
— —
— — — —
? © 2019
:: Stream Deidre & the Dark ::