Nothing about life is easy, but ideally our relationships exist as a sort of coping mechanism – a reprieve from the madness. Love is hard, though – like a child, it needs constant support and nurturing. Ruby Force's new song "Diamonds" is a glowing example of the passionate outstretched hand, a loving ode to a partner in need.
When you walk out, In the middle of the night
Where do you lay your head
I won't tell if you don't fight
I believe we've got God on our side
We've got God on our side
Listen: "Diamonds" – Ruby Force
[soundcloud url="https://api.soundcloud.com/tracks/322190326?secret_token=s-S2OCs" params="color=ff5500&auto_play=true&hide_related=false&show_comments=true&show_user=true&show_reposts=false" width="100%" height="166″ iframe="true" /]
---
Atwood Magazine is proud to be premiering "Diamonds," the latest single off Ruby Force's upcoming debut album Evolutionary War (independently out 6/23/2017). The "musical brainchild" of Erin McLaughlin, Ruby Force offer an inviting mix of reflective singer/songwriter and warm folk/country. Earlier this week, the band was named one of Rolling Stone Country's "10 New Artists You Need To Know," and for good reason: Few acts can pull off such a stunning debut with the kind of fiery conviction that flows effortlessly from McLaughlin and co.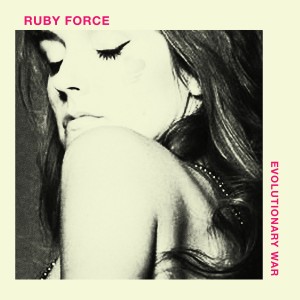 You've got Diamonds in your eyes
You've got Diamonds, I can see em' tonight
You've got Diamonds in your eyes
You've got Diamonds,
oh they're with you tonight,
yea they're with you tonight
"Diamonds" finds Ruby Force singing an oath of steadfast love. A warbly guitar and plaintive piano establish the song's solemn attitude, but it is McLaughlin's heartfelt vocals that give the song its gentle character and poignant ease.
"This is one of my favorite songs from the record. I wrote it a couple of days before we recorded it," shares McLaughlin. Perhaps much of the driving emotion behind this song lies in its immediacy; there's power in fresh ink and raw sentiment. "I could hear this choir of angels singing the chorus in my head and since we didn't have that choir, Eli and I had to become it. So fun!"
If you decide to change your mind
What kind of man would you be
Well you can't change and I won't fight
I believe we've got God on our side
We've got God on our side
"We've got God on our side." Ruby Force lay it all on the table in one charismatic performance that expresses love, faith, and caring. It's going to be okay; we're going to be okay; you're going to be okay! they exclaim, in slightly more poetic terms.
No matter how starry-eyed we get – no matter how many diamonds fill our eyes, we're not lost as long as we've got love. Connect with Ruby Force via their socials below and stay tuned for Evolutionary War, a powerhouse of evocative musicality and potent emotion that promises to engulf the soul and delight the senses.
— — — —
cover © Casey Curry
:: Listen to More Ruby Force ::
[soundcloud url="https://api.soundcloud.com/users/118364153″ params="color=ff5500&auto_play=false&hide_related=false&show_comments=true&show_user=true&show_reposts=false" width="100%" height="450″ iframe="true" /]
---
:: Ruby Force 2017 Tour Dates ::
June 15 – Wapakoneta, OH @ Route 33 Rhythm (w/ J.P. Harris)
June 16 – Maumee, OH @ The Village Idiot (w/ J.P. Harris)
June 17 – Urbana, OH @ Champaign County Rhythm and Food Festival (w/ J.P. Harris)
June 18 – Lexington, KY @ The Burl (w/ J.P. Harris)
June 24 – Los Angeles, CA @ Hotel Cafe **RECORD RELEASE SHOW**
July 17 – Orange County, CA @ Wayfarer
August 13 – Los Angeles, CA @ Grand Ole Echo