The best kind of indie sounds are the ones that feel like antiquated film – such a statement seems nonsensical, but those who've spent too many hours listening exclusively to Slowdive, Girlpool and Wild Nothing's older projects will understand the sensory pleasure of lying in the darkness of one's own room with eyes closed, envisioning entire days or eras in the short span of time that a single track has to offer. Sometimes these recurring images document the lives of others, and sometimes one's own, but they're eternally distorted fuzz that directly parallels a scene's lo-fi soundtrack. And though that cloudiness is misinterpreted as a rock musician's unoriginality or laziness, great indie rock or pop is not half as lethargic as the attitude it so often ends up evoking.
Listen/Watch: "Different Now" – Chastity Belt
[soundcloud url="https://api.soundcloud.com/tracks/310369139″ params="color=ff5500&auto_play=false&hide_related=false&show_comments=true&show_user=true&show_reposts=false" width="100%" height="166″ iframe="true" /]
[youtube=https://youtu.be/0ntfEZySu1A?t=0s]
---
Since 2013, Seattle quartet Chastity Belt have reaffirmed this conviction twice: with debut album No Regerts and again with sophomore effort Time to Go Home. Both records – particularly their gems like "Black Sail" and "Drone" – are capable of conjuring a desire to isolate oneself in a reflective corner of fatigue, uncertainty or remorse. After all, the punk-indebted women are all about anti-expectations. Yet, nothing about their music has disappointed, and with another album, titled I Used To Spend So Much Time Alone, out June 2 (via Hardly Art), everyone should prepare themselves for another slightly messy, yet satisfyingly solid round of indie rock.  Released March 8, "Different Now" is part of Chastity Belt's third LP. More importantly, its sound echoes the titular meaning of the record it belongs to, along with the aforementioned hours of indie-induced seclusion.
You're hard on yourself
Well you can't always be right
All those little things that keep you up at night
You should take some time to figure out your life
But you're stuck indoors and thinking poorly 
From its beginning, Chastity Belt's "Different Now" captures a charming gloominess, not unlike that of their debuting "Seattle Party," which encapsulated the bandmate's ironic sentiments, shared by virtually every twenty-something who's hung-out on a late Saturday night: Are there others out there who think like us? / I think they're having fun / Are we having fun? But despite musical similarities, this new track is unlike that of any previous single, no pun intended. There is no party, no best friends, no dude-bro trying to impress female partygoers with his captivating tattoos. Instead, "Different Now" is a melodic cut of self-confrontation verbalized by lead singer Julia Shapiro and cushioned by drummer Gretchen Grimm's effervescent cymbals.
You'll find in time
All the answers that you seek
Have been sitting there just waiting to be seen
Take away your pride and take away your grief
And you'll finally be right where you need to be
The cut is chorus-free, and that songwriting decision is no fault – in fact, not a single second of "Different Now"'s structure complies with the conventions of pop, despite it being sonically poppier than Chastity Belt's older material. An entire minute of organic percussion and bass heralds Shapiro's lyrics, and another long-lasting, but not longwinded instrumental succeeds them. In this way, "Different Now" exemplifies a seizing of connotation in both instrumental melody – primarily the flittering guitar hook that dismisses the need for a chorus – and concise lyricism. Chastity Belt demonstrates that a song can convey essence, even in its nonverbal moments.
Take all of it, take everything you're owed
'Til you finally feel okay being alone
Yeah it's different now
Yeah it's different now, you're old
And you try and you try and you try and you try
In the case of "Different Now," such essences transition from melancholy to satisfaction, or at least acceptance. Yet, the track's middle and end would be difficult to distinguish if the final verse didn't erupt into noise as soon as Shapiro begins insisting that "yeah, it's different now," over heavier percussion. Listeners lying on their backs with eyes drooping to the gentle tapping and strumming of the cut will suddenly find themselves more alive in this instant, perhaps convincing themselves that the song's loud conclusion is an optimistic forecast for the future. These listeners will still be on their beds, but now with hearts beating just a little different than before.
— — — —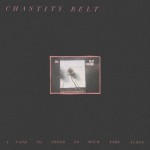 cover © Conner Lyons
:: Listen to More from Chastity Belt ::
[soundcloud url="https://api.soundcloud.com/tracks/314763141″ params="color=ff5500&auto_play=false&hide_related=false&show_comments=true&show_user=true&show_reposts=false" width="100%" height="166″ iframe="true" /]