Recommended If You Like: U2, Owl City, Jack's Mannequin
For decades, scores of lonely hearts and wayward souls have scoured the City of Angels for substance, searching for purpose and meaning to their lives. Culver City's Lost in Los Angeles already speak volumes about this cultural rite of passage in their name alone, but it is on their latest single, "Follow Me Home," that the band truly evokes the hope and wanderlust of navigating life.
Walking down the boulevard
To the sea where all the stars
Are waiting for you and me
I'm all alone tonight
with the palm trees in the sky
You wish you were here 
Listen: "Follow Me Home" – Lost in Los Angeles
---
Atwood Magazine is proud to be premiering "Follow Me Home," the second single off Lost in Los Angeles' upcoming sophomore album Love is Fate. The product of two years' work with producer Omer Avni, Love is Fate highlights the best of Lost in Los Angeles' (LiLA) nostalgic, experimental and exploratory new wave/electronic pop/rock sound: "Follow Me Home" quite literally evokes styles of the '80s, '90s, and '00s while trudging ahead with synthpop inflections and bright, lively bursts of guitar.
"'Follow Me Home' was written wandering the nighttime streets and beaches of Venice, CA, through the magic feeling that you might finally find the one you've been looking for," explains LiLA frontman and keyboardist Danny Klein. "You sense she's trying to make her way to you through the thick salty air, but the encounter never happens. This track keeps all hope alive."
We yearn for satisfaction and stability; for something (or someone) to keep us anchored, and prevent us from flying away.
Oh we're close
Don't you go,
I'm somewhere in this town tonight
And it all begins maybe tonight
Maybe tonight you'll be the light
That follows me home
Follow me home
If Los in Los Angeles seem particularly polished for an indie act, that's because this isn't their first rodeo: Danny Klein, co-singer/songwriter Tara Zepeda, and multi-instrumentalist/producer Carlinhos Rocha each have their own credits, and bring a unique perspective to the band's powerful dynamic. Together, they shine bright as the lights of downtown LA and the stars they sing so fondly about, giving what they like to call "a voice to those looking to find their way."
There's an intangible, deep sense of urgency driving "Follow Me Home" that hits upon the core of what Lost in Los Angeles are all about: This dream of a better tomorrow, where we are as much in control of our fate as we are completely helpless to its pre-determined state. "Follow Me Home" will be available on all major platforms April 21st. Enjoy our exclusive stream of Lost in Los Angeles' powerfully propulsive new single, and stay tuned for more from the band as they prepare to release Love is Fate later this year.
Dancing on the shore
In the yellow dress you wore
You're everything I need
Rolling down on Rose
Where boardwalk lovers roam
And thirsty eyes can meet
Let your beating heart
Catch fire in the dark
Come for me tonight
The beauty of the LA dream is that it is an endless cycle passion, hope, romance, and possibility. Keep the faith, and you keep the dream alive.
— — — —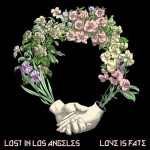 cover: Lost in Los Angeles © 2017
:: Listen to More from Lost in Los Angeles ::