Recommended If You Like: Heart, MisterWives, Haim, Arcade Fire, Paramore
We do not always realize how much we are affected by our surrounding environments. The places we go, the people with whom we spend our time – the ones we love – all of these and more factor into our individual emotional and physical experiences. We like to think of ourselves as independent, but the truth is that most of us are far from it. We feed off each others' feelings. When those around us are up, we're up, but when those around us are down, we risk being down as well.
Blondfire captures this experience of being, as Erica Driscoll describes, "pulled down with someone" in her song "Domino," the last of five off her new EP True Confessions (released March 2016 via WAX LTD).
Falling forever, we're together in this state of mind
Domino, down I go, a domino with you
Listen: "Domino" – Blondfire
---
Previously a collaborative musical duo for siblings Erica and Bruce Driscoll, Blondfire became Erica Driscoll's artistic identity in 2015 after Bruce left to focus on his band Freedom Fry. True Confessions therefore serves as Erica's moment of ascension: Blondfire is more than just her project: She is Blondfire. As it says in her bio:
blondfire is pure emotion. blondfire is confidence. Truth. Fantasy. It's a sense of coming into one's own, a freedom to explore, to break free from the constraints of the day-to-day world. blondfire is back. blondfire is Erica Driscoll.

Rarely has an artist made such a powerful reintroduction – yet the description is more than fitting. True Confessions feels far more like a renewal than it does a follow-up (to 2014's breakout album Young Heart) because it is new. Erica uses the EP to explore deeper trenches of rock, effectively shedding the band's former "indie pop" title as she dives into the alternative world of heavy guitars, darker melodies, and striking progressions.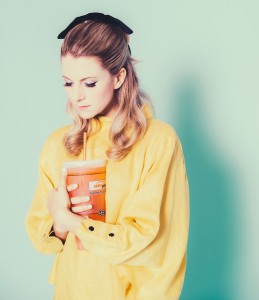 If it were a debut EP, then True Confessions would rank as one of the best debuts of 2016. It encapsulates fury, strength, romance, independence – the highs and lows of the human experience – all while providing a catchy alternative pop backdrop that listeners can immerse themselves in, time and again. Title track "True Confessions" opens the EP with a punchy electric guitar line that would make 2000s-era Avril Lavigne smile.
But it's "Domino," the EP's closer, that perfectly captures Blondfire's pivotal moment. "It's a long way down when you're around," sings Driscoll as she expresses an all-too-true aspect of unhealthy relationships. "I knew what I was writing about at the time, but I've been in a relationship with someone like that before and it can make you feel like there's no way out," she explains.
But "Domino" isn't a sad song – in fact, it's far from it. Psychedelic melodies cascade downward in a chorus that (one may think) ought to be dark and anguished, but instead feels light in its repetition. "Domino, down I go, a domino with you." The words roll of the tongue perfectly, such that it's no wonder it even took Driscoll herself some time to realize the true depths of its subject matter.
Light stuff can be heavy at times. Heavy stuff can be light at times. We have this idea that so much of what's already defined cannot be redefined, but that concept is totally false. We are not outlines; we are fluid, as are our ideas, whether musical or otherwise.
"Domino" catapults Blondfire forward, asserting her talents as an A-list songwriter, singer and musician who can twist our emotions however she sees fit – for with a voice as confident and mesmerizing as hers, who would dare do anything besides support her art? 2016 marks a new beginning for Blondfire, and "Domino" finds her diving deep into melody and meaning, fusing the two such that "Domino" excels at both.
And with its visual.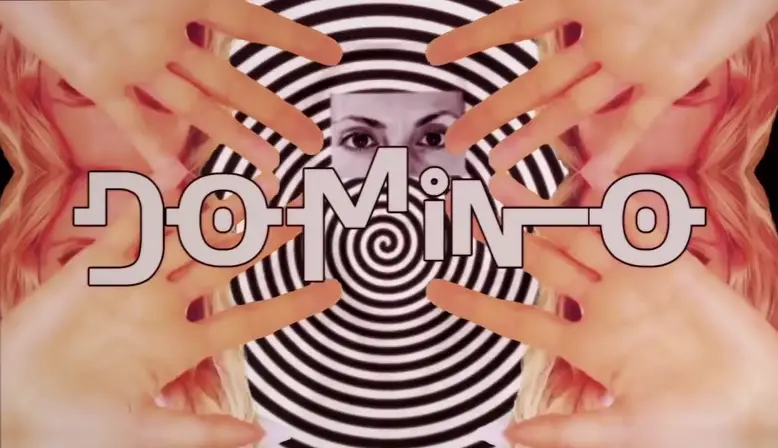 The recently-released "Domino" music video brings out Blondfire's penchant for, and talent at the visual arts. Shot and edited entirely on Driscoll's iPhone, "Domino" incorporates surrealist collages and artist stills with stop motion animation. It's trippy and convoluted, and also perfect for everything this song represents. Driscoll is the indisputable focal point of the video, and that nexus around her drills home her artistic identity as well as her independence, her confidence, and all those other descriptors that make Blondfire great. "I've always been into things that are other worldly, magical, and a little bit off," Driscoll says of the video.
And yet, "Domino" is on point in every aspect. Blondfire transcends genre boundaries, doing what she wants with elements of rock, pop, psychedelia and more in crafting an intense and alluring piece. When one domino falls, traditionally the dominoes around it fall in turn; hence the "domino effect" term describing when one event sets off a chain of similar events. For Blondfire, the "Domino" effect is something a little different: It's when one song catches an audience by storm, and we fall for her all at once.
Check out Atwood Magazine's exclusive interview with Blondfire for deeper insights into "Domino" and more! The future is bright for Erica Driscoll aka Blondfire.
A CONVERSATION WITH BLONDFIRE
Atwood Magazine: When did you write "Domino"? What sort of mental state were you in at the time?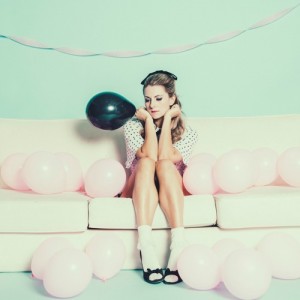 Erica: I just looked back at my iPhone voice memos and I think it was first written in April 2015. I was kind of on a writing streak at that time, cranking out new songs.  I had been working with Wally (Gagel) and had talked to him about wanting to do something with a dark groove along the lines of the band Air, who I love. We were at home about to head into the studio to meet up with my brother, Bruce, when Wally started messing around with this interesting chord progression on the keyboard. I could hear it coming from the other room while I was getting ready and immediately started singing the melody and lyrics in the entirety of what would become the first verse. It was one of those inspired moments where it feels like someone just whispered in your ear. Wally brought the keyboard recording into the studio and I had recorded my vocal idea on my phone. Once we got there, we showed Bruce and he added his own magic to what was started and within a short amount of time we had a finished song.
"Domino" is about being pulled down with someone in an unhealthy relationship, whether they have an addiction or just negative energy.  I don't think I knew what I was writing about at the time, but I've been in a relationship with someone like that before and it can make you feel like there's no way out.
What informed your decision to make this video on your iPhone, and what inspired you to use stop motion?
Erica: Previously to this I had actually shot another video for our song "Pleasure" on my iPad Air as well as a bunch of the "True Confessions" video, so I knew it could be done on my own. I enjoy creating a visual to go along with the sound. Plus, it can be hard to communicate to other people what you're going for visually. Even with the best intentions, sometimes you and a director might not share a common ground on what you think is interesting or cool.
I've always been into things that are "other worldly," magical, and a little bit off.
The "Domino" video actually started with me making these surreal collages on my iPhone. I've always been into things that are "other worldly," magical, and a little bit off. As I was making these, I would show them to friends who thought they were great and it kind of inspired me to figure out how to somehow incorporate them with the music. It was all a bit of trial and error, messing around with apps to figure out how I could use stop motion to animate them. It was definitely a tedious and time consuming process to create each collage and then animate it, but it was also fun to see them come to life. I loved the surreal, yet home made vibe they have. The rest of the footage I shot at home in my kitchen – stop motioning myself in front of a green backdrop so I could green screen myself into another world just using a tripod and a bunch of apps. It's actually great to shoot yourself, you definitely feel more free to try anything since no one is watching.
Has your approach to music and songwriting changed in the wake of Bruce's departure?
Erica: Definitely. There's still an involvement from him, but it's in a more relaxed manner.  We write together when we feel like it, but I'm also writing a ton on my own and with other people. (He was a part of 2 of the 5 songs on the new EP.)  We have a special songwriting bond that you could only have with someone who knows you so well, but it's been fun and empowering to branch out and see what I'm capable of doing on my own. I've also collaborated with other artists and DJ's on their projects. A song I wrote with Paris Blohm ended up being the theme song for this year's Ultra Music Festival.
Listen: "Something About You" – Paris Blohm feat. Blondfire (Conro's Ultra Miami 2016 Remix)
---
What, do you feel, was missing from Blondfire, that can now be awakened in light of your full control of artistic identity?
Erica: I don't know if anything was necessarily missing from the band. The difference now is that whatever I want to do is solely my decision. I can take the music and the visual on whatever path or direction I want to, and that's a thrilling prospect.
I watch this video and feel that it's an introduction to 2016's Blondfire: This is your project now. Was that an intentional message?
Erica: This video is definitely a reflection of me and a glimpse into my personality and crazy/colorful mind.
"Domino" ends your True Confessions EP. What, if any, significance does it hold for you, as the final song on this record?
Erica: This song definitely felt like a album closer to me, but also a bit of a new beginning of what's coming next for the band.
What are you most excited about for the rest of 2016?
Erica: Always writing more and getting music out into the world. There are new songs ready to go! I'm also working on putting together a gallery show with some of my artwork/collages which I'm really looking forward to… creating is what makes me the happiest!
Watch: "Domino" – Blondfire
---
True Confessions – Blondfire