Thank You, I'm Sorry's second album – 'I'm Glad We're Friends' – amps up the songs from their first without sacrificing any of the honesty from their first.
Stream: 'I'm Glad We're Friends' – Thank You, I'm Sorry
---
Confessional gets tossed around a lot when discussing popular music, usually because there's not a better way to describe hyperspecific autobiographical songs, but few capture the nervous unsureness that pouring your heart out inevitably leads to. When finding the language to talk about anxiety, it often sounds like the lyrics written by Thank You, I'm Sorry's frontperson Colleen Dow.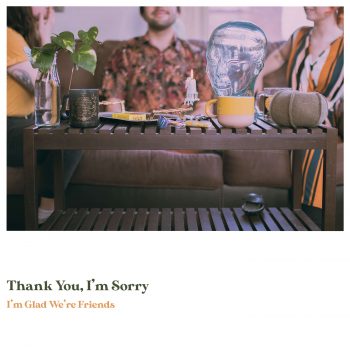 Thank You, I'm Sorry's sophomore album I'm Glad We're Friends (out now via Count Your Lucky Stars) is largely composed of vamped-up versions of the Minneapolis band's acoustic debut The Malta House, a record that sounds reminiscent of your friend asking to show you a few songs during a late-night hang. While the acoustic versions highlight Dow's blunt lyrics, the full band arrangements make the songs more distinctive from each other and allow each member of the band to add flourishes without distracting from the lyrics, like in single "Manic Pixie Dream Hurl," which is a rollicking piece of jangling pop-punk.
What Thank You, I'm Sorry does so well is spit out exactly the thoughts people have while talking to their friends about things like crushes, depression, and more. "Ten Dollar Latte" looms around the simple idea about wanting to text the person you like.
I count each minute between our texts
I don't want you to think that I'm too obsessed
I just fall so hard and it kills me every time
Over the jangling sounds reminiscent of Pavement, Dow says something that every person who's dated in the past five years has thought, but they balance it with the added pressure of worrying if they're focusing on it too much.
Often, peppy instrumentals are giving the soundtrack to softly tragic tales familiar to anyone stumbling through their coming-of-age. "Waves" chronicles the aftermath of puking after an important discussion, which includes bleaching your hair. "Manic Pixie Dream Hurl" has some of the peppiest leads, harkening to emo-tinged bands that just have the little skip in their step while wondering if perhaps a shower will help quell some of the depression.
Still, not every moment throughout I'm Glad We're Friends is a dire examination of Dow's own conscious. One of the album's most heart-wrenching songs is "Two Door Sports Edition Minivan," a quasi-love song about showing someone you care about them. Even though lines like "You can try to hide this feeling all you want, but I'll be here when you think I'm gone" have shades of romanticism, there's genuine concern coming from someone who knows the person they're singing to almost as well as they know themselves.
Watch: "Manic Pixie Dream Hurl" – Thank You, I'm Sorry
While the songs often feel like the kind of "just let it out" conversations that you have with friends in moments when you just can't keep your feelings in anymore, there are moments that read like honest stream-of-conscious monologues and they're often the standout moments on the album. I'm Glad We're Friends' best song, "Backpack Life," is a perfect internal monologue about what might run through your head on an otherwise mundane trip to the mall. "I'm so goddamn concerned with my legacy," Dow sings at one point. The track is loaded with both apathy ("I'm so afraid of the future/And I don't want to face it yet"), genuine expressions of platonic love ("Home is my friends' couches"), but also that very real fear that no one really cares.
Occasionally, the to-the-point lyrics do force Thank You, I'm Sorry to feel a little stilted and the overall flow of songs is sacrificed for the matter of fact lyrics. "Menthol Flavored Oatmeal," a song that would be one of the best on the album is somewhat hurt by the chorus' rhythm. While lines like, "I want to go back to being 10" and "Anything beats being 20" match the overall tone of I'm Glad We're Friends, they feel like they're rushed to just fit into the song.
While it's far from perfect, I'm Glad We're Friends shows a band familiar with its voice, not too concerned about filtering what they have to say for the sake of poetics or other BS. It's an honest-to-god account of its singer's feelings, and Thank You, I'm Sorry could be the next band who write exactly as you feel for you to scream along to.
— —
— — — —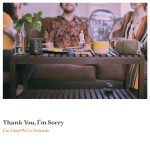 ? © Thank You, I'm Sorry
I'm Glad We're Friends
an album by Thank You, I'm Sorry
---