It's hard to appreciate what came before while looking forward to what's next. The two concepts can seem so completely opposite – the past, versus the future – yet in reality, they are much closer than we think. Who are we, without our past – without the people and places that made us? Despite (and in spite of) everything we do, we are indebted to our history. Matt Hires pays the ultimate tribute to his past on "Don't Let Your Heart Grow Cold," a stunningly passionate and humble recognition of his roots and commitment to his future.
The winter will turn into springtime
It's been that way all my life
But I always forget when I'm freezing
When the days are shorter than the nights
I've lived so many lives in my lifetime
There were a few I could've lived without
I found a beautiful world in some others
Trying to figure out the one right now
Listen: "Don't Let Your Heart Grow Cold" – Matt Hires
[youtube=https://youtu.be/hFx1ivgQiQo?t=0s]
---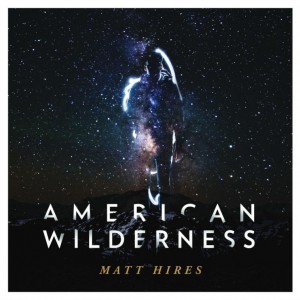 Atwood Magazine is proud to be premiering the music video for "Don't Let Your Heart Grow Cold," the final song off Matt Hires' third studio album, 2016's American Wilderness (October 2016 via Rock Ridge Music). The first record since the Nashville-based singer/songwriter split ways with F Stop Music/Atlantic Records is an extremely personal exploration of Hires' thoughts and feelings, a contemplative foray into a life lived that focuses on both the good and the bad. It is raw; it is heartfelt; it is evocatively honest.
And it all culminates in "Don't Let Your Heart Grow Cold," a slow-burning acoustic ballad. "I intentionally wrote this song to be the last track on American Wilderness," says Matt Hires of the song's inspiration. "Much of the album is about wrestling with faith and culture and identity and myself, so after all of that, I wanted it to end on a hopeful note. It's about recognizing beauty in all of my past and present life experience and looking forward with hope."
Both the song and its accompanying music video strike a heartwarming chord somewhere deep inside. At its core, "Don't Let Your Heart Grow Cold" is a reminder – as Hires  mentioned – of all the good that exists in the world. We are constantly bombarded by bad news, sadness, and loss: From news and media, to marketing and advertisements, to our bank accounts, and beyond. We think about what we need and what we don't have, rather than what we have.
But every day I look more like my father
I hope the change is on the inside too
I want to learn how to love like my mother
I want to always see the best in you
So I married a girl in the springtime
And I swear she's the love of my life
That doesn't mean it's always easy
It just means that it's worth the fight
Directed and edited by the artist himself, "Don't Let Your Heart Grow Cold" features old 8mm video footage from Hires' parents' honeymoon. Interspersed are clips of him performing with the footage as his backdrop, a quaint and deeply nostalgic technique that juxtaposes the importance of the past with the singular direction of the present. Hires will never forget where he came from and what he's got to be thankful for. Straddling time is no easy task: We cannot face two poles at once, thus Hires flips the game.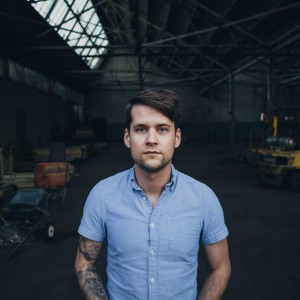 Instead of leaving the past behind, Hires incorporates his history into his future. He acknowledges the everlasting emotional, non-tangible mark through his words:
And to my friends that are all more like my family
I love you all so, so much
Sometimes the things we hold onto the strongest
Those are the things we don't say enough
The symbolism really shines strongest in the music video, where the past plays vivid and vibrantly on Matt Hires' skin, imprinted on him like a tattoo. We watch him singing, while the love that resulted in his birth plays out before our eyes: If you're a sap like me, this concept is easily and utterly devastating. "Don't Let Your Heart Grow Cold" is the ultimate ode to the people who made you – the world from whence you came: Parents, family, friends; is there anything more important than the lives who shaped us, and the ones we helped shape?
So I'm going to keep writing and singing
Until I burn out and fade away
Out of all of the words that I'm leaning
There's really one thing I want to say:
Oh, don't let your heart grow cold
The song's name finally comes in a triumphant, climactic chorus towards the ending: Don't let your heart grow cold. In these lines, we feel the weight of all that came before: We think of the worst parts of ourselves, the people and goals and dreams we've let slip away over the years. If not for all the good in our lives, we would be crushed by our faults – and that is why "Don't Let Your Heart Grow Cold" is so important.
"I feel like it came together really well," notes Hires. "I originally was just going to cut together the footage from my parents' honeymoon and have that be the video. After I did that, I thought it was pretty good, but it needed something else. That's when I had the idea to project the video onto myself and go back and forth between the two. I think the video ended up being perfect for the song – not only because I sing about my parents in the song, but also because it's about seeing and appreciating the love and beauty that you've experienced and knowing that your winters will turn into spring, even when it doesn't always feel that way."
Come what may, but you'll see things through. Or as Matt Hires sings, there's a love that won't let go. Enjoy Atwood Magazine's exclusive stream of "Don't Let Your Heart Let Go," and listen to American Wilderness in full via Spotify/iTunes/CD! Matt Hires' Acoustic Wilderness tour starts tomorrow with Rock Ridge Music labelmate Kyle Cox; don't miss this stunning singer/songwriter in action.
— — — —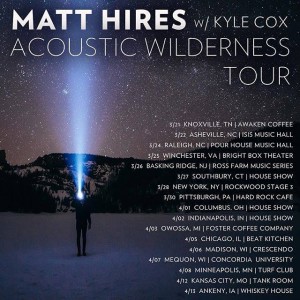 cover: Jesse Spencer © 2017
American Wilderness – Matt Hires
:: Acoustic Wilderness Tour ::
with Kyle Cox
3/21 – Knoxville TN – Awaken Coffee
3/22 – Asheville NC – Isis Music Hall
3/24 – Raleigh NC – Pour House Music Hall
3/25 – Winchester VA – Bright Box Theater
3/26 – Basking Ridge NJ – Ross Farm
3/27 – Southbury CT – house concert
3/28 – New York NY – Rockwood 3
3/30 – Pittsburgh PA – Hard Rock Café
4/1 – Columbua OH – house concert
4/2 – Indianapolis IN – house concert
4/5 – Chicago IL – Beat Kitchen
4/6 – Madison WI – Crescendo
4/7 – Mequon WI – Concordia University
4/8 – Minneapolis MN – Turf Club
4/12 – Kansas City MO – Tank Room
4/13 – Ankeny IA – Whiskey House
Listen: "Don't Let Your Heart Grow Cold" – Matt Hires
[youtube=https://youtu.be/hFx1ivgQiQo?t=0s]