There's nothing quite as profound as irrational fear: The term 'Phobia' isn't an easy pill to swallow. It is, truly, the ultimate weapon. Phobias play upon our weaknesses, driven by factors outside of our control. Fear is deeply embedded in our genetic code, as a key element of our survival instincts (fight or flight, etc). Yet we cannot always and easily explain or understand our deepest fears, making them one of the most fascinating, if not challenging, aspects of our humanity. Enter NØMADS, a band unafraid of tackling fear to the extent that they have set out to make an album all about our deepest terrors and darkest frights.
Listen: "Acrophobia" – NØMADS
---
Atwood Magazine is excited to be premiering "Acrophobia," the latest single off NØMADS' forthcoming sophomore record, PHOBIAC (exp. February 2018). Consisting of Garth MacAleavey and Nathan Lithgow, the Brooklyn/NYC duo offers a heavy, unforgiving post-punk sound that is as aggressive as it is raw. Each song on PHOBIAC examines the fear process through the prism of rare clinical phobias, all approached in the abstract. Though the followup to NØMADS' 2014 debut album Free My Animal is nearly a year away, the band is releasing one new song off the record each month, a process that continues today with the album's second single, "Acrophobia" – the extreme or irrational fear of heights.
"Fear, as an abstract force, has never held a stronger place in our society than it does today. It colors everything we see outside of ourselves," explains NØMADS, setting the context for their new music. "Acrophobia is one of the more commonly diagnosed clinical fears since the advent of modern psychology. And, though widely prevalent, it signifies a bleed over of both corporeal and psychological fear effects. Vertigo is a commonly associated physical symptom of Acrophobia, famously depicted by Alfred Hitchcock in his 1958 thriller that shares its name. It is a sensation that the human body clearly communicates in conjunction with adrenaline to represent real danger. Though tangentially connected with traumatophobia – fear of peril, injury, or bodily harm – the fear of heights is unique in that humans are not biologically accustomed to the sensation of being hundreds or thousands of feet off the ground."
"Acrophobia" cuts heavily and sharply into our consciousness, an instrumental display of brutish force appropriately capturing its namesake. Brash guitar work thrashes against the ears through a torrent of dark riffs and turbulent crashes. "As an instrumental composition, 'Acrophobia' conjures up the sonic power of early Battles' work, as well as the gritty, razor sharp execution of '90s post-rock bands like Trans Am or Tortoise; the constant shifting of meter within the song is intended to simulate the vertiginous feeling of peering over a ledge, with solid ground and mortal peril far below. The track features LA-based producer and multi-instrumentalist Max Braverman on drums." Indeed, we don't recommend closing your eyes while "Acrophobia" is playing; you may not like the consequences – we certainly didn't.
This is the start of something promising; something fresh, ominous, and disturbed in a most creative way. NØMADS seek to tell a cautionary tale, and they do it well: "When we succumb to fear, chaos reigns." Nathan Lithgow and Garth Macaleavey capture the tension in the air and the fear on our tongues with this introductory track, laying the groundwork for the heavy, foreboding path that will leave us our hearts pounding, eyes wide open, and hair standing up.
Fear is an amazing inspiration: Its sheer potential and power is devastating. It is the ultimate, final force: We can run from our fears; we can stand up to our fears; but we cannot hide from our fears. NØMADS capture the overwhelming, surreal nausea of "Acrophobia" in their instrumental prelude, a draining display of overdriven post-punk and post-rock. It is sensational, and it is engulfing.
Which begs the question… Are you afraid of heights?
— — — —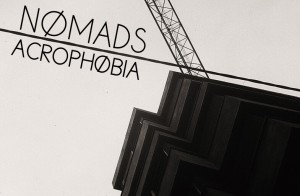 cover © Kiki Conway
:: Listen to More from NØMADS ::