There's a brutal honesty to Gabrielle Aplin's breathtaking ballad "My Mistake" that hits home with striking resonance.
? ? ? ?
I wanted to release something real.
There's a brutal honesty to Gabrielle Aplin's "My Mistake" that hits home with striking resonance. An intimate confessional hinged on heartfelt reflection and acceptance, the breathtaking piano ballad finds Aplin embracing a raw depth that most artists tend to shy away from in their music. It's a refreshing new chapter for an artist who has dazzled from the very beginning.
Stream: "My Mistake" – Gabrielle Aplin
---
Ten years ago, Gabrielle Aplin was a teenager recording cover songs of the day's finest (MGMT, Kings of Leon, Katy Perry) on her acoustic guitar and uploading them to YouTube. The world quickly took notice of her talents, and it wasn't long before Aplin began scattering original songs amongst her beloved covers. In the decade since, Aplin has reached millions of ears across the globe with her music, releasing two critically-received studio albums, several EPs, and touring internationally.
Aplin has put out multiple EPs, original and cover songs since 2015's acclaimed sophomore album Light Up the Dark, but "My Mistake" is the first tasting off her highly- anticipated third full-length album. At 26, the London-based singer/songwriter sees her new song not as an evolution or return (after all, she's been around), but rather as a product of reflection and exploration.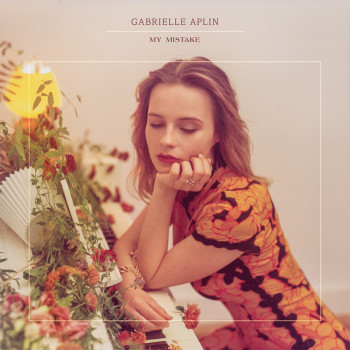 "I really don't feel like it was an evolution as such but more of a "gather my thoughts and live life a little bit" and then writing about it," Aplin recently told Atwood Magazine. "I try not to think about how projects connect and just view them as different individual pieces. I'm really inspired by many different genres and don't try to box myself in to one." 
At the same time, it's important to recognize the growth and maturity displayed on this new song. "I got up late again today, and I'm scared of everything," sings a somber, vulnerable Aplin in her opening verse. "I don't dare to dream; I got a dark imagination." This raw, intense imagery gives listeners a front-row seat to the artist's battle with her own inner demons – a struggle we can all relate to.
These hours waste away
A debt I'll never pay
I'm talking to the walls
But the walls keep caving in
They amplify my thoughts
I really want a conversation
But I let it slip away
A debt I'll never pay
Worry, worry, oh
It's funny how it changes
When nothing really changes at all
"For me it's not about being comfortable in silence, but finding comfort in accepting that you're not," Aplin explains.
Unveiling herself one line at a time, Aplin passionately opens up atop a hauntingly sparse backdrop of piano, synth and strings. Her smooth cries and uplifting croons send shivers down the spine as she faces and accepts her imperfections in a powerfully stunning chorus: 
Am I jaded?
Am I meant to feel this way?
I'm a loser, getting beat by my own game
But if I falter, well at least it was my mistake
Oh, at least it was my mistake
'Cause I choose to be this way
I'm a loser, and I self-deprecate
So when I falter, well at least it was my mistake
"I've always found writing a therapeutic escape from real life, but this song gently forced me to be brutally honest," Aplin shared in a press release. "This is a song about finding a strange sense of comfort in admitting to yourself that you're not feeling 100% and completely owning it."
Diving deeper into her songwriting in our conversation, Aplin admits that "My Mistake" flowed right out of her: "This song was weirdly surprisingly easy? It just kinda appeared! I just couldn't be bothered that day and I honestly told everyone involved that I couldn't be bothered, and we decided to do something that involved not really trying at all and seeing what happened!"
The idea of coming to terms with our own flawed identities resonates with anyone who's done their share of soul-searching. What is it about this concept – accepting our imperfections – that resonates with Aplin?
"It feels right for me because sometimes I struggle to get things done with enthusiasm, if at all! Usually the guilt from that is worse than the consequences of not getting your shit together."
I saw my friend today
She tried to comfort me
But I turned her away
There's magic in this misery
So no matter what you say
I don't think I'll ever change
Tapping deep into a profoundly vulnerable space, Aplin gives voice to feelings we often experience and deal with on our own. A ballad it may be, "My Mistake" is as much an anthem of acceptance – something we can all turn to for strength in dark times. 
"I think it reintroduces me honestly and openly," Aplin says of her new song. "I wanted to release something real. It's only been out a day and I've already received many amazing stories about how it's affected and resonated with the people who have listened to it."
Gabrielle Aplin has made a lasting impression with "My Mistake," elevating our excitement for what is sure to be a promising year to come! Stream "My Mistake," out now, and share what this song means to you in the comments section below!
And if this one song wasn't enough, Gabrielle Aplin has teamed up with Welsh artist Hannah Grace to release the four-track December EP, a spirited holiday collection full of warmth, cheer, and beautiful harmony. Stream it here!
Stream: "My Mistake" – Gabrielle Aplin
— —
— — — —
? © Louie Banks
:: Stream Gabrielle Aplin ::