Atwood Magazine spoke to Dream Wife's Rakel Mjöll about the creation and success of 'So When You Gonna…', the significance of their chart placement, and the vulnerability that permeates the album's journey.
— —
Dream Wife have never been shy about what they stand for. If you've ever been to their live show, you'll know they stand for fun, punk, and having a fucking good time. If you've ever listened to their hit "Somebody", follow them on social media, or are aware of them at all, it's clear that they're also on a mission to dismantle the patriarchy, empower womxn, and smash gender and social norms.
Their second album, So When You Gonna…, released on July 3rd via Lucky Number Music, completely encapsulates both tenets that make up the Dream Wife philosophy. "Sports", album opener, is unapologetically loud and hilarious. Written quickly after a game of badminton, it perfectly encapsulates the punk spirit Dream Wife showed on their self-titled debut and adds the perfect amount of cheek to it, resulting in a bombastic opening track.
The album fluctuates between nuclear-powered dares like "So When You Gonna…" and pop-inflected "Hasta La Vista", to the lust and playful "Homesick" and reflective "Hold on Me". "Temporary" and "After the Rain" double down on Dream Wife's feminist core, discussing topics like abortion and miscarriages with honesty, love, and respect. The songs end up sounding like love letters to a womxn's strength.
So much of what makes So When You Gonna… so delightful circles around the energy of womxn, so when the band realised they had the chance to land in the top 20 album charts in the UK, their campaign was loud and clearly spelled out the significance of their position. "We are the ONLY artists in the current UK Top 20 that are not backed by a major label. We are the ONLY artists in the current UK Top 20 chart with an album entirely produced by a womxn" Dream Wife announced when they started the campaign to secure their top 20 position, "Let's change the game" the caption read.
The most brilliant thing about Dream Wife is that they talk the talk and walk the walk. Their sophomore record was produced by a womxn-only team, with Marta Salogni producing, Heba Kadry mastering, and Grace Banks engineering it. They secured the 17th slot in the top 20 charts, and the promise of their voice being louder than ever in the near future is exhilarating. Atwood Magazine caught up with Rakel Mjöll, Dream Wife's lead singer, to talk about the creation and success of So When You Gonna…, the significance of their chart placement, and the themes that permeate the album's journey.
Listen: 'So When You Gonna…' – Dream Wife
A Conversation with Dream Wife
Atwood Magazine: Hi Rakel! How are you doing?
Rakel Mjöll: I'm good! Was just dropping off my grandma. How are you?
I'm good, thanks! Well, it's been over a month since the album came out, how are you feeling, how has it been?
Rakel Mjöll: It really took us by surprise because we're in different countries when releasing an album, and we can't play live, and our whole thing about this whole band has been based around live shows. We did ridiculous DIY tours back to back and then when we actually put something out and had a team behind us to help us with touring, which was actually pretty great, to be able to make the live show we want to make, we just didn't stop touring. When our first album came out in 2018, that year we played about 150 shows around the globe. It was great. It was wonderful and that was our identity, to be a live band. Doing this album was the first time that we decided not to tour so much because we had the luxury of doing that by being signed to a label and having time to actually write an album. We didn't have that with our first one, we wrote that in between tours. We were like "Wow it's so luxurious actually spending more than a few weeks back home in London". We saw that as a massive rest which is funny because now it's very different. But, the album was written kind of in the mixture of life and rest. Releasing an album that hasn't been played live yet, only a few songs have been played live. To have a whole album of songs haven't been played live, that's new to us. To have identified as a live band, and then realising that you can't be a live band is definitely an interesting way of rethinking who you are and what you are.
I feel that so much of the Dream Wife experience is around your live show. The thing about your show is the energy in the room and everything that you bring to it, the way everything comes together is so special. Having to navigate releasing a record but not being able to perform it, do you feel like you're rediscovering a new part of the Dream Wife identity?
Rakel Mjöll:  When we started at uni in Brighton, we started out and we just didn't stop. We just played shows, because that's just all we knew how to do and was all we loved to do. Like I said, it was our identity. Our whole ethos behind the first album was getting the live sound down. That was the most important thing to us, so we recorded on tape, and we just really wanted to capture that, but you can't really capture it, an album is its own imprint in time. The way that song sounded on that take and at a live show was completely different. That was quite the punk element of it, in a way, to capture a really raw live show on an album. But when it came into writing this one, we were able to write and sit down and spend time in the studio. For the first album we were recording for five days, and we had two shows in between them, so it was so rushed. But on this one we had time to actually engage in a conversation with our producer, and we had time to do a lot of pre-production ourselves. In a way, we had time to look at the songs differently and we actually had time for ballads, because most of the ballads that started out being ballads, ended up as punk songs. So to be able to actually sit with them, in that kind of a more chilled realm of songwriting that felt quite punk to us, to actually allow ourselves to be vulnerable and to allow stillness to take a lead, rather than just rawness.
Did you realise that you were being more vulnerable due to the time you had and the luxury of creating the album slowly this time?
Rakel Mjöll: If I speak for myself, it's something that I really wanted as a songwriter. I think it's really important in songwriting for you to evolve as a songwriter and to be able to understand what it is that you want to project, and to be on the same kind of level. Sort of like theatre, when you go to a theatre performance and the actors are all on the same frequency the whole time, it sort of bores me, and I sometimes fall asleep. Even if it's like screaming the whole time, if it's on the same frequency, then it doesn't really move me enough. But I think to be able to understand what you want to express or create, that's something that you walk away from with a kind of a finished piece that you're happy with. Because if it's too much in the same note, it gets boring.
When during the making of the album did you realise that So When You Gonna… was shaping up to be so different and multifaceted?
Rakel Mjöll: We had a lot of songs, we wrote it in about six months. We wrote a lot in Bella's barn that's converted into a studio, her parents have this wonderful barn in Somerset, and we went there a lot to write. And then there were songs written around festival season, and there's a very different energy in them. It's nice to see a six month period of when we were quite chilled and had a nice time at the barn and another time when we just got off a festival and we were really pscyhed from playing live. I think going into studio was when we started deciding which songs should go on the album and that's when we were like 'Oh man, I got some ballads in there', but also kept to a kind of a similar kind of ecstatic sound, like "Sports" is ridiculous. It was just one of those songs, written in an hour, and we're all just jumping up and down after playing badminton.
Watch: "Sports" – Dream Wife
What were the main things that happened between your self-titled debut and So When You Gonna… that informed the creation of your sophomore record?
Rakel Mjöll: We toured the first album a lot. A lot. It came out in January 2018 and by December 2018 we'd played over 150 shows around the world. It was amazing. Once we came back home to London we were really tight and also eager to write and sleep in the same bed.
You were already super transparent and honest on your debut, but on So When You Gonna… you "go there" even more with your lyrics - what do you think changed that allowed you to open up even further than you already had?
Rakel Mjöll: We had more of a personal life. Since we started this band we've consistently been on the road up until the point of writing our second album. Our first album was pretty much written on the road. But now got to spend more time with our family and friends and actually be more active in their lives wether it was in personal or on the phone. To be a friend, to be an aunt, to take them to the hospital, to finally catch a friend's wedding. When it comes to lyrics it has to be honest to make you interested in singing them. Especially if you're singing them every night they have to be true to you.
I love that you start the album with "Fuck sorry, fuck please". I think as womxn, starting an album with "Fuck sorry, fuck please" when we are conditioned to apologise too much or are made to feel bad for asking for too many things, it became such a universal message of what you as a band stand for as well. Could you talk to me about the decision of starting the album with that?
Rakel Mjöll: I mean, exactly. We thought that was a great way to start an album. In Icelandic the word please doesn't exist, and we were talking about language. For example, please is a very easy way to get out of something, or, I'm sorry, is a very simple way to apologise, but it's not really an apology. It's this shortened version of a sentence that makes it sort of neutral, in a way, both these words don't really mean anything. Sorry and please don't mean anything. They're in between words. Both these words, sorry and please, are new to our language in english. They've only been included in the past hundred or so years ago, which is mad. And this is kind of like a condensed version to explain something, and we were talking about this. 'Will you so kindly' is the Icelandic version of saying 'please'. The direct translation 'will you so kindly', and that's more direct, in a way. So [the opening of the album] was both us talking about language and how it has changed and how useless the word sorry and please are, how they're used is useless, in a way, because it doesn't mean anything. And it only really pushes something down, both to you as a person and to the person receiving it. Starting the album out like that is like 'Why apologise when there's nothing to apologise for, and why say sorry when there's nothing to be sorry about?' Why is it so inherent in us that by saying these words somehow we can enter a conversation or exit a conversation, when in fact, nobody is winning here, we're all losing. If you're actually sorry, then make an apology, and if you actually want something, ask for it. So, that's the whole meaning behind that. And I think there's so much kindness in being direct, being direct is kind to yourself and kind to the person receiving it. It's being direct and honest and open instead of just hiding it with something that really is meaningless.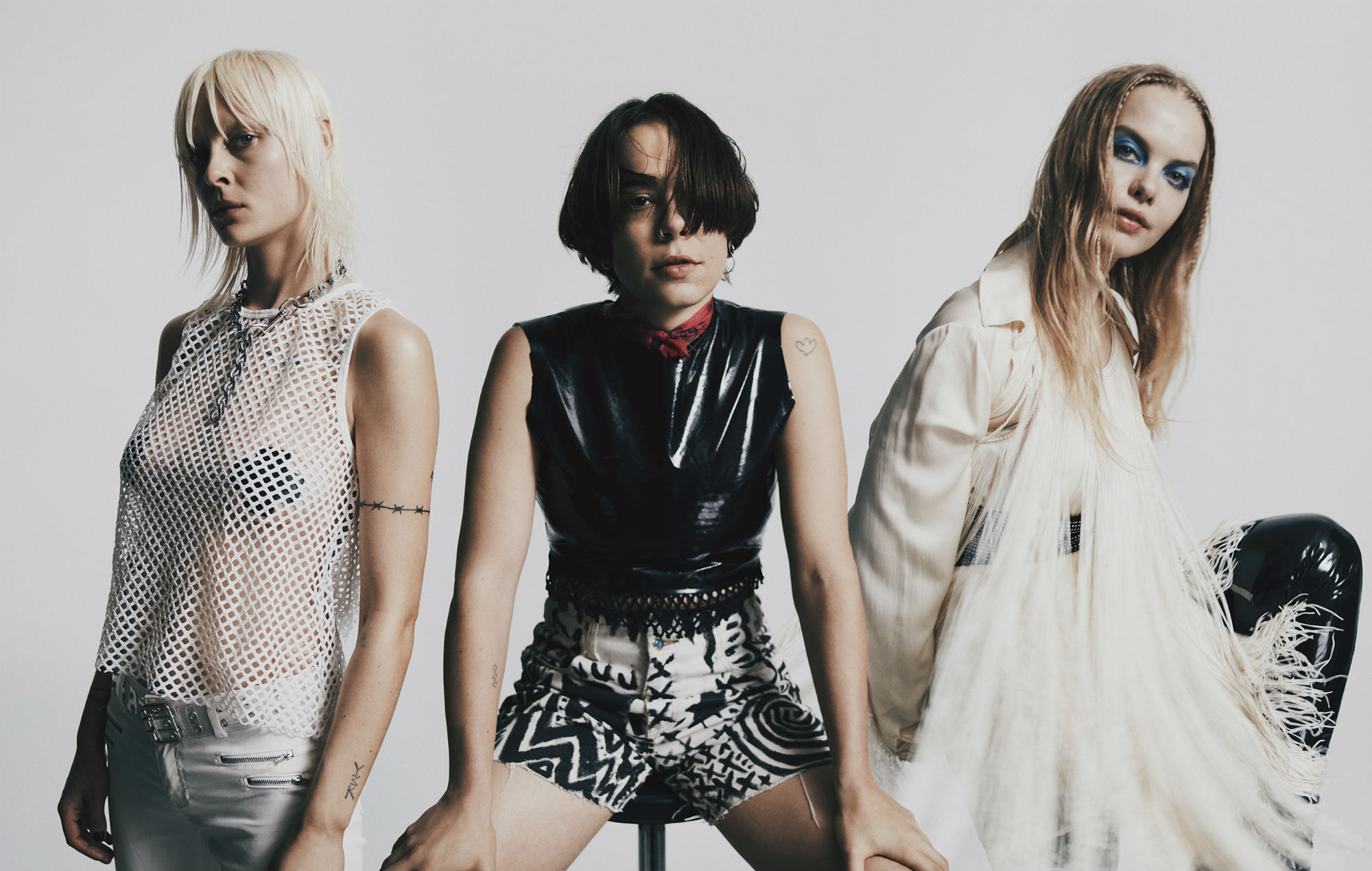 You open the album with the word "fuck" and you close the album with a minute of rainfall. It's quite a journey, getting from one to the other, and I think it's a perfect examination of all the sides of Dream Wife and the perfect example of everything that you're exploring on the record. When you were putting the album together, what was the journey that you planned on taking us on for us to get from "fuck" to the rainfall?
Rakel Mjöll: We thought a lot about that actually. When we tried to record the song "After The Rain", it was very different from any other song we'd ever written. It was a voice memo I had on my phone, and we wanted to really keep it close to that because the song explores abortion and explores choice and equality. So, we wanted the words really to carry it. And we thought, with the end of that song, we wanted the listener to sit with it, to sit with what they had listened to – both the song and what they just heard on the album – instead of it finishing and then Spotify shuffle linking into a totally different kind of vibe. This way of finishing something and to actually sit with it, and to reflect and form an opinion, or just reflect on what you have been listening to as a whole. We couldn't use a rain sample, we realised in the studio that there's like three rain samples online, and they're not free. So, our producer was like 'We can't use a writing sample because there might be something five years down the line and they're like, Oh, we take that back it's actually ours and you have to pay us the whole publishing for the song'. So we were recording the album in October and we were praying for rain, and it finally rains one night, and Alice went up on a hill in South London and recorded it in a raincoat. But the only night it rained for that recording period was Bonfire Night, which is the night where there are loads of fireworks. So our producer had to edit out all the fireworks.
That sounds tiresome.
Rakel Mjöll: No, it was great. We got a whole minute, but it was funny that the only night that it rained was Bonfire Night. But this idea of opening with something like "Sports" that is incredibly silly and direct and fun, it makes you laugh but also gets you really hyped up at the same time; to open with that and then to end with something like "After the Rain", you need to be quite open to receive a song like that. We sort of based it off something my grandma, who was an actress, said. She said, when it came to acting and when it came to engaging with an audience, she gave us the advice that you have to make them laugh before you can make them cry, and it's so true. In the theatre, this mode of comic relief, when we laugh and are engaging in that kind of atmosphere, we open up. And with laughter we open up for other feelings to come in, and the whole curation of the album starts with a laugh and ends with something that is really meaningful, and I think it worked for some cases. That was some good advice from grandma.
Grandmas always have the best advice.
Rakel Mjöll: She also gave me these clothes I'm in, she has the best outfits. Every time I go to her house she's like 'take this, take this, take this'.
Watch: "After the Rain" – Dream Wife
Both "Temporary" and "After the Rain" are two of the album's songs that deal with heavier topics, and you're writing about other people's experiences on both songs. How do you approach writing about topics like abortion and miscarriages when you're speaking from someone else's experiences?
Rakel Mjöll: They both deal with womxn anatomy in different ways, but really it's just life that happened, conversation between you and your loved ones and a song pop ups from it. "Temporary" is written as a letter to our friend who went through multiple miscarriages in a year. I'm in awe of anyone who has to go through this heartbreaking & painful ordeal both mentally and physically and have the courage to do it all again. Im not sure I could. It's a prayer, telling your friend, whatever happens this time know I'll be by your side. Got to hold her newborn the other day and be thankful for this miracle.  "After the Rain", the song was originally a voice memo I recorded on my phone after having a conversation with my sister when she was going through the difficult stages of shock of realising that she was pregnant and that she didn't want to go through with the pregnancy. Going through these multiple waves of community shame, anger at these systems in place made by the patriarchy to own women bodies, lack of trust and feeling disconnected from your own body. And not being able to articulate those feelings. After we spoke, I picked up the phone and sort of wrote what she was saying to me, but in song format. And then I sent it to her. She felt like I was being able to speak the words she could not say. She used the voice memo as a kind of mantra of healing last summer.  A lot of melodies and song ideas often just come from these collected voice memos that capture a certain feeling or conversation you're having at the time and you can revisit later.
"Validation" talks about other people's approval, and you've spoken about how you get this extreme validation from being onstage for an hour a day and then it fades. How do you negotiate wanting and needing validation from people/fans and their expectations of you, from your creative process and output?
Rakel Mjöll: I say I seek validation way more off stage rather than on. From family, friends, lovers  or peers. On stage you're just in flow and with a community. A concert is group activity, you can just let loose and embrace the moment and the music. I don't really think about expectations from others or that'd just kills the creative process. Can be really harmful and get you stuck in your own brain.
I wanted to talk about your charts placement, it was amazing! How was that whole process for you?
Rakel Mjöll: Yeah, that was great, just very unexpected. It was also very interesting when we heard we had a chance to be a top 20, like we had made a top placement but it changes every few days, so we had a chance, and then we looked over the chart and you know half of it was like Abba, Fleetwood Mac, people that just don't leave the charts. We actually realised how rare it was to be able to have a shot as a new band and as a band on an independent label as well. And then we looked over we realised that we were the only artists on an independent label, and that we were the only band that had a woman producing our album. That's fucked up. It was quite a wake up call, so it was interesting to actually talk about that openly. As soon as we just spoke about it openly, then we got so much support from people. Also just people understanding how the charts work. I don't think we've ever been chasing a charts position, but it was really interesting actually learning about what it was. Learning how important it was. Our booking agent was like 'If you get a top 20, we can get better stages, we can get better festivals, we can get better fees', there's so much involved in that. So it was interesting learning about that too, and also learning how much value each album has. I didn't know that one album bought for the UK charts equals 1000 streams. It was also a way of knowing that the consumer has all the power, the people have all the power. It's not just about where money is being thrown at for marketing from artists and major labels who spend a lot on marketing budgets, the consumer decides, essentially, the career of an artist. I didn't realise how much of a weight that was. So, actually by purchasing something you have an impact on someone's career. And it's the same with clothing, and the same with where you buy your food. It's so great to be at a place right now where we actually realise how the individual can affect people's careers.
What do you think made people connect to the album so much?
Rakel Mjöll: I don't know! I guess for us it was a very honest album, we covered topics that were happening in our lives. We allowed ourselves to be loud, to be vulnerable, to show different sides, and we absolutely loved making this album.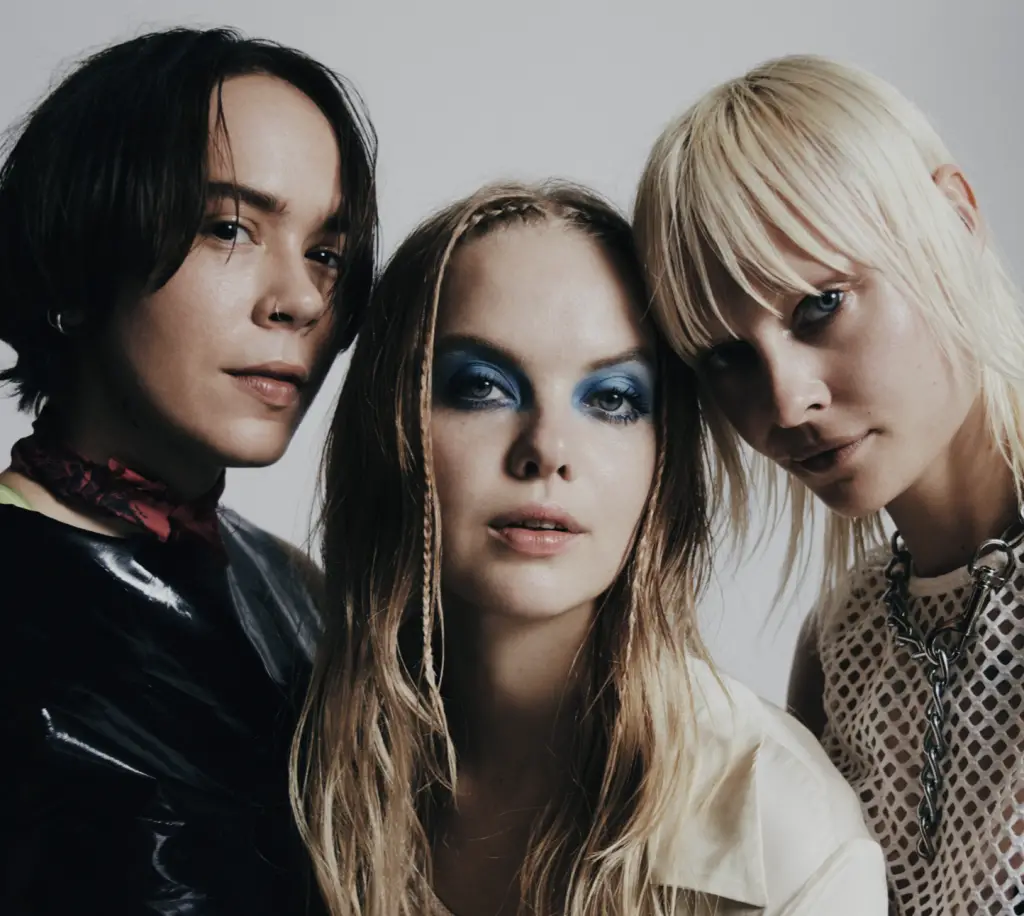 You had a womxn-only production team making the record. How do you think that influenced or changed the way you approached the writing and the making of the record?
Rakel Mjöll: It was an incredibly trusting and safe environment to create, and we really lucked out with getting Marta Salogni on board with us, who produced it. She is such an incredible producer, also she has an amazing background, I felt like every single part of music, she's been in it, from performing, engineering, mixing, producing, mastering, so being with her in a studio you felt completely safe as well, she just knew every tiniest detail of that studio. And then she picked the team with us, Heba Kadry mastered and Grace Banks engineered it, and it just felt really right. It was such a great team and it was like, every single day we would show up to the studio and we'd be excited. We'd only done one album before and that was the first time we walked into the studio and this one felt, way, way more comfortable walking into that space. Also we were walking into that space knowing what we want and what we were seeking as an experience in the studio and the collaboration process. When we were making the record it was important for us to to work with an all womxn team, but at the same time, we didn't hire Marta because she was female, we hired her because she was the best. When we saw the charts for example, and we saw that we were the only people with an album entirely produced by womxn, then we could actually see, you know if we hadn't added Marta, then there would be nobody on the charts. So actually that was also a big wake up call, that you could actually see that it's so much up to you as the person listening to the music and as a person hiring. For producers, there's a bunch of amazing producers out there who are female, trans, non-binary, all you have to do is hire them. There's not a lack of womxn in music, you have to just hire them, and that's obviously what we did. That was an interesting way of seeing that from the charts and actually realising your impact.
You made a podcast called 'So When You Gonna…' on the lead-up for the record. Where did this idea come from? What did you take from this new medium?
Rakel Mjöll: We were in the studio with our producer Marta Salogni and she was telling us all these stories about how she started her out in her career.  Some stories were hilarious others quite shocking and we were thinking wow this would be amazing conversation for others to hear that would be interested in going into this profession. Let's make a podcast. We interview friends and people we admire that we're working in various creative fields. Learned a bunch and loved the depths of these conversations. Gotta make a new season.
A lyric that sums up 'So When You Gonna…'?
Rakel Mjöll: I guess that lyric, felt right to name the album after it. A little dare.
— —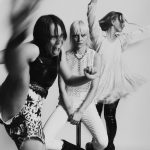 ? © Sarah Piantadosi
:: Stream Dream Wife ::