RIYL: James Brown, Ray Charles, Al Greene, Sam Cooke, Outkast
The journey to recovery begins when one admits that their pain is unmanageable on their own. An inward look at one's own decisions and values leads to a self-discovery that is necessary in the recovery process. Earl St. Clair's latest project, My Name Is Earl (3/2/2017 via Def Jam) is his own self-declaration of pain and journey to recovery. With an accompanying visual on St. Clair's Instagram that takes the form of an Alcoholics Anonymous meeting, his first EP illustrates a universal heartache in the most real of settings.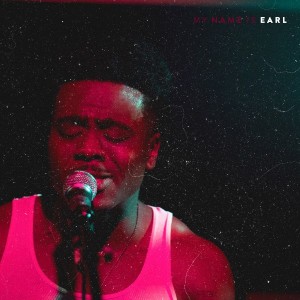 Upon announcement of the EP, St. Clair's uploaded the first video clip of The AA Meeting mini-series onto Instagram: He begins the meeting with an introduction saying, "Hello everybody, my name is Earl, and… I guess I'm here 'cause I got problems." The first two tracks, "Pain" and "Three Story Home" are songs about loss. Pain is personified in the characters of fellow AA group members Jay and Bobby, who have lost love ones and are having a hard time coping with their absences. The third character is Bianca, and her accompanying track is "Criminal." As a drug dealer, she realizes her life has started spinning out of her control and wants to turn her life around but doesn't know how. Li follows suit with "Bad Love," a funky and confident song about character flaws leading to failed relationships.
https://www.instagram.com/p/BREuO6Xgvn-/
As the support group focuses on Caroline, they watch her attempts at telling herself and everyone else that she is happy. She lets everyone know that she is "Feeling Alive" (Track 5) and lists all of the things in her life that are finally going the way people tell her they should be going, but her act is unconvincing. During Terrell's turn to speak, he explains that he doesn't have enough money to support his kids' wants — as he sneakily swipes some cash from a woman's purse — and introduces the sixth track, "Ain't Got It Like That (feat. PJ)."
With the group's attempts at redemption and fulfillment coming to a close, the character of David prefaces the final track, "Beautiful War" by explaining his struggle to maintain his own identity amidst the chaos of a failing relationship. The final track is indeed a majestic closure to the meeting, a glimmer of hope in such a dark place. St. Clair's journey of suffering comes full circle as he takes shape into a new man who finally begins to realize the necessity that is pain.
I want people to feel something with my music, whatever they wanna feel.
Unsurprisingly, the EP has been critically received. As someone who consistently delivers, Earl St. Clair offers something more than just an old-school throwback project. One can expect heavily incorporated instrumentation, yet his tortured throaty croon remains at the forefront as the most dazzling instrument. It is smooth and groovy at certain moments; at others, the undeniable pain can be heard behind every note that he wails. He is without doubt one of few artists who is bringing great music back into the mainstream.
Atwood Magazine had the opportunity to chat with the up-and-coming superstar about this whole new layer of depth and what more we can expect from him in the future.
Watch: "Ain't Got It Like That" (live) – Earl St. Clair
A CONVERSATION WITH EARL ST. CLAIR
Atwood Magazine: How's it going? Are you still at SXSW?
Earl St. Clair: No sir, I'm back at home in Los Angeles.
How was the festival?
Earl St. Clair: Nothing short of amazing man. The crowds and just everything were nothing short of amazing, I'm truly blessed.
What was different about it from other types of concerts?
Earl St. Clair: Yeah, it definitely was because it was more of a random crowd. A lot of the shows that I've done have been for corporations and companies. So to be performing in front of crowds of music lovers as well as writers and critics, it was definitely a different vibe.
Are you planning on going on tour anytime soon now that your EP is released?
Earl St. Clair: Definitely I am. I don't have anything locked up yet, but definitely I am.
Are music festivals something you'd be interested in?
Earl St. Clair: Definitely! Any opportunity that comes my way, I'm on it. I won't turn it down.
Do you have a specific festival that you'd be most stoked to go perform at?
Earl St. Clair: Any of them! I used to be a producer, so all of this is new to me. From Coachella to any festival that wants me to perform on their stage, I would look forward to doing it.
I was reading up on you and saw that you did an interview with Loyola University New Orleans' newspaper, The Maroon, in September! I am currently a student here, and that was right around the time that we had Bibi Bourelly to come visit Loyola during her Free The Real tour. With PJ actually, who is featured on your EP! I always see you and Bibi showing support for each other on social media after your collaboration on "Perfect," which, by the way, is now my all-time favorite song of any artist in history. It seems like the two of you were just meant to sing together, you're both so phenomenal. How did the two of you meet?
Earl St. Clair: We met through another artist who is on the Def Jam label. There was another artist on the label who was coming to write on some of my beats and she brought Bibi with her. And we were just in the studio messing around, and she was like, "Bro, you're not an artist? What are you doing? You have to be an artist!" And so I was like, "Man, I'm just making tracks!" So that's how we met and she was like, "I would love to work with you." So we started working on some songs, which you will eventually hear — we've got like 10, 15, even 30 other songs together.
Listen: "Perfect." – Bibi Bourelly, Earl St. Clair
---
That is the best news I've ever heard. And how did you come to work with PJ?
Earl St. Clair: Same thing, we were both signed to BMG at the same time. She was a writer, I was a producer. My publisher set up a session between us and she came through and we had a couple sessions together. And we both became artists and started doing our own thing. So we met years ago, that's my homegirl, that's my dawg.
I kind of feel like I heard of you just out of the blue after "Perfect." But tell me a little bit about how you got to that point and what you were doing before that single.
Earl St. Clair: Like I said, I stopped being a producer and became an artist. I had been recording around six months, and she said she wanted to write a song for me, and we ended up doing it together and it came out as "Perfect." It's kind of talking about how our partners in our past relationships were trying to be the angel and trying to act like they couldn't do any wrong.
So you're on Def Jam, and that roster has some of the most iconic names in the R&B/soul and hip-hop scenes. How does it feel to be held to such high expectations now that you're a part of it?
Earl St. Clair: It's an honor. The best way I can put it, they did a lot for the hip-hop and R&B culture, and that's where a lot of it started, so I feel like I got a lot to prove.
Well you're definitely doing it. I feel like the whole idea of what's mainstream has been slowly but surely fading and there are now several mainstream niches. When focusing on getting to radio and reaching a more broad fanbase, has there ever been any pushback in making your music more pop-oriented?
Earl St. Clair: No. I have a lot of music that is pop-oriented and that's on the album. This EP was the prelude to the album. I wanted to let people know what I can do. You're gonna see country music, bluegrass, hip-hop, R&B, soul, and funk, so it's definitely in there, and there's no push for me to do it because it'll just come naturally.
That's great to hear, and I feel like they can be safe to assume that no matter what music you put out, it will be of the highest quality. What has been your biggest challenge so far?
Earl St. Clair: The biggest challenge is not getting bored with the music. I record so much, so sometimes the songs that are really good, I won't get as passionate about because I recorded it so long ago. I have the unfortunate problem of having too many songs. But Def Jam keeps me in a position where I get to keep creating the music that I want to create as much as I want to create.
I have the unfortunate problem of having too many songs.
For a lot of artists, I feel like music is a great outlet for them. But after hearing your EP, I feel like music serves a different purpose for you. And I mean this in the sense that your fans can relate to the universal truths that you sing about and it definitely helps them through their own tough situations. What's your relationship like with your fans?
Earl St. Clair: That's exactly what I hear from people. They tell me how they don't let go of their pain in their past. Everything I go through as a person in my pains, my trials, my tribulations. my ups, my downs. People can relate to it, and I want people to feel something with my music, whatever they wanna feel.
What about your relationship with your songs? It seems to me that all of your songs are written based on real personal experiences. Do you ever find yourself putting yourself into other people's shoes to create a different perspective for a song?
Earl St. Clair: I have written songs based on other perspectives, but they're not really great songs in my opinion because it's not something I'm personally speaking from. I try to take how I feel and make it so people understand where I'm at. because I'm singing about me but I'm also singing about the feeling in general.
Do you have a specific song off the EP that you connect with the most?
Earl St. Clair: I'm gonna have to say "Pain." It's between "Pain" and "Ain't Got It Like That."
I'm sure each of your fans have something different that they get out of listening to your latest EP. What is the overarching takeaway that you hope they can get from it?
Earl St. Clair: Just feel something, man. No specific emotion, as long as you feel something and you can listen to it ten years from now and remember how it made you feel the moment that you first heard it.
How involved are you in the whole production aspect of your songs?
Earl St. Clair: I'm very hands-on. I let the producers produce the record, but I make sure it comes out how I want it. I do all my post-production as far as mixing the arrangement how I want it, and the mastering. I can't just sit back; I have to be physically a part of it.
What artists out there have influenced how you approach the music creation process?
Earl St. Clair: Kanye West and Pharrell. Those two are producers and artists, and that's a lot of how my own attention to detail is when it comes to my music
Are there any current artists that you are listening to now that you'd love to collaborate with?
Earl St. Clair: I like Lizzo. I would love to work with Lizzo. André 3000. I listen to a lot of artists on binges. I listen to them for a month straight. Then another artist for a month straight.
Those are solid choices. And aside from those collaborations, what are you trying to accomplish by the end of 2017?
Earl St. Clair: Have a record on the radio. And I wanna release the full-length album also.
"Songs About a Girl I Used To Know?"
Earl St. Clair: Yes, that's the one.
And maybe even an Earl St. Clair/Bibi Bourelly joint tour? I would go to every show.
Earl St. Clair: Definitely! We just need to put something out. That's what we need to do. I'll go talk to Bibi about it.
Alright, well good luck with everything you're doing and I hope to hear new music from you soon!
— — stream / purchase 'My Name Is Earl' — —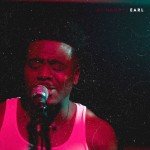 cover © Def Jam 2017