Perfection is unattainable. It is disheartening to see how so many are so easily fooled and discouraged by the hours of photo editing and myriad of applied filters that give off the perception of perfection. The level of immaculacy that is so desirable in today's society is both unreasonable and unsettling. 21-year-old singer-songwriter Bibi Bourelly joins her Def Jam label mate Earl St. Clair in breaking down these barriers and exposing perfection for what it really is and why it is such a waste of time to be chasing after it.
Listen: "Perfect." – Bibi Bourelly ft. Earl St. Clair
[soundcloud url="https://api.soundcloud.com/tracks/273845037″ params="color=ff5500&auto_play=true&hide_related=false&show_comments=true&show_user=true&show_reposts=false" width="100%" height="166″ iframe="true" /]
---
Born in Berlin to a musical family, Bourelly began writing songs at a young age. After the death of her mother, she found her sanctuary in the subways and rooftops of Berlin, causing mischief and experiencing the world through the eyes of a self-reliant and fearless teenager.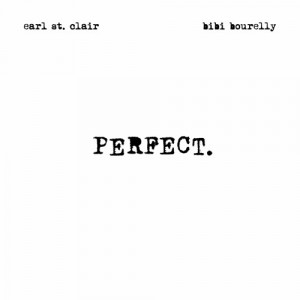 All of her struggles seemed to lead her to the United States, where she eventually found her name in the songwriting credits for Rihanna's "Bitch Better Have My Money" and "Higher." The attitude that can be heard in her songwriting is far from contrived. From the age of six, this urban songstress learned to embrace the independence and vulnerability that was thrust upon her far too early in life. After this boost in confidence reassured her that she had chosen the right path, she made the decision to put her own voice to her music, a powerful with apparent blues and R&B influences — almost as if Rihanna had taken voice lessons from Amy Winehouse and developed an addiction to cigarettes.
In the video for her latest blues number, "Perfect.," she and St. Clair are lounging in a spotless white room with the blaring of horns and organ keys — and they seem to be bored out of their minds. St. Clair begins calling out the self-absorbed girl with the exterior of an Instagram model that everyone reading this can put a face to in a heartbeat. Shortly after, Bibi joins in, crooning agonizingly as the wallpaper begins to rot and cockroaches begin to appear.
Their voices find ironic perfection as they harmonize on the chorus:
You a little too perfect babe.
You a little too perfect for me.
Watch: "Perfect." Bibi Bourelly ft. Earl St. Clair
[youtube=https://youtu.be/rLdaIw9_dXY?t=0s]
---
White roses wilting, fruit rotting, and their skin peeling, the two bring to light just how fleeting and surface-level this kind of perfection really is. The song is a statement of pride in one's imperfections and the importance of embracing the beauty of one's flaws. Instead of wallowing in self-pity as she moves forward from a love that is too good to be true, she accepts the inevitable incompatibility that goes hand-in-hand with superficiality. Why? Because the world would be such a boring place if it was always seen through the lens of the same Instagram filter.
Bibi is on another level from the pop stars in her tier. She's the real deal. Both worldly and wise, she possesses an unapologetic gruffness in her voice that will make your hair stand on end. Being a female in the spotlight is challenging enough. Being a female of color in the spotlight (Haitian and Moroccan, to be exact) poses challenges to a woman's level of self-esteem and self-worth that can be very damaging. She challenges the ideas behind societal expectations and creates a relatable feeling of self-love and fearlessness that is more valuable than the number of likes on a photo.