Having been active together for a decade and currently touring across the U.K., Welsh quintet Calan certainly have a lot of momentum going for them. That same energy fuels their latest single, "Apparition," which makes for an invigorating listen from the get-go.
A mortal man could not deny his presence in the town
In days before the steel and the iron came around
Their music it was low, enchanting so they say
But be warned of their wicked, sinful ways
Listen: "Apparition" – Calan
[soundcloud url="https://api.soundcloud.com/tracks/310698303?secret_token=s-lp1JF" params="color=ff5500&auto_play=true&hide_related=false&show_comments=true&show_user=true&show_reposts=false" width="100%" height="150″ iframe="true" /]
---
Atwood Magazine is proud to be premiering "Apparition," the first single off Calan's upcoming new album Solomon (out May 12, 2017 via Sain Records). With Patrick Rimes' fiddle and Sam Humphreys' guitar-playing going hand in hand, it becomes immediately clear that this Welsh band has achieved a lively musical arrangement. When lead singer Bethan Rhiannon steps to the microphone, the energy only picks up. Her voice fits perfectly with the music, and the lyrics about a town being haunted by ghosts ("Be weary as you go of figures that appear… and mysterious music in your ear") strike the improbable balance of eerie and infectious. Add a great, loud chorus ("Tales of silent singing, they are just beginning") and a number of musical interims in which the richness of the group's instrumental variety is on full display, and "Apparition" is a song that is a total blast to listen to, all the way through.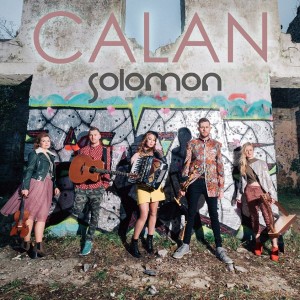 The old-meets-new feeling of "Apparition" is fantastic. The lyrical content has its roots in the 18th century diary entries of Reverend Edmund Jones of Wales, wherein the minister and soothsayer professed his belief in magic fairies that were supernaturally influencing his homeland in "wicked, sinful ways." The instrumental texture of this song should ring a few bells for most listeners, as it draws upon traditional folk music for which this region also of Britain is well-known. Yet "Apparition" also has the fresh, upbeat vibe of the current age. It is clear that these five Welsh musicians are aiming to add a contemporary flavor to a longstanding style of music. For three immensely exciting minutes, that proves to be a winning recipe in this song.
Calan — whose name is derived from the Welsh word "Calend," referring to the start of the month or year — have made a decade-long career out of updating traditional folk music to suit the tastes of 21st-century audiences. Their music has long been characterized by its lush blend of sounds, as accordions, pipes, harps and violins are just some of the many instruments that have come of service to these five multi-talented musicians. Like all bands getting ready to release new records, Calan has no doubt spent time deliberating what the right formula for its lead single should be, so that it might put its best foot forward.
They could be mischevious and menacing and bad
It's said they had the power to drive a wise man mad
But factories and workers then took their place
And the tylwyth teg took off without a trace
Tales of silent singing
They are just beginning here
These spirits do delight in the miseries of men
But only time will tell if they will show themselves again
Be weary as you go of figures that appear
And mysterious music in your ear
If blending neo-folk Welsh music with superstitious lyrics about ghosts and fairies winds up being the answer, then so be it. As "Apparition" demonstrates so vibrantly, that idea certainly has fine potential.
— — — —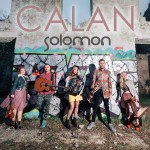 cover © Richard P Walton
:: Calan 2017 Tour Dates ::
4/20: Hereford, UK @ Courtyard Arts Centre
4/21: Farnham, UK @ Maltings
4/22: New Milton, UK @ Forest Arts Centre
4/23: Hitchin, UK @ Folk Club
4/24: Maldon, UK @ Blue Boar/Mac Theatre
4/25: Norwich, UK @ Arts Centre
4/27: Baston, UK @ Barn
4/28: Bangor, UK @ Pontio
4/29: Settle, UK @ Victoria Hall
4/30: Gateshead, UK @ Sage
5/02: Glasgow, UK @ Cottiers Theatre
5/03: York, UK @ National Centre for Early Music
5/04: Sheffield, UK @ Greystones
5/05: Otley, UK @ Courthouse
5/06: Bury, UK @ Met
5/07: Liverpool, UK @ Philharmonic Hall Music Room
5/09: Wavendon, UK @ Stables
5/10: London, UK @ King's Place
5/12: Ivybridge, UK @ Watermark
5/13: Bridport, UK @ Arts Centre
5/14: Horsham, UK @ Capitol Theatre
5/16: Bristol, UK @ Colston Hall Lantern
5/18: Swansea, UK @ Taliesin AC
5/19: Brecon, UK @ Theatr Brycheiniog
5/20: Cardigan, UK @ Theatr Mwldan
5/25: Fareham, UK @ Ashcroft Arts Centre