Emily Vaughn channels all her adult angst and frustrations into the achingly vulnerable "is anybody happy?" – a catchy and cathartic eruption of raw, intimate, and unfulfilled emotion.
Stream: "is anybody happy?" – Emily Vaughn
---
At the end of the day, I truly hope anyone feeling lost or inadequate will feel less alone in the struggle when listening.
Emily Vaughn's latest single is so much more than a great song; it's a damn good question.
Is anybody happy? The words linger on the lips – so simple, and yet, despite their rhetorical nature, filled with so much intense, unresolved emotion. It's the exhale of young adulthood: The "of age" part of our coming-of-age journey, where we eventually realize that life never gets "easier" than it once was or "simpler" than it used to be. Time makes us all more complex and (hopefully) capable, and yet happiness can so often seem elusive.
We'll forever be hungry for an answer to this question, and even though we'll never get one, we'll keep asking it anyway. Emily Vaughn channels all her adult angst and frustrations into the achingly vulnerable "is anybody happy?" a catchy and cathartic eruption of raw, intimate, and unfulfilled emotion. Singing what so many of us feel deep down inside, Vaughn creates a safe space for listeners to admit they're not 100% okay – that their situations are far from perfect, and that sometimes, life just sucks.
You look so happy online
with your perfect life
I can't help feeling behind
while everybody thrives
guess your 20 somethings
Hard to figure out
Feels like I been running
From my younger self
think that she'd be proud
I'm just getting tired of
tired of tired of wondering how
Atwood Magazine is proud to be premiering "is anybody happy?," the latest single taken off Emily Vaughn's forthcoming sophomore album Songs I Couldn't Write, independently out November 10, 2023. Already an acclaimed singer and songwriter (her work has garnered over 90 million streams on Spotify alone), Nashville-based Vaughn has an ear for enchanting melodies and the heart to back them up.
Songs I Couldn't Write sees her peeling back the layers of both her soul and her songs; the music is much rawer and less heavily produced than 2021's debut album Silver Linings, and while that's by and large held true for each of the album's singles thus far ("real life is a bitch, man I kinda miss my ignorance," she sings in "god complex"), "is anybody happy?" is particularly unapologetic in its unfiltered honesty and raw vulnerability. Vaughn isn't striving to be some untouchable pop superstar; she's a fragile, accessible everyday person just like you and me – fallible, imperfect, flawed, often insecure and equally uncertain of herself.
And truth be told, there's nothing more human than being unhappy.
Life is filled with loss, upset, missed connections, lowered expectations, and the like. There's lots to love about it, too – we love life here – but the older you get, the more you learn that navigating the highs and lows is less of a science and more of an art form. Music helps – tremendously so.
Active in the music industry for nearly ten years now, Vaughn can speak to this roller-coaster, both as it pertains to professional and personal experiences, fairly well. She wears her heart on her sleeve in an irresistibly catchy chorus that aches with intense emotion – and oh, how we wish someone would answer her question:
is anybody happy
Someone level with me
I just need to know
does everything get better
Or does it even matter
Cause I don't even know
Something tells me it won't
"The concept of the 'is anybody happy?' video and song is about the confusion you experience in your twenties when you're like, 'okay I guess I'm an adult and I'm doing the things that younger me would freak out over, but it's not making me happy like I thought it would,' Emily Vaughns tells Atwood Magazine. "It's seeing your friends succeed in unimaginable ways but knowing they feel like they're falling short. It's seeing so many loved ones struggle with life, love, health, and countless different battles. It's wondering how anyone can be truly happy after witnessing the hardships of life that occur like waves on a shore – never ending, one always ready to follow and crash upon the one before."
"I wanted to show a more vulnerable, stripped side of me than I've ever done in a music video because, well, that's the entire vibe of the album! The 'is anybody happy?' music video encapsulates the quest for happiness that often accompanies the transition into adulthood. It's like, one day you wake up and realize that the milestones and accomplishments you once yearned for failed to bring the expected fulfillment that you thought it would."
"It sucks to "grow up" and feel like you're behind because the notifications keep going off showing people achieving incredible things… and something inside always seems to say, "Nothing you do will ever be enough." At the end of the day, I truly hope anyone feeling lost or inadequate will feel less alone in the struggle when listening."
9-5 feeling scary
what's it all for
all my friends getting married
and then they get divorced
This sh made me cynical
Overly critical
I had a good day I swear that sh was a miracle
I'm my worst enemy
won't let em next to me
But they all got A front row seat to my misery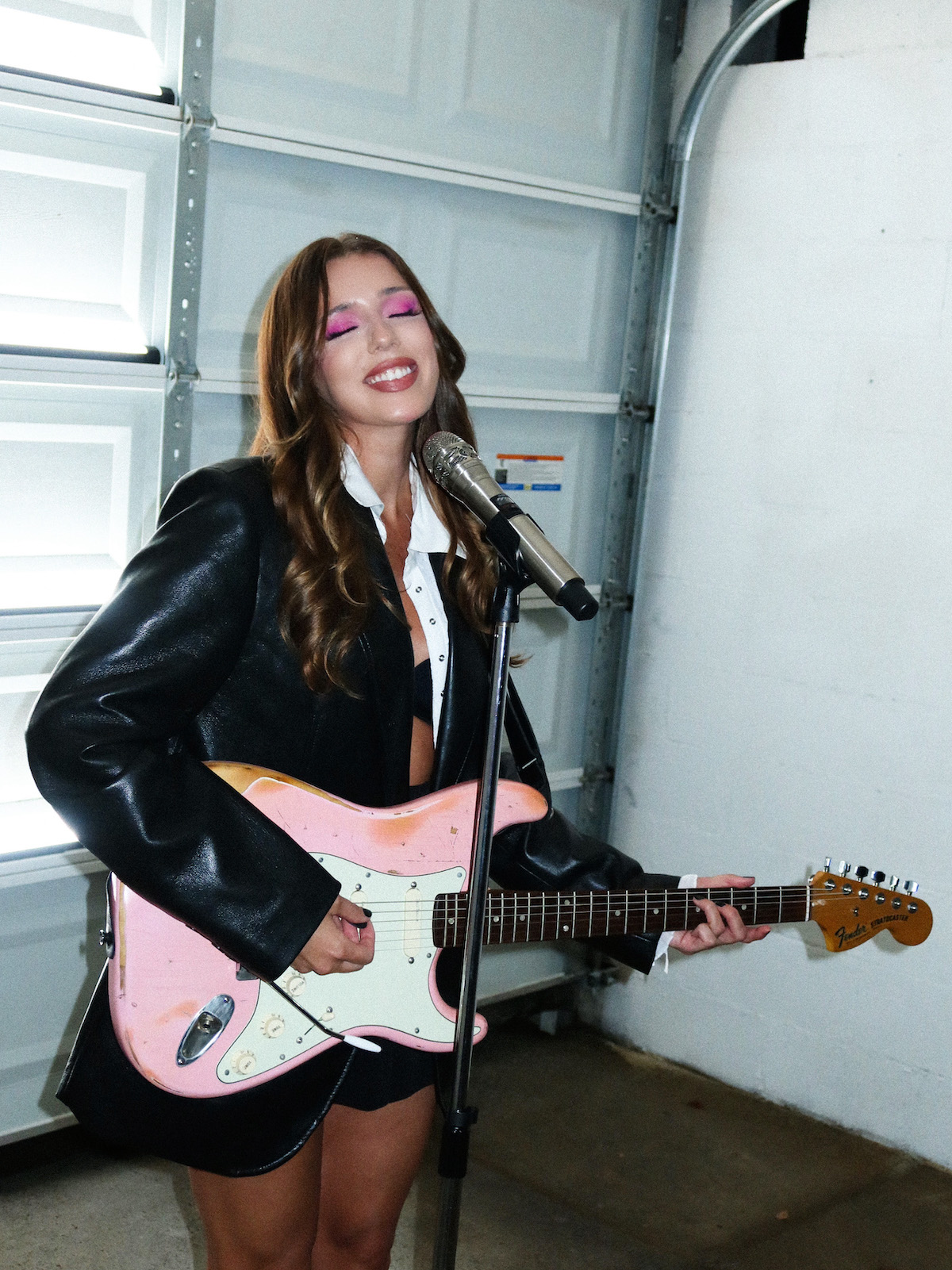 A perfect pop song revealing some of life's painful truths, "is anybody happy?" is a striking reminder that life is complex and nuanced.
Maybe outright "happiness" is an elusive thing – something we experience in bits and spurts, like the sparks flying off a magic moment shared with the one you love, the satisfaction of enjoying an incredible meal, the euphoria of discovering a new favorite song, or the chemical elevation of a runner's high. Yes, everybody's happy from time to time – but we're also all constantly striving, yearning, searching, aching for more. That's human nature for you – we're blessed to know what happiness feels like, and cursed to always be chasing it.
That Emily Vaughn is able to bring out all this and more in two and a half minutes of pop perfection is a testament to her talents as a songwriter and artist. Her upcoming album Songs I Couldn't Write has been billed as a deeply personal and vulnerable collection confronting past trauma and personal struggles, lost loves, and moments of self-discovery (among other things). Destined to be a hit from the outset, "is anybody happy?" promises to be one of several highlights from this record, exposing something all of us wonder about deep down inside.
At the very least, it's good to know we're not alone in asking these questions.
Stream "is anybody happy?" exclusively on Atwood Magazine, and let the light shine in as Emily Vaughn dwells in a sweetly seductive moment of existential contemplation and inner reckoning.
is anybody happy
Someone level with me
I just need to know
does everything get better
Or does it even matter
Cause I don't even know
Something tells me it won't
— —
Stream: "is anybody happy?" – Emily Vaughn
— — — —
 © courtesy of the artist
:: Stream Emily Vaughn ::
---