Recommended If You Like: Of Monsters and Men, Animal Years, Bear's Den, Blind Pilot
Preludes are beginnings – introductions to something more important: The start of the new, the entrance to the unknown. For listeners, they are the first taste – a hint of what's to come and perhaps an indication of future tidings. Of course, the prelude is also an entity in itself – it carries with it its own self-identity as well. Watching for Foxes' "Prelude" is itself a tale of one such new beginning: Raw and hollow folk energy flows through layers of intense emotion as the Grand Rapids band weave a story of personal rebirth.
The morning dew gathers sweetly on my tongue
In the place that you left me, naked as I came
The sparrow sits dainty on my elbow, singing sweetly
No matter your reign
Watch: "Prelude" – Watching for Foxes
---
The opening track off Watching for Foxes' independently-released debut album Undone Bird, "Prelude" whispers of the future by closing the past. Lead singer Joey Frendo sets an intimate scene, paying careful attention to his delivery as he builds tension with every passing exhale of breath. The band's live performance of "Prelude," which Atwood Magazine is proud to be premiering today, brings the audience closer to the band through the bare display of their performance: Heartfelt and heavy, Watching for Foxes deliver spellbinding humanity in coarse, stark poetry and dark, humble music.
"This song holds a special place in the band's collective heart and we think it's the perfect song to open up our album Undone Bird," remarks Frendo. "It pays homage to the band's original sound, with simplistic neo-folk underpinnings spliced with haunting samples that further the depth and breadth of the song, while also setting up the rest of the album sonically. It was recorded live in the studio with just our guitarist (Jared Meeuwenberg) and myself, and we love to open sets with it when we can."
"Prelude" gradually builds, going beyond being the mellow acoustic song with only a guy and a guitar to incorporate a variety of instruments which show us different facets of the song and the band's identity.
I know you now like I knew you then
Damage done but we still got our sin
Swords were drawn and we came caving in
I know more than I knew then
It seems funny for a prelude – a start – to focus on the past, but it isn't hard to see why. "Prelude" is a new beginning, but not the first beginning. We live many lives, spending time with different people along the way. Some journeys may be short-lived, and others may last us until the very end. Watching for Foxes' narrator cannot move forward without evoking the past.
"As a storytelling device, [the song] serves as the beginning of the story ark of the album by reaching the audience from the other side of it all," explains Frendo. "Setting the stage for the transition and emotions chronicled in the songs to come, "Prelude" brings the listener to a metaphorical field splashed with morning dew and sunlight, and speaks to the calm and clarity of hindsight that seems to always be tacitly underscored by the pain of remembrance."
Sunkissed, shucked of your bliss
Now I know our love was tied together with faintest string
We hated each other for the silliest things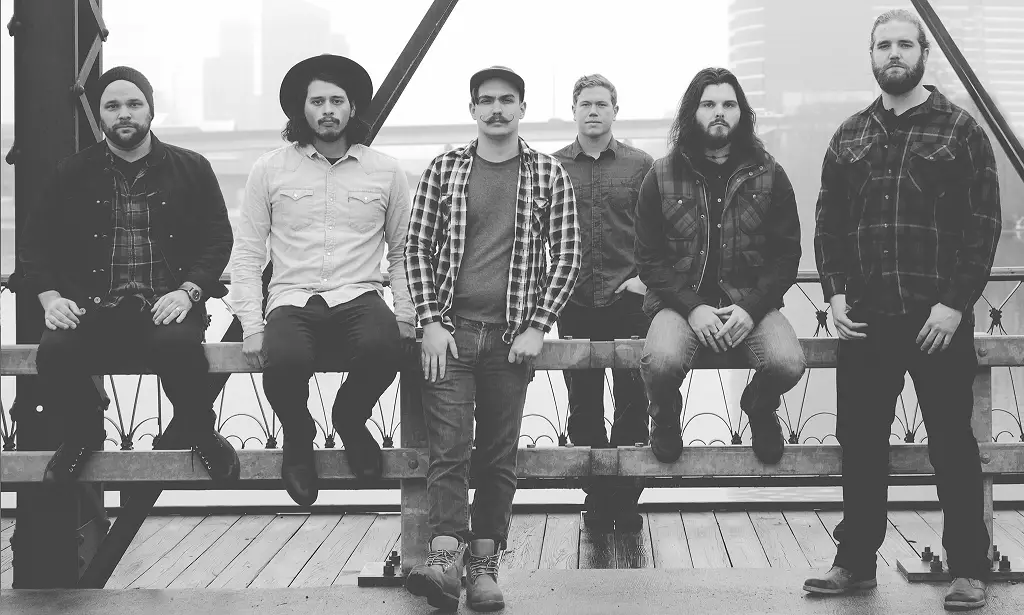 "Prelude" speaks to the calm and clarity of hindsight that seems to always be tacitly underscored by the pain of remembrance.
I know better now, wish known better then
That loyalty would be greatest sin
Some things are meant to be and some are meant to end
And I love her more than I loved you then
Watching for Foxes consider themselves "Cinematic Folk Rock …and Flannel Rock." Both identities wear well on them, as is evidenced by the Michigan sextet's video. Live recordings such as this is are ideal behind-the-scenes ways to experience the band without being there firsthand – but they're also the perfect prelude to seeing the band live. Watching for Foxes are currently on tour throughout the United States, with shows scheduled at NYC's Rockwood Music Hall (10/30) and Chicago's Elbo Room (11/12). "Prelude," recorded by Brennan Willis at Ohio Recording Company, is a great way to take in the authentic indie folk/rock blend exemplified in the band.
Find out if Watching for Foxes are coming to your hometown via their website, and listen to the band's full album Undone Bird below!
— —
Undone Bird – Watching for Foxes
special thanks to Nicole Almeida, Lindsay Call and Kelly Wynne for their contributions to this piece