A dynamic outpouring of colorful indie rock gusto and introspective musings, 'IV' finds The Elwins in their element as they tap into visceral, alluring depths.
Stream: "Take Me All the Way" – The Elwins
---
It's the most intimate portrait of who we are as people and artists.
Some will say The Elwins' latest album is their most "out there" offering to date, whilst others will surely argue it's the most true-to-form the band have ever sounded.
Whichever side you fall on, you'd be right. A dynamic outpouring of colorful indie rock gusto and introspective musings, IV finds The Elwins in their element as they tap into visceral, alluring depths.
She's got such a pretty face, yeah
Casting quite a shimmer from the window sill
Her smile painted porcelain and perfect complexion
Told me from behind the glass, "It feels like I'm living in hell."
The weight of the world, the weight of it all
Breaking your frame. What's breaking my fall?
The weight of the world, the weight of it all
Keeping you down and making you crawl
– "Weight of the World," The Elwins
Released October 23, 2020 via AntiFragile Music, IV arrives three years after The Elwins' third album, Beauty Community. Active for over a decade, the current four piece of singer and guitarist Matthew Sweeney, drummer Travis Stokl, guitarist/keyboardist Feurd, and bassist/singer Frankie Figliomeni sound stronger than ever on a record that is as comfortable in silence as it is in total, uncompromising overdrive.
"To us it feels like quite a departure," The Elwins tell Atwood Magazine. "The songwriting is a lot more personal and reflective of what we've been going through in our lives recently. It feels like some of our strongest work to date because we tried to bring out the best in each member through the process of writing and recording it. It has the most Elwins DNA."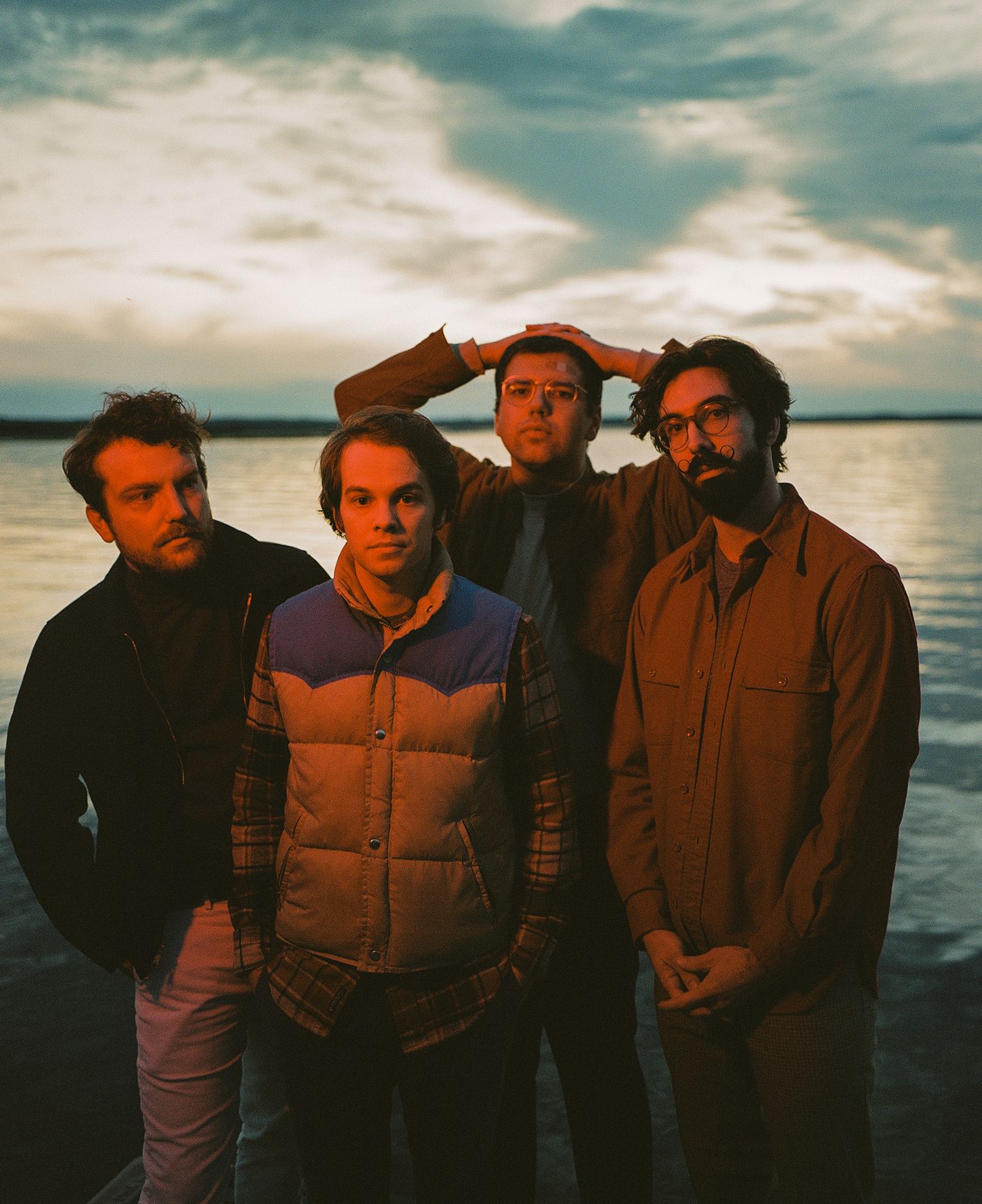 Opening with a one-two punch of the folky, harmony-rich "Something Is Happening Here" into the urgent blues rock banger "Take Me All the Way" (think Black Keys or The Blue Stones), IV quickly establishes itself as a cool, confident, and finessed show of force. "Very excited for this to be the first taste of what people hear from the new album," Frankie Figliomeni says of "Take Me All the Way." "I feel like this is one of the songs that helped us dial in where we wanted to head vibe wise."
All across IV, The Elwins blend their recording studio know-how with the energy they've learned to cultivate through live shows, and channel everything together into a magnificently diverse LP. Bubbling, fast-paced moments like "Giving Up on Yourself" flow seamlessly into tender, bittersweet unveilings like "I Will" – a song that sounds far more indie folk than it does "indie rock." It's all The Elwins though – through and through, their most diverse array of musicality yet on record.
"It says a lot (about our artistry)," the band express. "Making the album as just the four of us, it's the most intimate portrait of who we are as people and artists. There's no outside influences on it. I think it says that we're in a place where we can experiment and try to make art that excites us and speaks deeply about who we are and what we're going through in this life."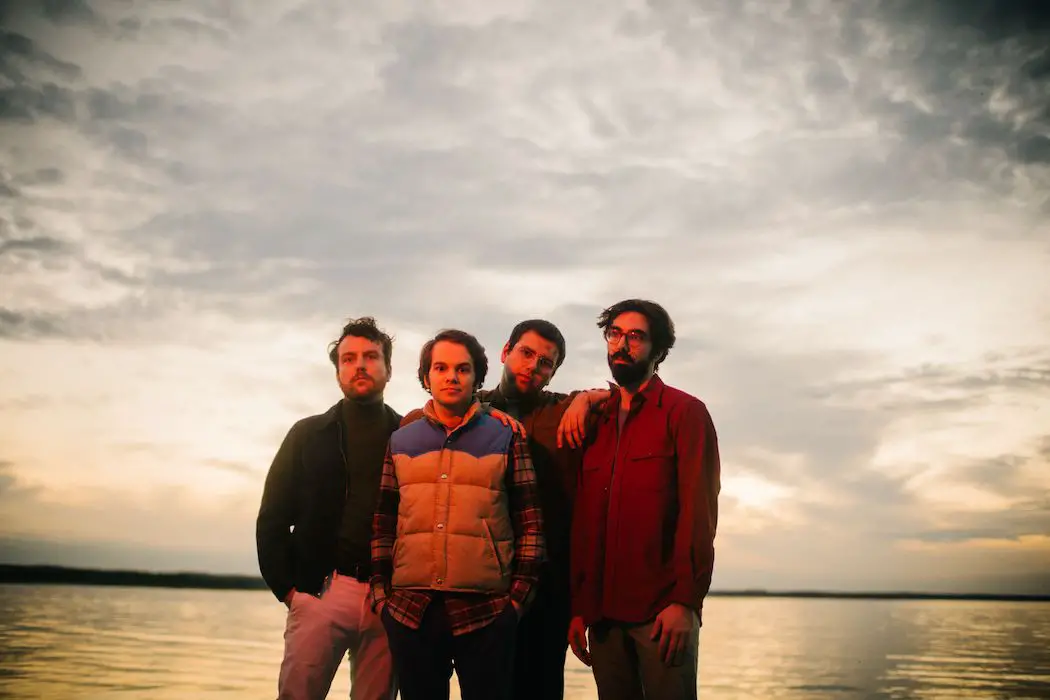 Hearty moments like "Weight of the World" and the achingly tender, string-accompanied "Daughter Song" go above and beyond in filling the air, and in turn listeners' ears, with a little something more: Call it "emotional substance" or "human nuance"; whatever it is, it's compelling, intimately devastating, relatable, and full of as much beauty as pain:
"Momma, I'm afraid I'm losing touch with myself"
Cries the daughter as mom starts to help
She is cleaning the blood from the blade
And makes sure that the note's[?] down the drain
There's an air to the room that is hard to describe
There are tears in their hearts and fear in their eyes
At a door stands a man of age
Under his breath he recites a grace
He is looking for someone to tell
About Jesus and thе day he fell
As he carriеd his cross to the top of the hill
What a view done to death to practice your will
As I stop and I think about life
Oh my mind, it gets lost in the night
I am looking for someone to tell
"I'm afraid I'm alone, I need help"
There's an air to the room that is hard to describe
There are tears in their hearts and fear in their eyes
– "Daughter Song," The Elwins
---
IV is multifaceted and singular all at once: An exciting collection that suggests the best is still yet to come for a band that is only getting better and better with age. Experience the full record via our below stream, and peek inside The Elwins' IV with Atwood Magazine as all four band members take us track-by-track through the music and lyrics of their fourth album!
— —
Stream: 'IV' – The Elwins
:: Inside IV ::
— —
SOMETHING IS HAPPENING HERE 
Frankie
⁃a song that matt wrote a while back, some v sweet travis mouth sounds / acoustic guitar licks stayed in from the original demo. The harmonies in the back half have always given me an ABBA vibe. On the last couple records we started off the track listing with what we saw as the bangers but I like that this time we open with a slightly chiller track.
Travis
This song had been around for awhile and eventually we made a full band version that was significantly different than the original demo. We even started playing it at shows over the past few months to positive response. After some time though, there was doubt about if we had lost a bit of the charm from how it used to be. What followed was a decent amount of trial and error of what we liked most about each version and then how to combine them.
Matthew
Sometimes you get in ruts and feel like true love isn't real. Sometimes someone can take you out of that rut and make believe again.
Feurd
This song was heavily influenced by Matthew's original demo – he was using a lot of unusual things to create textures on the song. Hitting cutlery/weird percussive vocal sounds etc… that we kept in the track and built around. We kind of mixed that with a more full rock band arrangement that we had for the song and VOILA.
TAKE ME ALL THE WAY
Frankie
NOW ENOUGH OF THAT CHILL BULLSHIT TRACK 2 IS A BANGER. This song fits in that zone I love where it's an upbeat sounding song with sad/introspective lyrics. Very excited for this to be the first taste of what people hear from the new album, I feel like this is one of the songs that helped us dial in where we wanted to head vibe wise.
Travis
Sometime in 2018 we played a private show to mostly friends, family and some keen fans. The whole set was brand new tunes but at the end of the night it was obvious this was the primary winner – at least from what we could tell anyway. Oddly enough however, we had some mixed feelings on it for a couple of months which eventually turned into a new fondness, also oddly enough. Time heals all.
Matthew
This song just came out real quick and I had a good feeling about it. It's a more playful song lyrically than others. not too serious. The song is more or less about wondering if someone can help fill the void in your life. In this song I think it's a little more of a quick fix to the problem found in being reckless and spontaneous. The lyrics come from a place of desperation in just wanting more from life.
Feurd
At one point we were really worried that this song was too fast. It's crazy what you start to think after you've heard the same thing over and over again a million times. We were so concerned we got our friend Sam to come in the studio and listen to the song. After we looked at him going "ehhhh?? you think anything about that???" I think he said something along the line of "sounds cool". And then we finally spit it out that we were worried about the speed – he thought it was fine.
ROCKIN' THE HORSE
Frankie
⁃A song about conflict I guess. The initial idea/title came from our old record label Hidden Pony the idea of going back and forth with someone and feeling like it's going nowhere. The song was around for a bit but really came together when we put it to a drum beat that Travis had. It really informed the feel of the song and elevated it to a more interesting place to me. Great job Travis wow what a cool guy. Recording took us a few tries to get right but very happy we took the time to get there
Travis
We've been playing this live for two years or so now. Right from the get-go the choice was clear it had to be on the album. After recording it three separate times at different studios we learnt what things were proving to be challenges for us. You could say we really finessed this song over a long period of time.
Feurd
This song is about a struggle in a relationship – funnily enough it was the hardest one to record. I think we recorded four separate versions of this song until we felt we had got it.
LET HER BE THE ONE
Frankie
I remember Matt and I were showing each other songs over Facetime as one does in 2019 and he played me this song. Initially a lot chiller but then we jammed it as a band and it ended up in a cool zone that feels new for us. We have never really had a song with a galloping feel before. Also new because it's the first elwins song with the word FUCKED in it.
Travis
In the midst of writing for the album Matt came with this little idea he had and it might have been the next day where we jammed it. Immediately we had a pretty good understanding of how special it could be.
Matthew
This Song comes from a similar place of desperation. That rut. feeling like an idiot, feeling like love isn't real, wondering if it's you who is the problem or if you're just incapable of feeling love. It speaks to how the journey of love can sometimes feel cyclical in nature. You pin your hopes on your newest love only to have them crushed again.
Feurd
I had a lot of fun recording the guitar solo for this song. When you're producing your own bands album you spend a lot of time recording the other people – when it finally got my turn to record this solo after a week of not really playing I got really excited and set up a million guitar amps and mics into the most complicated guitar setup I've ever done. It was a lot of fun and ended up sounding pretty cool.
GIVING UP ON YOURSELF
Frankie
⁃I was feeling down for a bit before we started working on the new album and that's how this song came to be. There isn't a ton of nuance to the lyrics on this one which i like and dislike about it. Feels like a song that i just needed to get out to express how i was feeling. Kind of a page taken out of a journal vibe
Travis
Deciding to change things up creatively we rent out a space for a month at a place nearby us. This was very early in the process, so like a few others off this album it's been around for a good amount of time. At one point we forgot about it but upon remembering it was a nice sort of surprise to know that it existed and would sit well with the songs that had been written since.
Feurd
We spent a lot of time on this album coming up with arrangements just the four of us in the rehearsal space – we really wanted the songs to sound great and translate from that environment without a load of added bells and whistles. I remember early voice memos of this song and feeling proud that it felt strong just the four of us playing in the room.
I WILL
Frankie
⁃Song that started through a fun lil writing exercise we did. Matt had written the chorus melody and we each tried to put chords underneath it. Also remember us working on it when we rented out a church for a writing retreat. It went through a few different versions before we landed on what's on the record. First of two tracks that Trey Pollard did arrangements for. I like how raw the beginning feels
Travis
Some songs are hard to get just right. Luckily we enjoyed most versions we'd come up with however, that kind of luck makes it harder to choose which way to go at the end of the day. Initially it started as a slow type of rock tune. Funnily enough when stripping back the rock element more and more we collectively found it more interesting to play within the world of sonics and let those moves inform the tune.
Matthew
Again a similar rut surrounding a similar topic. this is that Feeling like when you've got it good that you're going to fuck it up beacuse you know how fucked you are. Nobody knows in the same intimate detail how fucked you are better than you. When you meet someone special it can be terrifying that you're going to ruin everything and you know what…you probably will
Feurd
This may be my favourite on the album – one of the songs I'm most excited to show people. It's a different side of the band that's always existed but has not often been put out there. I think that everything really came together on the arrangement to support the song in a beautiful way.
WEIGHT OF THE WORLD
Frankie
⁃A song that came together relatively quickly. I like this one cause it really felt very collaborative. Matt and I had gotten together at his place to write. I had a bit of a song idea and he had a bit of one and we really just stuck them together. The next day (i think) we jammed it and Travis came up with the beats and Feurd with the licks which totally transformed the song. Then Feurd really took it even further with the recording. Felt like a lil relay race of a journey to me. Very proud of everyone's contributions to this song.
Travis
Coming together rather quickly we figured we'd start recording it as soon as possible, so we did. Two iPhone's were involved in the recording.
Matthew
This is a story of the weight of the world. Speaking to how everyone has to deal with the weight of the world in one way or another. That kind of brings us together in a sense. just a friendly reminder that everyone has got this shit feeling from time to time, some more than others, but all you can really do is to try and take it easy on yourself.
Feurd
The main sound of the drums on this song was recorded with two iPhones placed on either side of the drum kit. I love the sound of the compression that happens with an iPhone mic when it's getting hit with a loud signal. Definitely another favourite for me in the way that everything came together.
SLOW MOTION 
Frankie
⁃First time I felt like we really had a real jam out instrumental section in a song which is fun. Our friend Brendan plays the megaphone on it.
Travis
We kept working on this song after we thought we couldn't quite nail it for Beauty Community. Time after time though, we just got stuck to the point where yet again it was going looking like abandonment was in the cards. Thankfully one of us simply suggested that it may be fine as is. Overall a fun one to record not only from the relief that we felt good about moving forward with it but getting to have Sam Gendel sprinkle some of his magic on it is just so rad to us.
Matthew
This is a song written for Beauty Community. Always been a fave. I feel this song embodies the general concept of the record. Do what we are uniquely good at. When we were looking at this song during the beauty community days we had a hard time making it fit the mold of what we were doing at the time. I'm glad we left it and revisited it. It became a lot easier to finish and understand when we let it be what it naturally wanted to be on it's own…what it was uniquely good at being. We embraced it's oddness and then it truly shined.
Feurd
Was super excited to have saxophone player Sam Gendel on this track – he added some amazing textures and vibe.
BACKYARD AT MY MOMS
Frankie
⁃Just realized the acronym for this song is BAMM which is nice. Very beautiful song by Matt. Can't remember who had the idea to actually record in the backyard of Matt's mom? I want to say feurd? But maybe Matt or Travis. Definitely not me. It was a very nice day though we recorded this and 1971 on the same day. This was recorded on a TASCAM 4 track Matt gave to me a few years ago.
Travis
Another one wherein the tune spoke for itself and wasn't necessarily calling for additional parts and production – in this case especially!
Matthew
Written at my moms house on a tiny guitar in the summertime. It's about letting yourself enjoy the mundane or less seemingly meaningful moments in life. When you embrace them and try to truly enjoy them that they can be really special. JUST LIVE IN THE MOMENT BRO
Feurd
I loved Matthew's demo of this song the first time I heard it and really wanted to capture it's energy. We ended up using a Tascam 4-track portastudio and had him play it in his moms backyard. You can hear the birds chirping and cars passing by in the background.
HUNG UP
Frankie
⁃An older song that we revisited. To me the song is less about actually feeling hung up on a specific person but more so that headspace you can get in when you feel that kind of hopeless infatuation. "will i ever come down" feeling like there's no end or moving past it.
Travis
A good chunk of time was spent workshopping each of one another's respective parts to get the arrangement as big and powerful as possible.
Feurd
Always loved the energy of this song and it's super fun to play.
1971 
Frankie
⁃instrumental that is instrumental to our new album
Travis
This piece was a later thought to include as we thought it added just that much more variety as well as contrast to everything else on the album.
Matthew
I've written a bunch of piano songs over the years. I always feel really nice to write them but i can't help but feel a little disappointed as it's something I imagine we won't really work on in the band. It's life span is usually the amount of time it takes to write it and do a voice memo. Then I forget how to play it and that's pretty much it. It felt very on brand to put something in like this. – We have tons of songs like this in our catalogue and that's cool and unique.
On that topic I feel similarly to how feurd solos on this record more. He is amazing and it's never been featured more than it has been on this record.
Feurd
Also recorded at Matthew's moms house on her piano. We ended up sampling Matt's voice and making it sound like a weird choir that adds to the darker/eerie tone.
DAUGHTER SONG
Frankie
⁃I found it really hard to describe this song for a long time then when we were talking with Trey about his arrangement he really put it way better than i ever could so i may just copy paste that. "the swimming feeling of getting lost thinking about the complexities of life" – Trey Pollard, 2019
Travis
In line with the vivid images that the words convey we thought it best to have a full out arrangement would be a perfect route to take. We knew we were in good hands when we reached out to Trey Pollard and he definitely delivered.
Matthew
I love this song and the strings are amazing.
Feurd
Frankie only ran through this song a couple times and we recorded him playing the guitar and singing simultaneously to get the most natural performance of him doing the song. Then Trey recorded his amazing arrangement on top – love the french horn.
HOLD ONTO LOVE 
Frankie
⁃an oldie but a goodie. Very glad this one ended up being the closer. I feel like we explore some darker or maybe sadder territory on this album but at the end of the day we are optimists and i feel like we wanted to end on a hopeful note.
Travis
For our last album we considered this tune. It's easy now to see why it wouldn't fit but happy that it found a home this time. Frankie would bring it up every so often and how revisiting it could be cool. Since the demo was so strong we didn't add too much else to it in terms of new parts.
Matthew
This song was written so long ago. It's one I've always loved but it never felt like the right fit for a record. I guess sometimes we made these imaginary rules of what a "record" had to be and how it had to sound. This one never really fit into those rules. This record was a perfect place for this bad boy. IT's nice how it ends the record on a more positive note. We wanted to start and end on a more positive note.
Feurd
This was an older song that we had always liked but never found a place for. Once it came up in the discussion for this album we realized it fit in perfectly with the other songs. I think this entire one was recorded in our tiny home studio in a suburban basement.
— —
— — — —
? © 2020
:: Stream The Elwins ::
---