What's bigger: An ultralife, or superlove? The jury's out for Oh Wonder and Whethan's new song: Glowing with intimate emotion and electropop passion, "Superlove" combines the best of both artists in a vibrant explosion of euphoric energy.
I've been looking at your face, it's dangerous
Making me so goddamn crazy
And I've been dreaming of the taste, it's chemical
Making me so goddamn crazy
"Superlove" – Whethan feat. Oh Wonder
---
It may not be a strict Oh Wonder single, but "Superlove" shines with everything we've come to love about the dynamic British duo. Released 6/15/2018 via Atlantic Records, "Superlove" is the latest offering from Chicago-born, Los Angeles-based DJ and producer Whethan, featuring Oh Wonder (aka Josephine Vander Gucht and and Anthony West). The artistic moniker for 19-year-old Ethan Snoreck, Whethan is the epitome of a fast-rising artist: Initially gaining traction for his remixes on SoundCloud, the teenager has spent the past two years working with a variety of high-profile music-makers from around the world, releasing dazzling one-off singles that seem to capture their artistic essence – granted, with his own personal spin.
Oh Wonder's "Superlove" collaboration comes a few months after the release of "Do You Feel This Way" with Kailee Morgue, "Be Like You" with Broods, "Aftertaste" with Opia, "Good Nights" with Mascolo… and so on and so forth. Whethan's song with Dua Lip, "High," was even featured on the Fifty Shades Freed soundtrack earlier this year; to date, the track has nearly 24 million Spotify streams alone (a gigantic number, and one which still pales in comparison to some of Whethan's other songs). All of this is merely to affirm the comeuppance of a young creative who is most definitely an artist to watch, both now and in the years to come.
While we're perhaps most excited for the day that Whethan releases his solo material, his already-impressive repertoire depicts a continuously-developing musical identity that shines by elevating the very best traits of his collaborators. "Superlove" is the best example of this talent in action: The blissful jam is quintessential Oh Wonder, a veritable Ultralife anthem infused with an extra-bright tropical bounce – a Whethan spin, if you will. The producer manipulates Vander Gucht and West's voices, using their words for both melody as well as rhythm.
Thus, Oh Wonder's first-ever (successful) external collaboration proves a worthy success story – after all, who can resist such a buoyant chorus?!
I can't go slow, slow,
slow, slow, slow, slow…
Zero to let's go, go,
go, go, go, go…
I might be a rebel and break all the rules
I might be a tiger that's gonna get you
I might be a devil, the beautiful bad
I might be the danger that you never had
But my love for you is superlove, superlove
My love for you is superlove, superlove
My love for you is superlove, superlove
My love for you is superlove, superlove
Both parties seem to have taken something magical away from their time together. "Being able to collaborate with Oh Wonder was such an honor," Whethan says of his superlove experience. "I have been a fan of them and their music for a long time. So excited to show this song because it takes me to such a happy place."
Oh Wonder express a similar sentiment: "Working with Ethan on 'Superlove' was magic. We had a day together in a studio in LA and wrote 'Superlove' within half an hour of sitting down with him. We went to get pizza, came back, and knew we had written something cool. This is our first collaboration with another artist and we are so hyped to be doing that with Whethan. We love what's he done with the production and he instantly knew how the song should sound. Whethan is a true talent."
I've been swimming in a daze of manic blue
Making me so goddamn hazy
And I've been counting out the ways I'm stuck on you
The color in my madness, baby
Compliments don't get much better than that! Remember: Jack Antonoff was making incredible music with Steel Train, fun., and Bleachers long before he jettisoned into the public spotlight through his work with Taylor Swift and Lorde. You never had to be a household name in order to be an incredible producer, but Whethan is fast becoming a crossover success, forging a strong presence through catchy hit after catchy hit with some of the biggest names in the alternative pop world.
Keep a close eye on Whethan as he embarks on an extensive North American tour this fall (more info below)! In the meantime, we'll be blasting "Superlove" at a super-high volume, all summer long…
— —
— — — —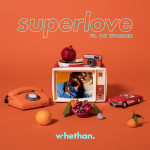 ? © Atlantic Records
---
:: Stream Whethan ::
---
:: Whethan Tour Dates ::
July 3 – Zedd in the Park Festival – Los Angeles, CA
July 7 – FVDED in the Park Festival – Surrey, BC
July 21 – Capitol Hill Block Party Festival – Seattle, WA
August 10-August 12 – Outside Lands – San Francisco, CA
Sept 13 – San Marcos, TX @ The Marc
Sept 14 – Dallas, TX @ Stereo Live Dallas
Sept 15 – Houston, TX @ Stereo Live Houston
Sept 16 – Baton Rouge, LA @ Varsity Theatre
Sept 18 – Nashville, TN @ Exit In
Sept 19 – Athens, GA @ The Georgia Theater
Sept 22 – Philadelphia, PA @ Union Transfer
Sept 25 – Boston, MA @ Royale
Sept 26 – Brooklyn, NY @ Brooklyn Steel
Sept 27 – New Haven, CT @ Toad's Place
Sept 28 – Pittsburgh, PA @ Spirit Hall
Sept 29 – Columbus, OH @ Skully's
Oct 2 – Bloomington, IN @ Bluebird Nightclub
Oct 3 – Detroit, MI @ Majestic Theatre
Oct 4 – Madison, WI @ The Sylvee
Oct 7 – Minneapolis, MN @ Skyway Theatre
Oct 9 – Denver, CO @ Ogden Theatre
Oct 12 – Seattle, WI @ Showbox SoDo
Oct 13 – Vancouver, BC @ Commodore Ballroom
Oct 14 – Portland, ME @ Wonder Ballroom