Soccer Mommy returns with the irresistible "lucy," which evaluates the inherent darkness that lives within each one of us.
Stream: "lucy" – Soccer Mommy
---
Enticing, fun, and hypnotising, Soccer Mommy's new single "lucy" starts just like an offer from the devil. Soccer Mommy's stunning debut album Clean released last year, which introduced the world at large to the sensation that is Sophie Allison's music, dealt with matters of the heart and not fitting in – tales of breakups, moving away from home, and rising signs were delivered introspectively, allowing us to just peek at what Allison was capable of doing. Now, Allison returns with the irresistible "lucy", Soccer Mommy's first single in 2019, which evaluates the inherent darkness that lives within each one of us.
Its Beach Boys-tinged introduction sounds familiar and just relaxed but exciting enough to keep you at bay, waiting for the song to start. When the drums kick in you've already accepted the Faustian offer, and find yourself gradually descending into everything that's unholy.
The root of all evil
In a person with shiny eyes
And hair like a feather
Black leather and a charming smile
He'll touch you and burn you
And break you down to your core
Succumbing to evil
I thought I was something more
Allison's voice both re-affirms and breaks the spell you're under, as it pulls you in even further but also carries a sweetness that's hard to associate with the occult. She takes her time describing her version of the devil, sketching out an archetype of a leather-clad, Danny Zuko lookalike, bad guy that at once universalizes the song and allows us to see the world through her eyes.
Oh Lucy please
Quit taunting me
Oh Lucy please
Quit taunting, quit taunting, quit taunting me
The chorus is simple and remarkable, ready to be sung back to Allison during one of her many shows this year. Affectionately (and hilariously) referring to Lucifer as Lucy, Allison changes audiences and now directs her speech straight to him, asking to be rid of temptation.
While the image of the devil and the deliciousness of temptation is expertly conjured throughout the song, they're used as metaphors by Allison to address the darker sides of her own self. "["lucy"]  is a song about struggling with inner demons and your own morality, but I masked it with this scenario of being seduced by the devil. I'm really excited to share this with everyone because I think it shows a different side of my writing", Allison explained in a press release.
Watch: "lucy" – Soccer Mommy
---
His mind is a fortress
You can't fight your way inside
His body's a temple
Made up of brimstone and fire
You cannot resist him
When you look in his shiny eyes
The face of an angel
With the heart of something less nice
The second verse establishes Allison's demons as an even stronger force, something impenetrable and made of stone, when she refers to him as a "fortress" and "temple". Leaning into biblical mythology, Allison nods at Lucifer's past as an angel before subverting that image by reminding us of his evil nature.
Both verses on "lucy" are drenched in temptation, flirting with the possibility of something dangerous while also examining its main character from a distance, getting close enough to feel the heat but not too close to be burned from it. It's daring but ultimately still safe, keeping Allison from experiencing the eternal doom and the alluring high that comes from risking it all and taking a bite from the apple.
Succumbing to evil
I thought I could never be
I look in the mirror
And the darkness looks back at me
I can't help the feeling
That irks me – that I'm falling down
From heaven through the earth
To hellfire to wear his crown
It's on the song's bridge that the truth that has been hinted at throughout the song comes light as Allison reveals that this demon who's been "taunting" her was actually herself all along, and acknowledges her devilish side. On another nod to Lucifer's past, Allison describes his literal and metaphorical downfall from heaven to hell, but replacing the character of Lucifer with herself, and even stealing his crown and becoming the queen of the underworld.
Soccer Mommy's "lucy" is a comeback, but it's also a re-introduction.
With this song, Sophie Allison re-acquaints herself with her audience, introducing them to a new side of her that had so far been hidden from her songs. Whatever follows the single now includes both the Soccer Mommy we knew before and her darker alter-ego, which together make for a tantalizing final product. Giving in to temptation has never sounded so nice.
— —
— — — —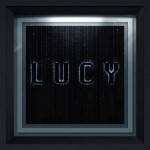 ? © Brian Ziff
:: Today's Song(s) ::
---
:: Stream Soccer Mommy ::