Ambient and sweetly stirring, German singer/songwriter Florian Ehrmann's heartwarming "Beautiful Day" captures life's beauty with refreshing simplicity, self-awareness, and honesty.
Stream: "Beautiful Day" – Florian Ehrmann
---
German singer/songwriter Florian Ehrmann approached his Beautiful EP with a simple premise: "To look at the beauty that is often small and right in front of us." Through two intimate songs – one an external observation, the other a more internal reflection – the indie folk-leaning artist opened his eyes, his heart, and his soul to the world and let us in. Ambient and sweetly stirring, the heartwarming "Beautiful Day" captures life's beauty with refreshing simplicity, self-awareness, and honesty. It's a song for pausing; a reminder to stop and smell the roses – soak in the little moments, because that's what time is made of: Little moments that add up to a lifetime of experience.
What a beautiful day
I'm on my way
to find a place
where I can sit down and rest a while
I am thankful that I can be here today
Birds flying high
in the blue, blue sky
and flowers and trees growing glad like
you and I
Independently released December 10, 2021, Florian Ehrmann's Beautiful EP consists of the songs "Beautiful Woman" and "Beautiful Day." Showcasing two different sides to the artist's expressive musicality, the tracks set out to take Ehrmann's audience on a journey "and refresh them": In a sense, to redefine "beauty" as an individual experience, rather than a universal one.
"[It's] an invitation to see beauty more as a passion and interest in someone or something… Beauty can be seen in your everyday life. Often it's right in front of us," the Stuttgart, Germany-based songwriter says.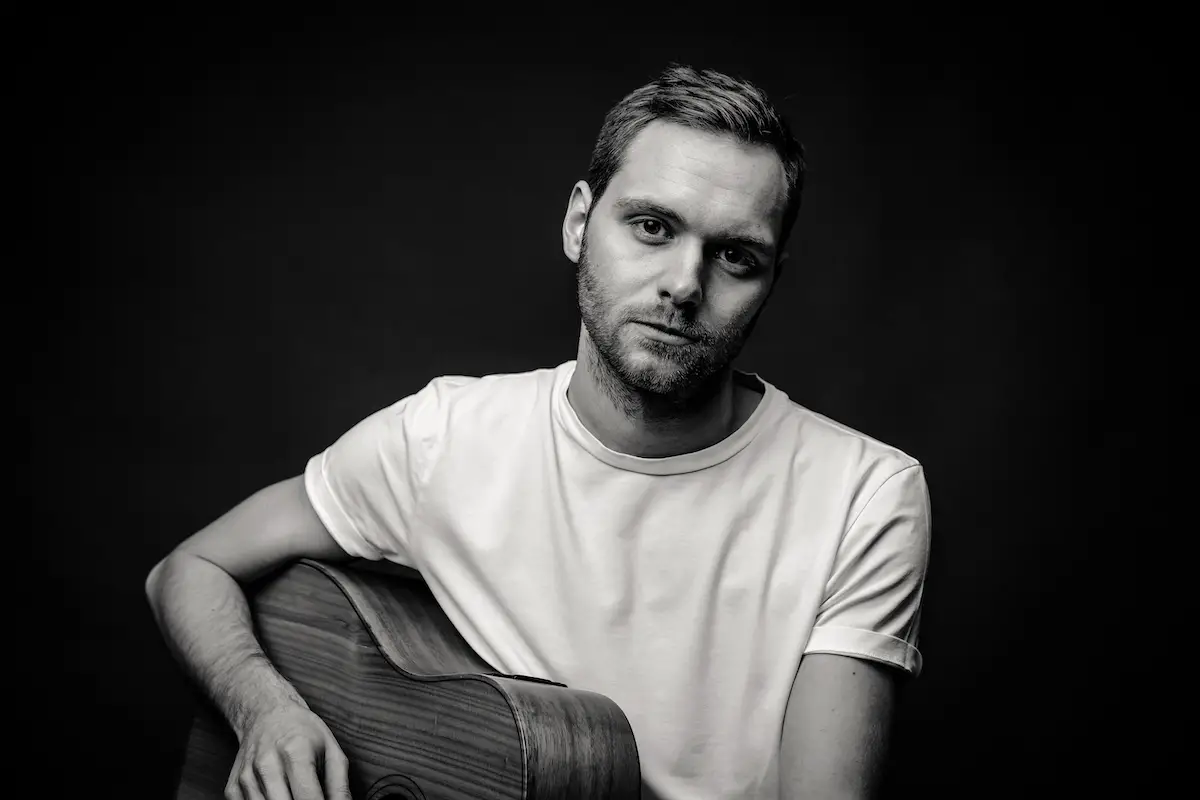 Six gentle, tender minutes rise and fall in waves of comforting warmth as Ehrmann mixes electronic production and sounds with his organic instruments, creating a hazy, rich soundscape full of compelling harmony and moody, cathartic melodies. Like floating in the ocean, his six-minute song rides a tide that ebbs and flows, embracing serene pastures of tranquility through an eclectic smorgasbord of timbre and contour. We'd be remiss not to mention the searing, anthemic guitar solo that somehow fits perfectly into the otherwise calm mix (arriving at the song's tail end, it's a means of visceral emotional release). Central to everything, however, is Ehrmann's enchanting, unassuming vocals: He sings softly, allowing his words to fall into pockets of alongside his charming instrumentation:
I don't know what will be or come
but I think it will be alright
I don't know where
and I don't know when
but I think it will be alright
"Musically I grew up with Hip Hop and R'n'B music, Jay-Z, Nas, Eminem, 112, Alicia Keys to name a few," Ehrmann says of his musical influences. "I started playing basketball when I was 9 years old and that's how I found my way into this culture. Then indie rock music flowed into my cosmos like the Arctic Monkeys, Babyshambles, The Strokes – the records I got from my older brother. They always ran alternately with singer/songwriters like Jack Johnson, Donavon Frankenreiter, John Butler, John Mayer, Jason Mraz, Joshua Radin, you name it, on my headphones. Jack Johnson came over me while rummaging through records in a music store… I asked the owner directly, 'What's that?'. In the last 5 years I got more interested also in electronic music. Justice, for example, or Kavinsky – and I was very comfortable with a more cinematic approach to my music."
"I think I've always liked music as part of a larger, narrative medium, but it wasn't until I was working on films and commercials that I realized that this felt good for my own songs, too. I think production is a constantly growing process and right now I am dealing with music that interests me very much at the production level. For example the last album by Haim, Vampire Weekend, or artists like Bibio. Furthermore I always have an open ear for Motown sound, soul, and jazz. The Jackson 5, discovered in the movie Love and Basketball, were big for me. Lately I found the song 'Sittin 'Duck' by Gene Harris & The Three Sounds. Great song. Great instrumentation. I like a mixture of understanding the retro live band sound, dive deep in it and add more "modern" electronic features. For my current live set I'm looking for a sound somewhere between Ólafur Arnalds and Andrew Bird. I like the lightness and floating vibes. It needs the right space but I would like to go for it and I like strings and brass and that's why they are in my band, reduced, as solo instruments."
---
A head full of thoughts
can be heavy to hold
sometimes it's worth watching them
passing by
step by step through
twists and turns
then there between the lines
you will find
there're so many beautiful things down here
open your eyes
and open your ears
I don't know what will be or come
but I think it will be alright
I don't know where
and I don't know when
but I think it will be alright
An array of influences went into a track that ultimately radiates its own easy aura; though a product of so much, "Beautiful Day" itself sounds like its own entity: A stirring, sweet little sun-kissed surrender to nature's wonder and life's beauty. It's moody, light and dark, entrancing and emotional, and ultimately it leaves us in our own daze. "In the end… hope remains as the central element," Ehrmann says. "It's an 6:08 experience."
Get lost in this song, and get to know your new favorite Stuttgart-based musician. Both "Beautiful Day" and "Beautiful Woman" are out now; stream Florian Ehrmann's latest touching music below.
what a beautiful day
the start of new ways
I believe that everyone can find a place
hold on to your heart
be patient with
your own path
If you can dream about it
I think you should try
and soon the stars gonna shine bright
like we're all shining tonight
I don't know what will be or come
but I think it will be alright
I don't know where
and I don't know when
but I think it will be alright
— —
Stream: "Beautiful Day" – Florian Ehrmann
— — — —
? © Felix Birkenseer
:: Stream Florian Ehrmann ::
---