At age 42, veteran Detroit rapper Royce da 5'9″ is still taking risks, perhaps most notably by making an entirely self-produced record for the first time with 'The Allegory.'
•• •• •• ••
Over 20 years ago in 1999, two emerging Detroit rappers joined forces for a track that sought to prove the validity of the claim that they were "blazin' emcees, at the same time amazin' emcees." Once that much had been established, they also took care to declare that "this is what happens when Bad Meets Evil!"
What also happened from then on was that this pair of emcees would become two of the most successful rappers the Motor City had ever produced. One of them earned that title by also becoming the most successful rapper on the planet (Eminem). The other, Royce da 5'9," proved his worth by releasing a consistent string of eight critically-acclaimed albums, the latest of which, The Allegory, hit shelves this past February.
Stream: 'The Allegory' – Royce Da 5'9″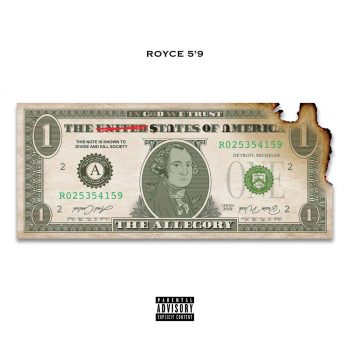 Given that Ryan Daniel Montgomery's status as half of the hip-hop duo "Bad Meets Evil," it's pretty jarring to hear him announce on the opening track, "Mr. Grace (Intro)," that "I was told to hear no evil, see no evil, speak no evil." Perhaps this line is the first indicator that we are about to hear a fairly dramatic shift in direction from the veteran rapper. Having long spent his career delivering shock-raps on tracks like "Fast Lane," The Allegory instead finds Royce engaged in constructive social commentary on a variety of pertinent topics.
"The government injected crack into my natural habitat, charged me with possession and arrested me for havin' it after that," he raps on "Dope Man," a song which could well have made its way onto The Wire soundtrack had it been released 17 years prior. It's thematically in line with much of the gangsta rap canon, yet more sonically evocative of Curtis Mayfield than N.W.A.– and yes, it achieves that much while still sampling "Dopeman"' from Straight Outta Compton.
Over an interpolation of the deathless "Tom's Diner," Royce keeps the stinging commentary coming strong on "Upside Down," the most recent single to be released from The Allegory. Alongside impressive guests Ashley Sorrell and Benny the Butcher, the leading man touches upon topics such as the enduring racial disparities across American society and the ways in which African-American women are wrongly influenced into exploiting their own bodies. "Black women wanna be built like cartoon characters, Eric Cartman," he observes. "That bears a strikin' resemblance to Saartjie Baartman." His plea to draw lessons from the sad story of the 19th century South African freak show attraction is quite affecting.
In addition to touching upon issues facing society at large, The Allegory also explores Royce's personal history, most of all his complicated relationship with his family. "Black Savage" takes us on a tour of a household in which "Mama was suicidal [and] Papa had bad habits." Album closer "Hero" expands on this narrative– as well as that of 2018's "Cocaine"— by speaking of a "psychotic" father who told his 17-year-old son to "go to the Army or get out." But in spite of everything, Royce's prevailing sentiment is one he places within the chorus so it can be uttered repeatedly: "Papa was my hero, without him, I'd be zero… He stayed on top of me, made sure that I achieved."
Mixed into this mature introspection are a handful of instances in which Royce gives himself the liberty of being the vicious, nimble battle rapper that he has been known as for years."I Don't Age" proves the point made in its title, while cuts like "On the Block" and "Young World" prove that Royce can hold his ground alongside his fellow beloved hip-hop heavyweights– from Vince Staples to CyHi da Prince, and many up-and-comers in between.
All of the impressive rhymes here are placed over an album's worth of beats that, for the first time in his career, Royce produced entirely on his own.
Without single-handedly catapulting him to the upper echelons of hip-hop's All-Star Team of producers, the results here are mostly solid and certify The Allegory's status as a late-career risk-taking album — and just how often do any of those come along?
Another innovative element of this project is the way in which Royce's longtime creative partner Eminem is incorporated. The two Detroit homeboys have been making music together for years and even once produced an entire joint album, Hell: The Sequel (2011). Given that history, it's surprising to have The Allegory come and go without a single guest verse from Eminem. But what's perhaps even more astonishing is to hear Mr. Mathers make his appearance by means of a reconstructed phone talk he had with Royce, one on which he provides thoughtful analysis on race relations within the hip-hop community. This "Perspective" skit, in which Eminem contributes to the same debate that he's inspired for years as "the" white rapper, is a memorable inclusion on this record.
Following January's Music to be Murdered By, both members of Bad Meets Evil have now proven that they are capable of producing high-quality records as 20-year rap veterans in early 2020. Royce da 5'9" has delivered a more-than-worthy entry to his expansive catalogue with The Allegory.
— —
:: stream/purchase XXX here ::
— — — —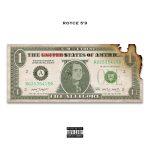 ? © 2020
The Allegory
an album by Royce Da 5'9″
---