This Black History Month, Atwood Magazine has invited artists to participate in a series of essays, interviews, reviews, poetry, playlists, and more features in recognition of, and out of respect for the symbolism and significance of this month.
---
Today, Ray BLK – the British singer and songwriter behind such effortlessly radiant, self-expressive EPs as Durt and Empress – showcases ten of her favorite artists as a part of Atwood Magazine's Black History Month series. The winner of BBC's Sound of 2017 poll, Ray BLK has emerged over the past decade as an inspiration in her own right: "Ray isn't a rapper; she's a songstress," Atwood writer Sydney Sweeney wrote in a 2017 song review. "Her eagerness to approach storytelling with a hip-hop sensibility makes her a soul to be reckoned with." With her hotly-anticipated debut album expected soon, Ray BLK entered 2020 with the dynamic and unapologetic single, "Lovesick."
"To celebrate Black History Month, I put together this playlist of songs from some incredible Black female artists who have inspired me. These songs either inspired my songwriting, or as a vocalist and also made me feel represented and seen in an industry where there's always been so few of us Black women, so they hold a close place in my heart." – Ray BLK
•• ••
Black Women Who Inspire Me
by Ray BLK
---
Ray BLK Showcases Black Female Artistry

1. "PMS"
by Mary J Blige
Mary J Blige is a huge musical inspiration for me. Growing up my mother would play her constantly, and when I grew up I related to this song so much as a woman, her songs are tales of real experiences women go through and I'll always adore her for that.
2. "Ex-Factor"
by Lauryn Hill
Lauryn Hill's miseducation album remains a staple for every r&b singer and for me this is one of the standout songs from the album. I love how it shows weakness, and strength at the same time, and lyrically how it conveys that push and pull that so many of us experience in a relationship.
3. "Put Him Out"
by Ms. Dynamite
The message in this song is so necessary and so powerful. Toxic relationships are often celebrated in music and romanticised but rarely do we hear it discussed seriously and hear about the real damages of abuse. I think this song is so important for women.
4. "1980"
by Estelle
"1980" is such a classic! Estelle was telling my story with this song and so many of us Black British girls' stories. I felt seen and heard with this song and like my upbringing was worth celebrating and not something to be ashamed of.
5. "Almost Doesn't Count"
by Brandy
I had to add a brandy song because Brandy is a blueprint for so many r&b singers, if not all. Her harmonies and vocal arrangements are unmatched.
6. "I Changed My Mind"
by Keyshia Cole
I was a big fan of Keyshia Cole because to me she was a girl from the hood like I am, a girl next door. What I love about this song is the strength and her reclaiming her identity after losing it. As a young girl listening to it, it reminded me to not lose myself in a man/
7. "Me, Myself and I"
by Beyoncé
This is my breakup song. Every single breakup has had me myself and I as the soundtrack. It makes me cry every time and I remember when I saw Beyonce for the first time and she sang it and I cried. I had never cried at a concert before or since and I think it was because this song means so much to me. No matter what, you've always got yourself so keep holding yourself down!
8. "Stole"
by Kelly Rowland
Kelly Rowland represented the dark skinned girls in a time when we really never saw any and watching her solo journey was beautiful to see someone like me, shining solo. The video for this song is what really caught my attention, it just tugs at your heart and reminds us how precious life is and how we need to treat others with care, you never know what people are going through. A powerful message
9. "Foolish"
by Ashanti
I feel like Ashanti doesn't get enough mention when we discuss legendary black female artists. She wrote so many hits not just for herself but for other artists and foolish is a timeless classic that people continue to sample and a song so many women relate to.
10. "Caught Out There"
by Kelis
Kelis is an icon to me! I loved her hair, her attitude, her music, her style. Caught out there is one of the songs that I think shaped me as an artist. I was always obsessed with alpha females, strong women who stood up for themselves and Kelis was just that. The women rallying together in the street for the video is a motif that we've seen replicated so many times since her doing it.
— — — —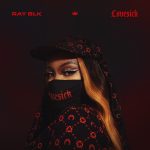 ? © 2021
Ray BLK Showcases Black Female Artistry
---
:: Ray BLK ::
---
---