This is what it feels like to listen to Friend Roulette's brand new EP:
It's like treading into the ocean. You creep step by step, slowly, absorbing the environment around you, letting the sounds flutter and sputter and ring, reverberating every which way. Finally, you're in, and you're wading, basking in the golden glow above you and the cadence of the waves. You open your eyes amid the gentle lull and are surprised at how far out you've gone. This unique, eclectic collection of songs has the power to transport you.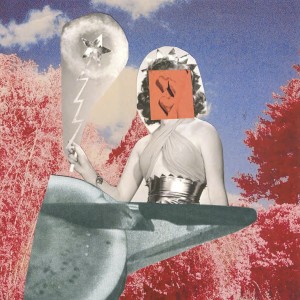 Atwood Magazine is proud to be premiering Friend Roulette's The Matt Sheffer Songbook, Vol. 1, the Brooklyn-based band's new EP that has resolutely succeeded in their whimsical tribute to close friend, you guessed it, Matt Sheffer. A centrifugal force in the band's formation, Sheffer, hailing from Houston, TX,  was at once a compositional genius, a multi-talented singer/songwriter, and his own harshest critic. After scrapping entire albums of material, Sheffer at length left the songwriting world, finally returning to left-of-field pop within the past few years. Friend Roulette, feeling impassioned by Matt, decided they had "a responsibility" to record some of his songs "as an act of preservation." So, they took the bare bones of old songs, added in their own unique elements and thus, The Matt Sheffer Songbook, Vol. 1  was born.
It's an enjoyable sojourn into a luminescent dreamscape. In the times when the arrangement is sparse, you wait with bated breath in anticipation of the next soft guitar chord, of the next clarinet melody, the next blooming bassline. The sweeping vocals of Julia Tepper bring to mind similarly-minded folk counterparts Wild Child and the hushed melodies recall guitar-based pop outfit Sales. You are pulled into the thoughtful, eccentric arrangements, the strings, everything, but it's not abrasive. It's amiable, agreeable; they're inviting you to nimbly amble about with them through their "fields of sugarcane" (Viva Zyprexa), and it's an honest-to-goodness great time.
You're a fox, on the hunt
giving care to all the crazy ones.
Never mind, if you're late,
we're just waiting to evaporate.
I ran through the river
dreaming of roadsigns.
I braved through the jungle
planted with land mines.
I raved through the gauntlet
guarded by white knights.
I'm still fine. I'll be yours, if that's okay.
And we can get to work another day.
The opening track "You're A Fox" is an intriguing choice, as the band have said they "don't know what this song is truly about," but the quietly quaking strings ring out nonetheless. Standout tracks include the Frank Ocean-inspired "Snow Pea," in which a lazily droning synth drives the beat. The band stated they were "definitely channeling the vibe of Frank Ocean's 'Super Rich Kids'." The track has a cool, laid back sound, and interestingly was derived out of a poem from one of Sheffer's old creative writing classes.
One of the EP's standout tracks is the quirky "Bacon and Raisins." Predominantly about the child narrator's confrontation with a spider, it also playfully highlights the sometimes questionable dietary habits of a struggling musician: "raisins and bacon, and pre-baked potatoes, and salt on my eggos." We are offered two chances to absorb "Viva Zyprexa," once in its originally dreamy form, and again on top of a deliciously perfect indietronica space trip beat that left me pressing repeat.
Wandering in and out of sensibilities,
I'm well. I'm a space girl now.
Chain me to the ground or else I'll float away.
Too many days, Lone Star rollerblades.
There is a chimney with fields of sugarcane.
I'll stay in this blanket, rotating brain.
A bathtub on the ceiling drains to the sky.
Baking in Montrose,
I'm thinking of the waves that break
under highways destroying lanes.
A bathtub on the ceiling drains to my eye.
Dust is dancing on the window pane,
is that your brain?
Lone Star lost his way.
Expansive in its brief 19-minute duration, The Matt Sheffer Songbook, Vol. 1  is a sprawling landscape of unique and cleverly constructed sounds, with elements from lo-fi music, chamber pop, and eletronica that posit Friend Roulette as front-runners in an ever evolving, always changing, all-inclusive pop music world. Listen to the EP through Atwood Magazine's exclusive stream, and take a closer look at The Matt Sheffer Songbook, Vol. 1 with Atwood Magazine as Friend Roulette provide their personal take on each of the EP's songs below! From the band: "Matt Sheffer declined to pass along any comment about these songs, but we can assure you he's not into the fact that these recordings now exist in the world."
The Matt Sheffer Songbook, Vol. 1 hits the world via Pretty Purgatory on June 16. Those in the New York area can catch the band performing at The Silent Barn w/ gobbinjr, potted plant, and Woodpainting on June 15 (tix & info here).
The Matt Sheffer Songbook, Vol. 1 – Friend Roulette
:: Inside Friend Roulette ::
— —
You're A Fox
We don't know what this song is truly about, but we love everything about it and it seemed like a perfect album opener. It was originally featured on Matt Sheffer's Violins EP, his only official release, which like every single he let out into the world, he eventually deleted from his Myspace. 
Snow Pea
In writing this total pop hit, Matt Sheffer adapted a poem from Sharon Mesmer's creative writing class at The New School, back in 2007. In our rearrangement, we were definitely channeling the vibe of Frank Ocean's 'Super Rich Kids.' It's easily the most harmonically complex of the Sheffer songs, although perhaps the most immediately hook-heavy and catchy, too. Our own Matt Meade only just figured out how to play it yesterday and it will get its first ever public performance tonight in Harrisonburg, Virginia.

Bacon and Raisins
This song's about being a little kid who's afraid of spiders, and simultaneously about the often bizarre dietary choices of a starving artist. "Bacon and raisins, and pre-baked potatoes, and salt on my Eggos…" We cannot confirm that Matt actually salted his Eggos, but given that we believe he was basically living off of Diet Coke and Ritz crackers during the time this song was written, it seems entirely likely.

Joan
Joan Leslie was a major star and leading lady of Hollywood's Golden Age in the 30's and 40's, who quickly faded from the silver screen as films began to come out in color. She started her career at the age of two, singing and dancing with her family's vaudeville troupe, and supposedly could play the accordion by age four. While her film career ended when she was blacklisted from all major studios in the late 40's, she continued to appear occasionally in bit roles on TV until she officially retired from acting in 1991. She passed away just recently in 2015. The lush textures and intricate melodies of this Sheffer song seem like an apt tribute for a singular and uncompromising starlet, who's downfall had as much to do with her refusal to take roles that didn't align with her moral views, as it did a changing film world
Viva Zyprexa
This is in some ways the first Friend Roulette song, despite the fact that the band didn't yet exist when it was written. Matt Meade wrote the chords and Matt Sheffer helped him write the lyrics verse by verse, as he stared around the room, taking inspiration from the things around him: frozen grapes, a Lone Star Beer sign, and other relics of Texas life. The title is not an obfuscation; the song is truly about the anti-psychotic drug that's commonly prescribed to old folks with Alzheimer's and young folks with schizophrenia.
Viva Zyprexa (MelterMix)
Due to a hard drive failure, the rough cut of this remix became the final version you're listening to now. Let it serve as a reminder to always back up your files…
— —
— — — —
cover: © Stephanie Gould
:: Listen to More Friend Roulette ::