Recommended If You Like: FRND, PHANGS, COIN
Should I just act like I don't give a damn about you?
Here's a surefire test to figure out if the person you're dating is really into you, or just using you: Does he or she make time for you? Does he or she go out of the way to make time for you – ie., are sacrifices made in order to develop and advance your relationship? Kyle Reynolds' vibing new song "Friday Saturday Sunday" chronicles vapid dating and convenient love as the artist confronts someone taking advantage of his heart.
You don't do coffee in the morning
Prob never seen 8am
Dont wanna come across boring
Bet you think that I am
"Friday Saturday Sunday" – Kyle Reynolds
---
Sometimes to know true love, we have to experience the opposite first. Atwood Magazine is proud to be premiering "Friday Saturday Sunday," the latest single from Kyle Reynolds and the Nashville-based singer/songwriter's first release of 2017. An engrossing keyboard melody opens into a dark, brooding candor in the song's entrance: Reynolds speaks directly to his date, his words melting over each other as he goes from observing her actions, to questioning his response to her. His style is decidedly "pop," but his intimate singing – at times, his voice is nearly a whisper – lends an amazing depth to the music that draws listeners ever closer.
Should I be mad
Should i just quit
Should i just act like
I don't give a damn about You
and your friends
Your Hollywood Plans
I guess it all really depends on
21st century dating is a real bitch. There's no loyalty anymore – everyone wants things fast and easy, and it's an utter detriment to society. As Los Angeles artist Mating Ritual observed in yesterday's exclusive interview, "Marriage rates are down for a reason: Nobody wants to commit to anything anymore; it's easier just to start over." That theme is more pronounced than ever on "Friday Saturday Sunday," as Kyle Reynolds deals with the worst of millenial culture on a first-hand basis.
Everything comes to a cathartic head in the chorus. A warm electro-R&B rhythm takes over the instruments as dynamics escalate and tension increases. Emotions spill over as Reynolds tackles his problem head-on, addressing the red flags that would give anybody unwanted heartache and stress:
Friday Saturday Sunday
Ya only love me on those days
Friday Saturday Sunday
What's wrong with the weekday
You only hold me when it's good for you
Kissing your lips is drinking malibu
Friday Saturday Sunday
Ya only love me on those days
Reynolds says it all, plain and simply: "'Friday Saturday Sunday' is a song about someone who just wants to have fun and mess around on the weekends, but won't commit to an actual relationship and show up on the weekdays." Communication breakdown, anyone? This is the world we live in now: A world where we want everything now, where it's okay to be completely removed from the ones you engage in intimately, and where few individuals bother stopping to embrace life's greater beauty. Those in it might say it's the extreme form of "living in the moment" – but is it, really?
The moment "You only live once" became a meme was the moment social integrity died. "Friday Saturday Sunday" may be centered on this singular instance of millenial relationship drama, but Reynolds' music, emotions and lyrics speak volumes to the state of affairs of an entire privileged generation.
Dont you tell me you can't be loved
I'd start a riot, a fire,
break through the barbed wire
that's wrapped around your heart
So let's start that dialogue, here and now. Stop hiding behind the protective veils of social media and mobile devices, and do unto others as you would have them do unto you. Instead of "ghosting" people, try and be honest with them. Tell someone how you really feel, even if you know it's going to be hard on both of you. Those interactions, no matter how difficult and raw they might be, are what make us human: They're real, and they're genuine.
Kyle Reynolds' "Friday Saturday Sunday" is an overwhelmingly evocative electro-pop anthem that dives deep into real-time social issues, offering us an outlet through which we can channel our own dating frustrations and emotional hangups, as well as a song to send to the guy or girl who's causing you trouble.
That said, if he or she isn't making time for you, maybe they're not worth the effort.
:: purchase/stream "Friday Saturday Sunday" ::
— — — —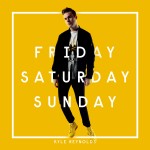 cover © 2017
:: Listen to More Kyle Reynolds ::
---