With "Strange," Finlay offers a remarkably sincere and emotive experience on the world at large, and its music video strengthens the song's effect in a mesmerizing fashion.
---
"Times like these are tragic, but perhaps we can find solace in the bare necessities of living a positive and considered life." It's a simple wish, one British musician Finlay holds onto with fervent hope.
In speaking to Atwood Magazine, the artist laid bare his thoughts on the world and the culmination of events that led to his newest single "Strange," an emotive piece of music that utilizes simple yet powerful piano chords that provides a weight to each note hit. Its sincerity is its weapon, and it brandishes it well. Now, with the music video accompanying it, the impact only grows, and Atwood Magazine is proud to be premiering it today!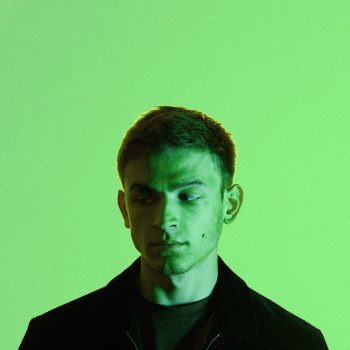 "When I was writing 'Strange' around the start of 2019, I couldn't have imagined the global context it would be now released into!" Call it coincidence, call it fate, whatever one chooses, it's hard to deny this song came out at a time in which it was needed the most. The song opens with airy piano chords that join Finlay's lush, heavy vocals. He croons on the world he sees, every word sung containing a piece of him that quickly latches onto listeners. Its lingering effect is in no way a negative, instead, circulating the ear and providing beautiful notes to float off with. As he continues singing, minor harmonious breaks occur, filled with celestial-like "oohs" that enrapture within an instant.
Soon after, a multitude of instruments joins the mix. Their inclusion serves to bolster the song's presence, accentuating its already gripping narrative. "The song is just my response to us being flooded by the news, information, advertising, ideologies, politics, technology, and trying to make sense of life in amongst it all," Finlay explains. "I suppose this is how I found myself in pajamas, sitting at a piano, attempting to express just how immense everything is. 'Strange' is my best go at saying 'Hey everyone, check out how weird this all is!?'"
Making sense of it all seems overbearing at times, Finlay himself musing "We're all living in some mad world, and it's only getting stranger every day. And that's the truth, we're living in this sad world. It's no wonder that you tell me you're afraid. It's all getting stranger." However, that doesn't always need to be the case. The midpoint of the track has percussion and backing vocals add layers of grace to the experience, dipping in and growing the allure of it all. As the final verse is being sung, the height of the track is made present, the onrush of instrumentation filling listeners with an immense amount of emotion straight from Finlay himself. Each note played and word sung has a personal touch to it, and he excels at opening himself to the audience, down to the last few seconds and beyond.
The grandeur of the song doesn't end with the final note. Joining it now is the music video, a collection of snippets from documentaries of the world, creating snapshots and vignettes of the lives that are currently being lived on this planet. As one sees on an unfortunate daily basis, not all of these vignettes are joyful. "When it came to visually representing the song, I felt I needed come up with a concept that would illustrate my thinking," explained Finlay to Atwood. "I hope the video does a great job of showing the majesty of the planet, whilst demonstrating the speed and impact of modern human life. Stealing from hours of great documentary footage, my label and I pieced together our own visual narrative that ebbs and flows with the song."
His goals have been flawlessly achieved, each new scene portraying a new aspect of the world—both the good and bad. It's layered with haunting imagery, juxtaposed by the rich grace that exists next to it. Though the world is changing for better or for worse, it's no question that some of these changes are a marvel. It simply takes a watchful eye to witness and become enthralled by it.
"Strange" is an answer to some of the problems growing in 2020. It's easy to become a thrall to the fear of these unknown forces, but "Strange" offers a moment of reprieve, even if for only four minutes.
With the video joining it, that ephemeral feeling of respite turns into a continued experience, instilling a sense of warmth that lasts for much longer. When it comes to making this a permanent state of mind, Finlay states it best: "How best can we spend our time? What is our responsibility to the world, and how much are we accountable for? I, unfortunately, don't think I have a good answer to any of these questions, but with some learning and some re-shaping of my own choices, I'm attempting to find a way to shut out some of the noise and remembering to look up more!"
Stream Finlay's "Strange" exclusively on Atwood Magazine!
Watch: "Strange" – Finlay
— — — —
? © Finlay
:: Stream Finlay ::
---