Locate S,1's "Even the Good Boys Are Bad" is a cheekily cynical, colorful, upbeat song with a damning message.
"Even the Good Boys Are Bad" – Locate S,1
---
Maybe the best way to get good is to first acknowledge how bad you can really be. Boys, you go first!
The sounds of the '80s have been back in pop music's pocket for a while now. It's not new for a Billboard-charting pop star to be borrowing from Madonna or Whitney, from vocal style to echo chamber production. In fact, it can be tiring. But occasionally, an artist arrives who's scratched some of that perfect polish off of the 80s shine (in sound and in content), creating something inviting, fresh, and just a little weird.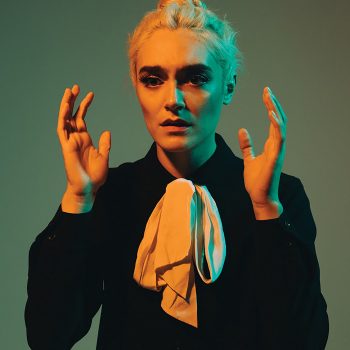 another mirror onto history
another coney Island shot at the freak
he smoked right at me and i was freeze dried
but i still had seven veils to play
i took the first one and wound it up tight
around my fist then i know i heard him say
Atwood Magazine is proud to premiere "Even the Good Boys Are Bad," the newest single and video from Locate S,1's upcoming album, Personalia (out April 3 via Captured Tracks).
The song is based on a conversation with Christina Schneider's producer and boyfriend Kevin Barnes (of Montreal) where Barnes expressed fears about his teenaged daughter entering the dating world. Schneider sympathized, telling him, "even the good boys are bad." The result was Locate S,1's colorful and strange song, set in a tilt-a-whirl world of melody and rhythm. The song is shiny and danceable, adding deft feel changes between verse and chorus, and Barnes' familiar bass-playing and production. Its bright, sing-song melody hearkens back to 80s girl groups like The Bangles and The Go-Go's, Schneider's vocal line sounding like the equivalent of a hair flip. But here, the delivery is tongue-in-cheek. "I worry sometimes we are too distracted by our need to sort the good people from the bad people," Schneider says. "Of course, everyone thinks they're the good guy, so they can do no wrong." Every woman knows the "nice guy," the one who would never do anything to hurt someone – until someone hurts him, that is.
even the good boys are bad
even the best ones, even the good sons
even the good boys are bad
The song's accompanying video features Schneider and her bandmates on a green screen with videos of Coney Island and the New York subway behind them. Kevin Barnes and drummer Clayton Rychlik bob steadily along in black spandex, while Schneider kickboxes, does hair-eography, and gyrates in a green striped bikini and hot pink shorts. Overlaid across the entire video are iPhone push notifications from "Instaspam," "The Good Boy Times," "Dudetube," and "Bitter," displaying messages like "goodboyyouknow sent you an unsolicited pic" and "RandomGoodBoy commented: here's my opinion on how your music could be better…" Schneider dances like a teenager in her bedroom, but her facial expression conveys an attitude of "I have zero fucks left to give." The video is full of juxtapositions: Schneider's colorful hair and outfit against the undersaturated video, the fast-paced blur of phone notifications against a slow summer sky. The song sounds cheerful, but when the video ends, it's with a massive explosion. Smoke and fire fills the screen.
The song and video contain a comedic, winking cynicism, but at the same time, Schneider is looking straight down the barrel at quietly harmful men in the music industry, boundary-crossing men in everyday life who only think they're giving you a compliment. It's a bubblegum-colored, carnival themed indictment from a smart and savvy songwriter.
another city another tourist
to embody contagions of the new
she said she didn't think i have it
she set fire to my silver spoon
i took a smiling walk across her embers
can you kill what's laughing back at you
be the charlotte be the web be the noise
even the good boys are bad
even the best ones, even the good sons
even the good boys are bad
Stream: "Even the Good Boys Are Bad" – Locate S,1
— — — —
 © Ebru Yildiz

:: Stream Locate S,1 ::
---