It's no surprise that Jo Marches' new song feels a little spooky: Wallowing in a heart of darkness, "Breaks My Heart" is a poignant cautionary tale that resonates with hard-learned grief.
Shut the blinds keep life out
Chase the past I hear about
Until it breaks my heart
Until it breaks my heart
Listen: "Breaks My Heart" – Jo Marches
---
Atwood Magazine is proud to be premiering "Breaks My Heart," the lead single off Jo Marches' upcoming EP Day In Day Out. Hailing from Utrecht, Netherlands, Jo Marches defies genre through constant shape-shifting of song structure, musicality, instrumental arrangements, and more. The few constants in her still-young repertoire are her warm, expressive voice and her penchant for vibrant, deceptively simple melodies. Yet while Marches' 2016 debut EP Silver & Gold introduced the artist through four massively distinct songs, her fifth song release feels particularly unique in its depressive tone. One can sense the misery eating away at Marches as she dwells in a pool of helplessness.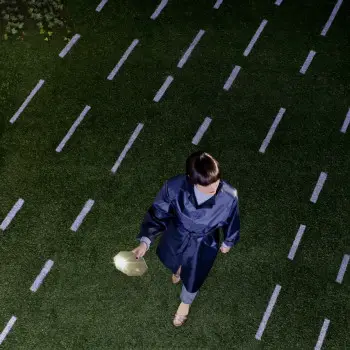 Pay the price for what I've done
Now the wall is up, won't come down
Until it breaks my heart
Until it breaks my heart
I don't know how to begin
"This is definitely one of the gloomiest songs I've written," the artist shares. "David Hoogerheide's synth sounds really went so well with the vibe and the lyrics. It's a sad and at the same time, powerful song about loss and depression. The song turned out to be one of my favorite tracks and I love playing it live because it's like a powerful storm of sound."
One can feel traces of this storm of sound in Marches' recorded performance: The synth swells are incredibly forceful, forever pulsing an ominous, abrasive melody. Marches avoids resolution, instead continuing to spiral an unrelenting circle of dissonance.
Set the goal way up high
Don't look further than the lie
Until it breaks my heart
Until it breaks my heart
Lose all sense, lose what's mine
Spin around for a while
Until it breaks my heart
Until I break my heart
We've all been hurt like this: Chopped down to our core, made to feel so small and uncertain that we find ourselves paused in time, lost in reflection. Jo Marches exemplifies the terror of this moment, expressing an unwillingness to move forward and "try again" – I don't know how to begin, she insists, a wall of sonic fury building up around her.
Such a massive delivery is the perfect exemplar of music's uncanny ability to capture the profundity of our emotions, and equally telling of great things to come from this still blossoming artist. "Breaks My Heart" finds Jo Marches climbing higher than ever before, taking musical risks and (time will tell) reaping the reward. Misery loves company, so find your own dark space in Jo Marches' latest single, exclusively on Atwood Magazine!
— — — —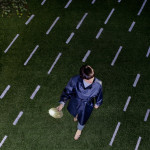 art © Geeske de Graaff
---
:: Listen to Jo Marches ::