With an inviting, infectious embrace and smooth, easy vibes, Guthrie Brown's latest release is the positivity boost we could all use from time to time: A reminder to believe in ourselves, "Edge of the World" radiates with irresistible warmth as Guthrie Brown eases us into the heat of summer.
Talk to me like you mean it
Please speak your mind
You've got the strength to do it
Just reach inside your soul
See through the smoke and mirrors
You know the game
Come be my natural leader
And steak your claim
Atwood Magazine is proud to be premiering the music video for Guthrie Brown's latest single, "Edge of the World" (independently released June 1, 2018). Based in Nashville and originally from Montana, Guthrie Brown is living out his dreams as a performing artist and BMG-signed songwriter in one of America's cultural, and certainly musical hubs.
Brown's new offering captures the artist's sunny essence: "Edge of the World is like a self help book in song form," Brown explained upon the song's release. "My goal was to write something that you or someone you love could listen to when feeling insignificant and overwhelmed by life's many stresses… The message and overall groove was inspired by the hope of transporting the listener to a confident, secure, self-loving state of mind."
Few songs manage to deliver their message as wholeheartedly as "Edge of the World." Guthrie Brown echoes the likes of fellow singer/songwriters Jason Mraz and Brett Dennen, both of whom deliver cheerful, uplifting music in different, yet equally meaningful ways (they also happen to be touring together this summer!). Like these troubadours, Guthrie Brown brings a spirited enthusiasm with him wherever he goes – be it the stage, the beach, and beyond, as we watch him shine in the "Edge of the World" music video.
"I played a show in Seaside, Florida (30A), at the outdoor amphitheater during Memorial Day weekend," Brown tells Atwood Magazine. "There was a crazy tropical storm that almost prevented the show from happening, but Poseidon (God of the Sea) gave us a free pass and did not interrupt. My videographer friend Jacqueline Justice came down with us to film the show. The next day, we got a bunch of fun spontaneous shots of me getting buried in sand and getting my ass kicked by the waves. Jacqueline then edited it, in a style, to pay homage to some of the old Beach Boys videos / a wacky family home movie of a trip to the beach."
Stream Guthrie Brown's "Edge of the World" exclusively on Atwood Magazine, and remember to believe in yourself.
Watch: "Edge of the World" – Guthrie Brown
— — — —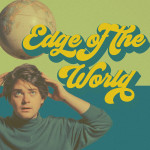 ? © Jacqueline Justice
:: Stream Guthrie Brown ::