Recommended If You Like: The Format, Simon & Garfunkel, Blind Pilot
Never be afraid to give life to the music playing in your head! Indie folk/pop duo Pueblo's new song "Nausea" is a well-constructed tapestry of sound that exemplifies the power of musical creativity in this day and age. The warm acoustic track comes alive in a swirl of colorful sounds and playful melodies that allow Pueblo's genius to take flight.
You're the easy choice when all else fails
I'm weighing all my options
and you're cheap and for sale
So while I'm getting through to you
better make it count
Listen: "Nausea" – Pueblo
---
Atwood Magazine is proud to be premiering "Nausea," the latest single off Pueblo's forthcoming debut EP Boring the Camera (out 3/31/2017 via State Fair Records). The Brooklyn-based duo of Jonah P. Smith and Julian P. Smith (not brothers) offers a dreamy blend of folk, pop and electronic music that lulls the listener into a dreamy, hypnotized state.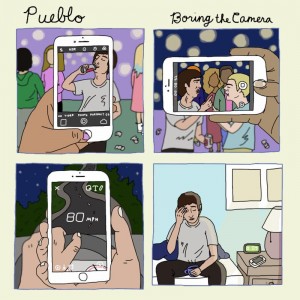 "Nausea" is a carousel of emotion, a complex moment of lyrical and musical prowess hidden under the veil of simplicity. The song constantly builds upon itself, a theater of interwoven musical themes held constant by Julian Smith's impeccable finger-picked acoustic guitar.
My empty stomach could care less for food
monumental choices at my every move
So while I'm getting through to you
It's all easy goin' at the rate I lose
There's an abrasive element in Jonah Smith's singing that cuts through the warm guitar performance. The juxtaposition between light and dark makes for a compelling listening experience, as we're never sure where the Smiths will take us next. "I set out to write what I thought a singer-songwriter's diss track might sound like," explains Jonah Smith. "Maybe I sort of achieved that but it became something else in that process. The song begins with resentment, anger and envy, reaches a point of clarity and lightheartedness, and then circles back to anger – all towards the same person. I'm realizing now that the song is more reflective of my own lack of stability and clarity if anything."
Fuck you, I'll never be sorry
I'll save my truth for the weekend
When I get loaded, there'll be no stoppin'
My endless diatribes that manifest
From the week I left behind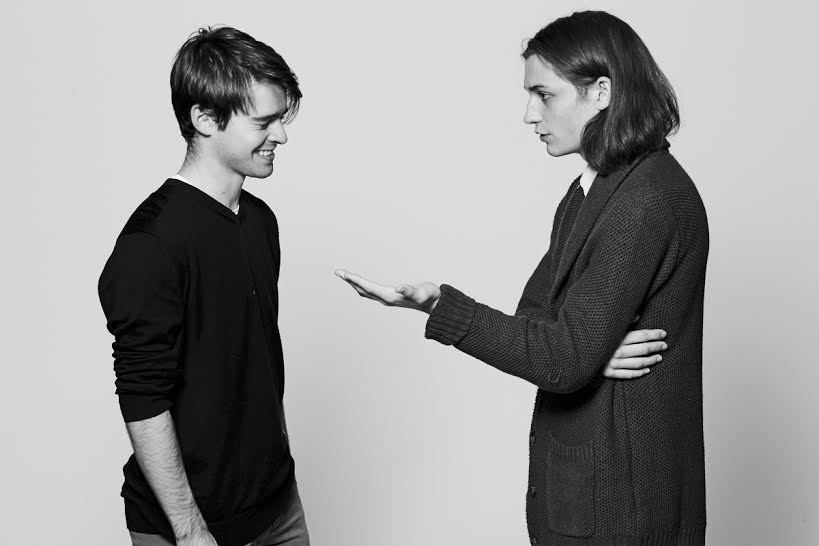 Pueblo are an anomaly in today's music, their easy-going nature a ruse that is almost too easy to succumb to. We want to be a part of their world, drowned in Jonah Smith's self-deprecating honesty and Julian Smith's random riffs. There is beauty in sporadic behavior, especially when it crests and troughs so naturally. Pueblo's music is reminiscent of The Format in its playful exposition, a welcome return to complex musicality that the music world has, of late, dearly missed.
So now what's the point of biting down?
Hold my tongue and brace myself to stick around
What's the point in telling lies, to walk on shells?
Truth is you'll always be around somehow
because I love you despite every wound
It's love that's so sure it's assumed, as I
trace my steps and keep finding you.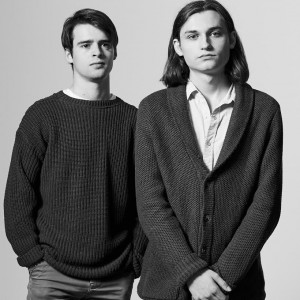 Boring the Camera has been described as a "confessional" EP, as is certainly demonstrated by Jonah Smith's highly conscious lyrical reflections. The writer seems to have no problem throwing his heart into song, no matter how intimate or personal the subject material. The band's previous single, "Cry Etc.," revealed just how in touch Jonah Smith is with himself: "It seems to go against American cultural norms to say it's healthy to cry or accept defeat," he noted in a press release. "I just wanted to sing a song that rejoices in the catharsis that pain can bring, rather than suppressing it entirely."
Pueblo offer a contemporary millennial voice through balladry that speaks to a generation of soul-seekers in search of meaning and justification for their lives. Pueblo may not come away with the answers they want, but songs like "Nausea" speak to a deeper sense of internal conflict that persists in all of us: A resolute longing for self-awareness and self-confidence that will always be inachievable in our youth and young adulthood. Be on the lookout for the Paul Williams-produced Boring the Camera, out March 31, 2017 on State Fair Records. Pueblo will certainly be an artist to watch this year as they lay the ambitious groundwork for a bright and promising future.
— — — —
Connect to Pueblo on Facebook