The 17th annual Sasquatch! Music Festival was filled with scenic views and impressive performances from Julien Baker, Vince Staples, Spoon, Anderson .Paak and more!
— —
It was a sunny Memorial Day Weekend at Sasquatch! Music Festival in George, Washington this year with an exceptional lineup of artists that included headliners Bon Iver, Modest Mouse, and The National. There's no other venue quite like the Gorge Amphitheatre where the picturesque views of the Columbia River Gorge elevate the live music experience by creating one of the most beautiful and relaxed festival atmospheres you'll ever encounter. After last year's subpar lineup and low attendance, this year's three music-filled days felt like a return to Sasquatch's original charm.
Kicking off the festival with high energy was Olympia, WA based band CCFX who played '80s new wave, synth-pop-esque jams that lead singer Mary Jane Dunphe danced and somersaulted through. They closed their set with an upbeat rendition of the Velvet Underground's "Sunday Morning" that Lou Reed himself would have appreciated.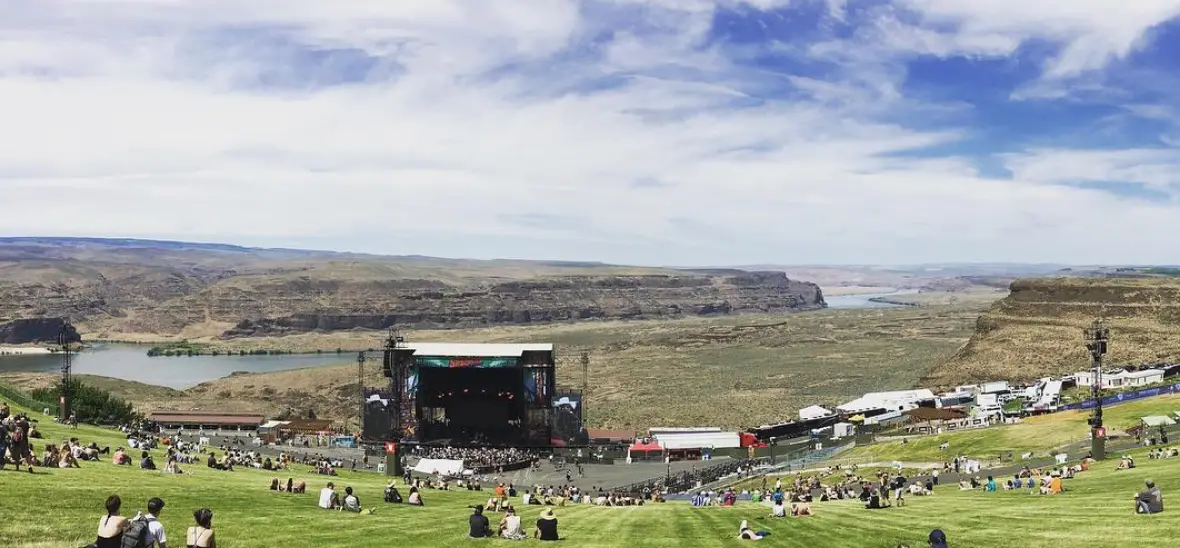 Over at the main Sasquatch stage Julien Baker's powerful, emotive voice filled the Gorge with songs from her brilliant 2017 album Turn Out The Lights. Listening and watching her belt out lyrics laced in self-reflection over soft guitar strums while sitting on the large, grassy hill that faced her and the Washington mountains felt incredibly moving. Baker was the first of many artists to acknowledge that the venue was one of the most beautiful she's ever played.
Hurray For The Riff Raff played '50s tinged, folk and garage-rock style songs as front woman Alynda Segarra proudly displayed her Puerto Rican heritage through her outfit and tenacious music. Much of the set came from her fantastic 2017 album The Navigator but the most impactful moment came when she performed an unreleased song, "Kids Who Die," based off the Langston Hughes poem written 80 years ago that still devastatingly rings true today. She customized its lyrics by referencing current events over a heavy drum and guitar buildup that eventually released into an impassioned burst of rock 'n roll.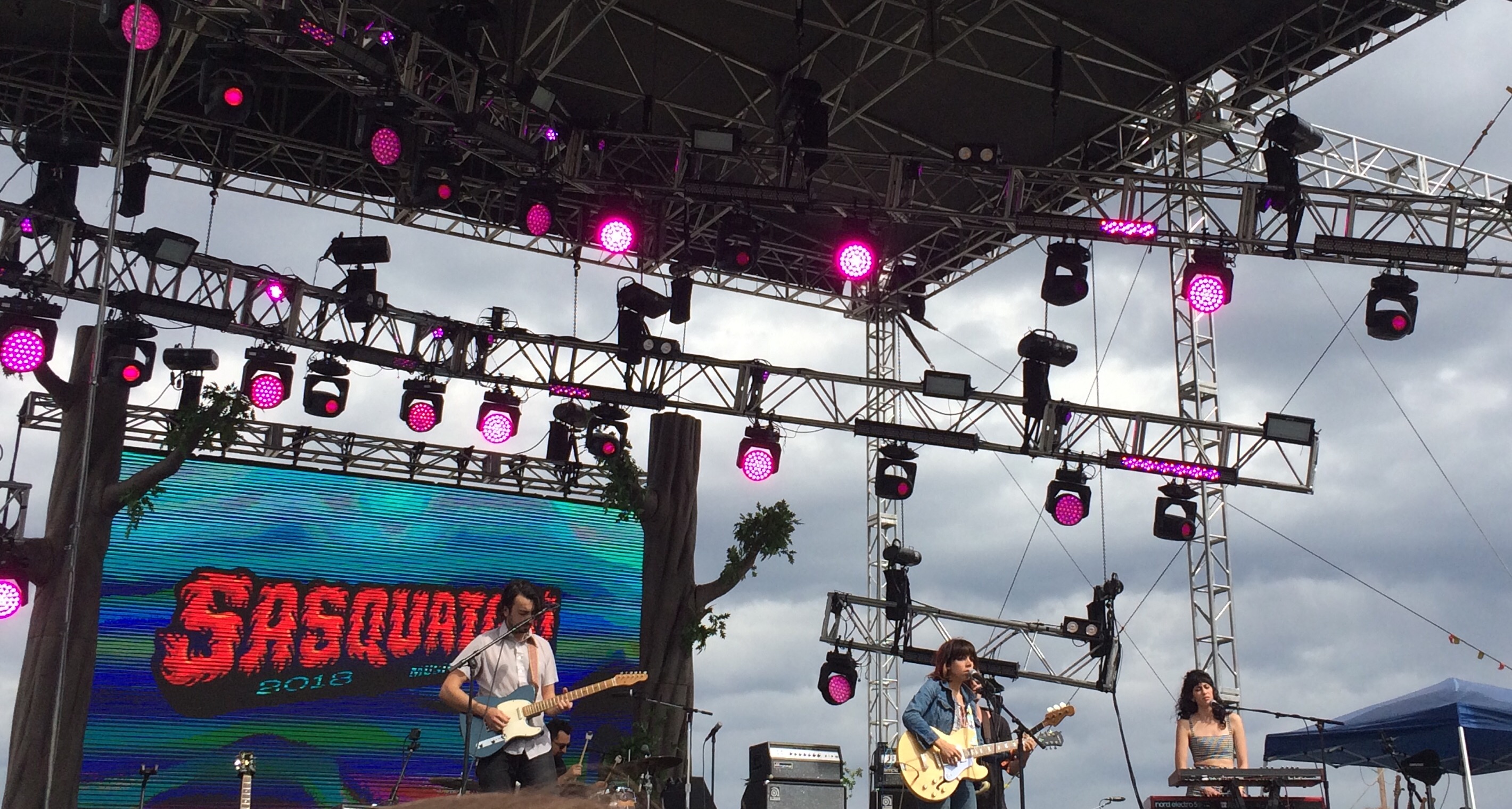 The set that seemed to be a collective favorite among festival goers was from 24-year-old rapper Vince Staples who had the crowd jumping and screaming from the minute he opened with his newest single "Get The Fuck Off My Dick." He surprisingly included tracks not part of his own discography including "Opps" from the Black Panther soundtrack and "Ascension" off of Gorillaz' latest album Humanz. Staples performed in front a series of homemade, "not safe for work," video clips and even though he refused to break from his hard smirk, he continually asked the crowd after every song, "Are y'all having a good time?" to which not one person dared to say no.
As the sun began to set on the first day, legendary artist David Byrne of the Talking Heads took the stage with almost a dozen other performers who dawned matching grey suits and served as Byrne's band, backup singers, and participated in intricate choreography. Along with his solo material, Byrne played Talking Heads classics, "This Must Be The Place," "Once In A Lifetime," and "Burning Down The House" and closed the set with a cover of Janelle Monae's powerful "Hell You Talmbout."
Headlining Day 1 was the elusive Bon Iver who played an expansive selection from his discography that included almost all of 2016's synth heavy 22, A Million. Justin Vernon wore large headphones as he softly sang in his signature high-pitched tone which echoed over a full band that produced vast, resonant sounds. His performance was accompanied by visuals of repeating graphics and symbols that were just as captivating as his music.
Flower Boy and rapper Tyler, The Creator brought the energy back up as he closed out Day 1 and performed tracks both new and old, including his newest one-off single "OKRA," on top of a set design comprised of a massive, torn down tree. Tyler cut the DJ off more than once to a cappella a few of his tracks but sent the crowd wild during "Who Dat Boy" and "I Ain't Got Time!." A lucky audience member was able to pass down a gift to him of which he raised up to reveal a painted mural of himself.
If there was any act guaranteed to leave you feeling "Good As Hell" it was Day 2's, rapper and singer, Lizzo who brought her crew of dancers and token DJ with her to create the biggest dance party of the festival. Lizzo, who noted that she never thought of herself as a "Main Stage Bitch," had the crowd twerking to "Back That Ass Up," singing TLC's "No Scrubs," and praising her sermon of self-love. Her performance of feel-good, alt hip-hop tracks including "Water Me," "Fitness," and "Truth Hurts" in a jungle print getup that rivaled J-Lo's iconic Grammys look, left everyone feeling like they just witnessed an icon in the making.
As the sun beat down and the wind picked up, Canadian punk rockers PUP triggered one of the rare mosh pits of the festival with their raucous, self-deprecating anthems. With the most crowd surfers during a set, they were the golden show for those festival goers looking to let loose and scream their hearts out. Indie rock darlings Grizzly Bear played a heap of shimmery, rich, and alluring songs from their long awaited return album Painted Ruins as well as old favorites from Shields and Veckatimist. Ed Drost's and Daniel Rossen's voices soared over their densely layered musical hues that made for the perfect soundtrack to a striking scenery.
The playful energy of Spoon earned them one of the most entertaining sets as Britt Daniels paraded around the stage and belted out hit after hit. Daniels started "I Ain't The One" while lying on his back and during "My Mathematical Mind" sang in the faces of his fellow members while tousling their hair. The well-dressed band connected effortlessly as they played elongated instrumental breaks in between songs.
Modest Mouse brought the nostalgia factor as they played from all but one of their albums that soundtracked those prime years of growing up and feeling like no one understood you. Isaac Brock made his stoccato yelling extra prominent during "Dramamine" and "Lampshades on Fire" and while playing "The World At Large" during the encore, fireworks shot off into the sky, that created a wave of euphoria that washed over the audience.
Day 3 was filled with the strong up-and-comers of indie-rock and the women who are making their permanent marks in the industry. The recently turned 21 Sophie Allison, otherwise known as Soccer Mommy began the day on the main stage with her vulnerable and visceral tracks from her wildly praised 2018 album Clean. There was an unusually high turnout for such an early set as people crowded around for Allison's captivating musicianship and swayed while she played singles "Cool" and "Your Dog." Her backing band left the stage for her to play "Still Clean" and a soft rendition of Bruce Springsteen's "I'm On Fire" solo.
Directly after and across the way, Phoebe Bridgers played a heap of breezy, intimate, indie-folk songs in a black dress that paired with her band's matching black suits. She brought out Noah Gunderson to perform "Killer + The Sound," covered Tom Petty, and was mentioned throughout the day as a favorite of fellow artists who caught her set. Alex Lahey upped the energy with her quick witted, dry humored indie-pop songs. Her performance was so infectious that people who had been asking who the artist was at the start of her set, were all dancing by the end. 
Japanese Breakfast, the musical project of Philadelphian Michelle Zauner, brought the biggest crowd that the smaller Yeti stage had seen all weekend. She shared that she had been excited to play Sasquatch! all year as the festival was a prominent part of her life when she was growing up in Eugene, OR. She fiercely played songs from her 2017 album Soft Sounds From Another Planet and covered The Cranberries' "Dream." Fellow Philadelphian and experimental rocker (Sandy) Alex G was the epitome of an angsty, '90s teen during his enthralling set of which brought the most surprising amount of singing audience members. The banter and jokes he made with his band and the crowd made him charming to watch and he managed to take requests after playing through his setlist.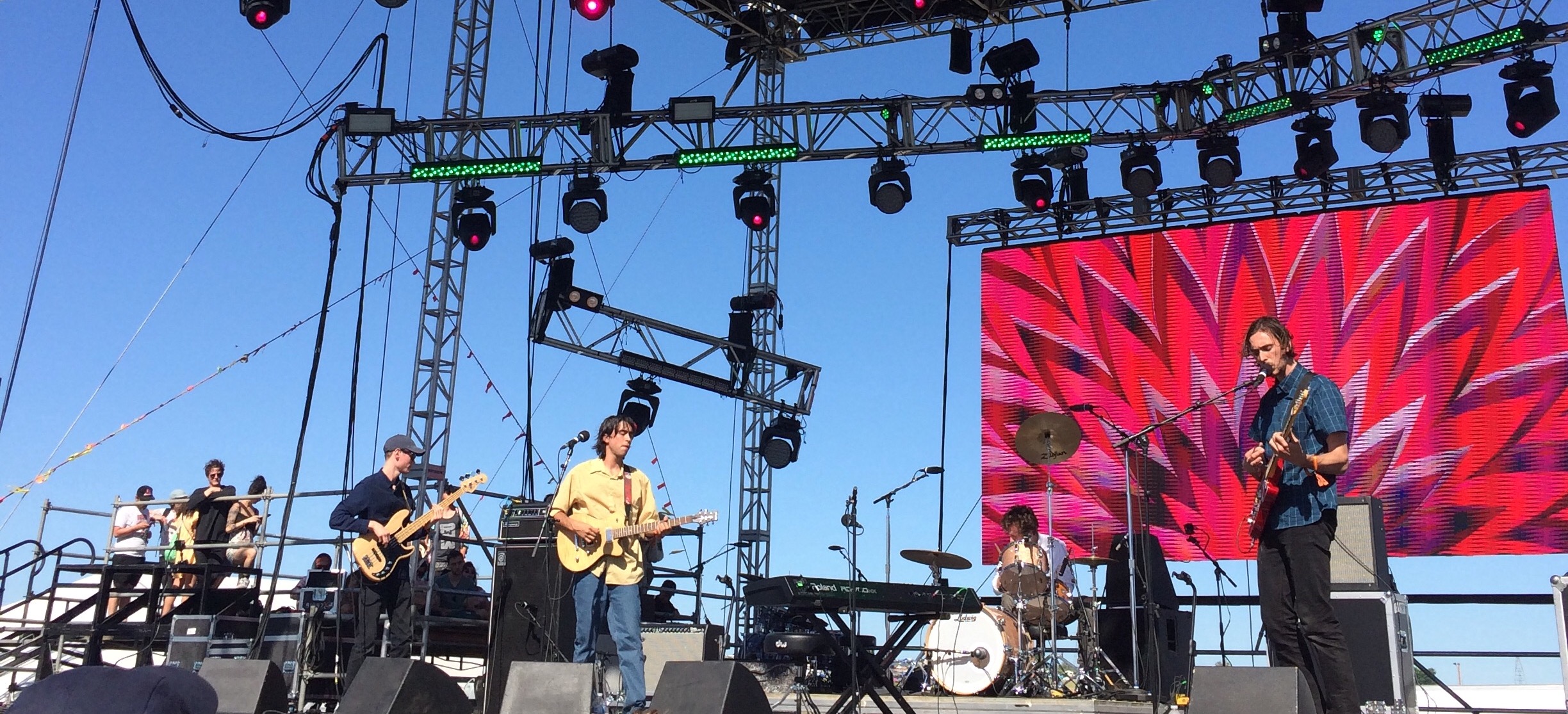 This charm was also felt for the eccentric stylings of Perfume Genius and his set that spanned from bursts of glam rock to tender piano ballads such as "Queen," "Wreath," and "Otherside." His pink, satin pants and white chiffon see-through shirt flowed in the wind as he contorted his body and went from soft serenades to fierce roars.
English shoegaze band Slowdive were one of the most legendary acts to play over the weekend. The band that spearheaded dream-pop in the '90s played tracks from their iconic album Souvlaki and their 2017 self-titled album which was their first one in 22 years. Rachel Goswell's shimmery dress and the band's hypnotic visuals were the perfect accompaniment to the mesmerizing music.
Headlining the final day was The National who were visible before they even hit the stage as a live feed of them backstage was set up on a large backdrop screen. Once they started playing, Matt Berninger's persona of what can only be described as, "the favorite drunk uncle," broke loose as they opened with tracks from their gripping 2017 album Sleep Well Beast. Berninger's engaging dry humor, his jump into the crowd that included circling it in its entirety whilst singing, and the culmination of the band immaculately playing a slew of favorites, made for an unforgettable performance.
Anderson .Paak and The Free National were without a doubt the perfect band to close out the festival with Paak riding high off his latest singles "'Til It's Over" and "Bubblin," which he played both live. Paak from start to finish made sure his audience was dancing and having a good time. The multitalented artist drummed and created smooth, impromptu jazz sessions with his band that gave songs a whole new life. At the end, Paak took the words out of everyone's mouth when he said "Thank you for making this a night we'll never forget."
It's worth including Wolf Parade, TV On The Radio, Explosions In The Sky ("Texas forever"), Tank and the Bangas, Charly Bliss, Noname, Thundercat and Whitney as honorable mentions. The inevitable part of festivals is missing artists you'd love to see but whose sets overlap and conflict with others. But, if that was the only unfortunate part of Sasquatch! this year, then I hope it continues to survive the festival bubble that's bursting for some and continues to give people an unforgettable experience.